Indoor dining is back in Chicago! To celebrate I ventured to Sushi Suite 202 inside of Hotel Lincoln for my first ever Omakase dining experience. What is Omakase you say? Basically it's a Japanese phrase that means "I'll leave it up to you." We did just that! My guest and I sat back and relaxed at the sushi bar as Chef Jordan Dominguez served us a 17-course, 60 minute Omakase sushi dining extravaganza.
Chef Jordan has spent the last two months crafting an incredible winter menu and is eager to share with Chicago's Omakase fans. Each highlights some amazing seasonal specialties, enjoyed at the chef's counter, including these Nigiri:
DRY AGED BLUE FIN TUNA
MIKAN MADAI (FARMED SNAPPER FED A CITRUS DIET)
AMADIA TILEFISH WITH PUFFED SCALES AND CITRUS CAVIAR
CHEFS CHOICE SEASONAL OMAKASE BY CHEF JORDAN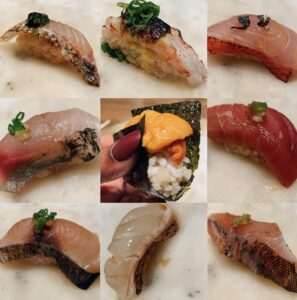 Sushi Suite 202 at Hotel Lincoln is a cozy intimate speakeasy dining experience.The Sushi Suite brand created the world's first ever hotel room turned restaurant. Sushi Suite's timed 60-minute omakase experience features the freshest of fish, both locally sourced, and brought in from all over the world. Seasoned sushi chefs serve diners directly, guiding us through the meal, and providing a truly exclusive experience. The high-end cuisine is greatly complimented by a craft selection of handmade cocktails, imported sake, and rare Japanese whiskies.
Sushi Suite currently has locations inside an unmarked 10th floor hotel room at Hotel 3232 in NoMad in NYC, at the iconic former Versace Mansion in Miami, and now in Chicago at the Hotel Lincoln.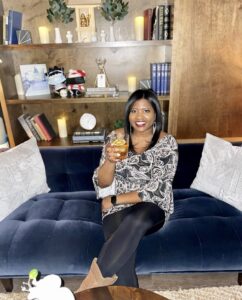 With an eye towards safety and the latest restrictions in place, Sushi Suite 202 allows for an even more intimate experience, with no more than ten people allowed in the restaurant at a time, with four people at the sushi counter at once and spaced six feet from one another and single groups of six people quarantining together.  Temperature and health checks of all guests and employees are taken and masks must be worn at all times when moving around the restaurant. Sanitation of all surfaces and tables happens after every single guest leaves and deep cleaning and disinfecting of the entire restaurant happens every night.
This was truly an amazing experience and I can't wait to go back! This Sunday (2/14) is not only Valentine's Day, but Sushi Suite 202 will be celebrating their 1 year Anniversary in Chicago. Make your reservations HERE!
For the season, all reservations booked with the code "SAKE2020" in the notes receives a free round of complimentary Sake for the whole party!

Copyright secured by Digiprove © 2021