With the holidays out of the way it's time to get focused before summer hits! As they say, "Summer bodies are made in the winter." 🙂 I love the idea of doing a cleanse in order to reset my body, clear my mind, and get focused on the lifestyle changes I plan to implement in my life.
Everyday our bodies are exposed to harmful toxins in the air we breathe and the foods that we eat. Juice Cleansing is a total body detox that eliminates these harmful toxins from the body. Cleansing gives the body a much needed break by freeing up blood flow and energy which allows your body to recharge.
There's many different cleanses to choose from and I went with the Pure Green 3 Day juice cleanse and implemented various juice shots as well.
Whether you're new to cleansing or more experienced, Pure Green cleanses are designed to meet your needs. Simply drink one of the Cold Pressed juices every 2.5 to 3 hours along with plenty of water. The juices are loaded with vitamins, minerals, and live enzymes that super-charge your body with vital nutrients to satisfy your body's daily nutritional needs. There's up to 5 pounds of Fresh Fruits & Veggies per bottle!!
Pure Green's Cold Pressed juice is pressed on hydraulic presses that do not expose the juice to any heat or additional oxygen which damages the nutrition of the juice. This process retains the highest concentration of nutrients, live enzymes, and minerals from the fruits and vegetables.
Types of Pure Green Cleanses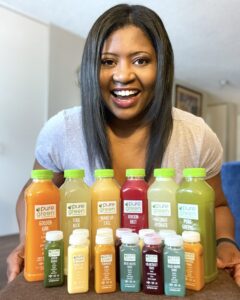 I've done cleanses in the past so I opted to do the Pure Green "Aggressive Pure Hardcore" cleanse. This cleanse is great for veteran cleansers and includes drinking six juices throughout each day of the cleanse. At least four of the juices you drink per day is recommended to be a green juice. The Aggressive cleanse is offered in 1, 2, or 3 days cleanses. (Note no solid foods, alcohol, or caffeine during the cleanse)
For those not quite ready to go hard core there is also an "Experience Pure Basic Cleanse." This one there's still no solid foods, but instead of 4 green drinks a day, 2 green drinks a day are recommended. This cleanse is offered in 1, 2, or 3 day cleanses.
For those just wanting to get their feet wet and try out a cleanse, but still want to munch on solid food, try the "Beginner Juice Til Dinner" cleanse. This one you just have 4 juices during the day (2 of the 4 juices recommended to be green juices) and then have a hearty salad or something along those lines for dinner.
My Experience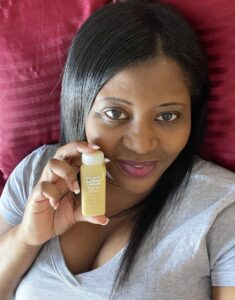 So how did I feel? Seriously, Amazing! First off, one of the reasons why I love doing juice cleanses is because it makes the decision of what to eat easy. All you do is have a juice every 2.5 hours and not have to worry about what to eat.
Cleansing is mind over matter. I already knew when I was doing the cleanse so I prepared ahead of time. I didn't try to stuff myself the day before and I made sure to also lay off the alcohol. Speaking of the mind, my mind felt much clearer and I was able to sleep through the night. I love the energetic burst I feel and for me it really cleanses my body and brings a glow to my skin. 🙂
I've never been a fan of Green juices, but it is bearable. Just drink fast!! My favorite juices would have to be the Soul Kick (apple, pineapple, lemon, ginger) and the Coconut Hydrate (Coconut water, pineapple, lemon, chia). I also enhanced the cleanse by incorporating a few Cold Pressed Juice Shots. The shots are 2 ounce miniature versions of the cold pressed juices.
If you're looking for a fresh start I highly suggest doing a juice cleanse. It gave me just the kick I need to help me start my fitness journey goals. YOU CAN DO IT!!
Pure Green Chicago
2344 N Lincoln Ave, Chicago Illinois
Puregreenchicago.com
Head to www.puregreen.com for more information! Besides Chicago there are also locations in New York and Miami.

Copyright secured by Digiprove © 2021