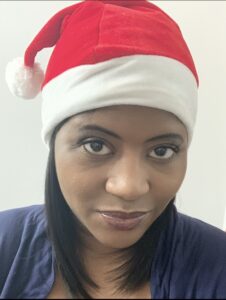 This year I (and many others) came face to face with our bare face skin…in public. I don't know about you, but with the mask mandates it was a summer (make that year) of NO makeup foundation for me. Realization hit with the pandemic that number 1) it was too hot to wear foundation under a mask and number 2) if I did wear foundation I was a streaky mess when I took off the mask.
Skincare became a priority in order to feel confident going makeup free. I wanted my skin to look youthful, vibrant, impurity free, and radiate a natural glow. I reviewed several skincare product and brands. Below is a holiday skincare care round up of products worth checking out to keep your face in tip top shape for winter.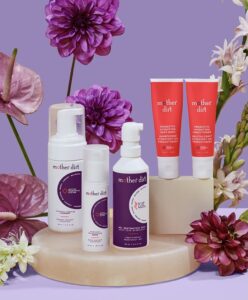 Mother Dirt
Mother Dirt, pioneers of probiotic skincare, is the first skin wellness system that uses the restorative power of live, active probiotics to restore the skin's microbiome. With the new reformulations Mother Dirt also announced two new skincare kits to the Mother Dirt family. I tried the PeaceKeeper kit.
The 3-step PeaceKeeper includes:
Step 1 – Probiotic Foaming Cleanser: Containing a powerful probiotic blend, this foam cleanser removes impurities while refreshing and nourishing the skin without stripping or over-drying.
Step 2 – Probiotic Moisturizing Serum: This lightweight, dermatologically-approved serum contains a powerful and safe-for-skin probiotic blend that locks in moisture and restores balance, leaving a radiantly nourished complexion.
Step 3 – AO+ Restorative Mist: The only live and active topical probiotic of its kind, this patented mist is formulated with more than 3+ billion CFUs in every bottle. It interacts with elements naturally found in your sweat to biologically balance your microbiome. This is the hero of the Active Probiotic System.
The cleanser and non-comedogenic moisturizing serum act as primers and enhance the results of the AO+ Restorative Mist, giving the biome a probiotic boost you can't find anywhere else. When used together, this is where the real magic happens.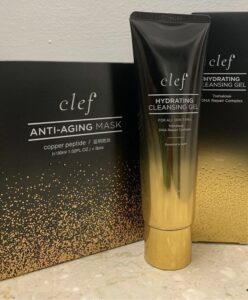 Clef Skincare
Because life is crazy enough, your skincare routine should be easy, quick, and effective. Life's too short to waste time on multiple skincare products every morning and evening. Clef revolutionary copper peptide mask combines the functions of nine different masks into ONE for a stress-free solution. This mask moisturizes, brightens, repairs, smoothes, tightens, nourishes, and heals your skin in one simple step.  Some great benefits you'll see from these masks; fades acne scars, dark spots and hyper-pigmentation, visibly evens skin tone and improves texture and enhances skin for a luminous bare-faced glow. Use 2 boxes every month to achieve flawless skin!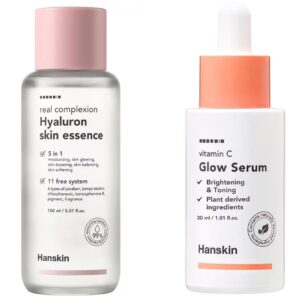 Hanskin
The inventors of K-Beauty's first bb cream, Hanskin specialized in simple and multi-tasking skincare that you gives you better results. Backed by breakthrough science, Hanskin is guaranteed to make the dullest skin glow. And, a great gift doesn't have to be expensive…..the k-beauty buys are proof! I tried the Vitamin C Glow Serum and the Hyaluron Skin Essence.
The Vitamin C Glow Mask Purify your pores and give your skin a brightening boost. Infused with illuminating vitamin C, this marks works to soften the look of darks spots while balancing oil production. Detoxifying kaolin and bentonite clays work together to minimize the look of pores and absorb excess oil. Lightweight hydrators prevent dryness and keep skin soft and supple.
The Hyaluron Skin Essence is a cult-favorite hydrating essence that helps you achieve radiant glass skin with sodium hyaluronate, a powerful moisturizer capable of holding up to 1000x its weight in water. A toner, moisturizer and essence in one, this cushiony, non-sticky formula instantly quenches dryness and restores your skin's natural glow.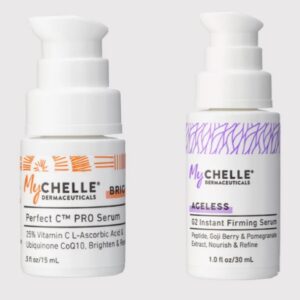 MyChelle Dermaceuticals
Amazing, clean, plant-based and effective serums. The entire line is made without GMO, Gluten, Parabens, Petroleum, Phthalates, Silicones, Sulfates, Ureas, Artificial Fragrances, and Artificial Colors. It's also Vegan and Cruelty-free. I tried the Perfect C Pro Serum and the G2 Instant Firming Serum.
Perfect C PRO Serum 25%: A professional-level, concentrated Vitamin C formula to effectively brighten the complexion and provide powerful antioxidant and antipollution benefits. Formulated with the highest, active level of stable 25% L-Ascorbic Acid to improve skin texture and reduce the visible signs of aging. Plant C-Stem™ and Ubiquinone (CoQ10) help protect stressed skin for a more luminous complexion. Recommended to help renew and revitalize mature or damaged skin, or for those who are already using a Vitamin C regimen.
G2 Instant Firming Serum: This potent skin-conditioning, anti-gravity 2.0 serum works immediately to help restore texture and tone. Blended with Argireline™ peptide, Instalift™ from Goji Berries, and fermented Pomegranate Extract to help rejuvenate skin and decrease the appearance of fine lines and wrinkles.
Hope this skincare product roundup helps you achieve the skin you deserve!

Copyright secured by Digiprove © 2020