I spent my last few hours of 2019 with a good friend at Gibson's Italia. Every indicator had me looking forward to 2020 as a year of progress. As the clock struck midnight the fun continued for both of us as we went our separate ways not knowing what was in store for the year ahead.
2020…..I think was the year of the emoji's. I have used the happy one, sad one, surprised one, disbelief one, and practically any emoji you can think of I've used it. 2020 was a year of reckoning. Coming to the realization industries you thought would always be safe weren't (restaurants and hotels), coming to the realization that some relationships weren't worth holding onto, and coming to the realization of YOU. Facing yourself, spending countless amounts of hours by yourself, and truly determining what a life worth living and success meant to you. We weren't only facing a pandemic, but facing governmental, racial, and equality issues as a society. 2020 will definitely go down in history as being a historic year.
With that said when asked how my 2020 was I feel almost guilty saying it has been one of my best years. I was forced to slow down, I was able to foster closer relationships with my inner circle, and I was able to prove my blog can withstand any obstacles. Just as I did last year I want to break down my blog highlights of 2020 and believe it or not there were many! Doing this evaluation every year makes me so grateful for the people that contribute to Chiataglance.
Looking back it's hard to believe the whole year wasn't spent in quarantine.
Pre Quarantine (January to Mid-March)
I started off my year hitting the ground running. My first event of the year is usually Chicago Restaurant week. This year was no different. I attended Choose Chicago's First Bites Bash and was also invited to preview some restaurants before the food lovers week began. Thank goodness we were able to start the year with decadent and delicious food.
Other unique experiences in the first month of the year included a private tour of the Chicago Symphony Orchestra and dinner at connecting restaurant Opus Restaurant and Café. I also attended my first Symphony this year. I was invited to attend "The Mozart Effect: Live." It was very significant to me that the first symphony I attended happen to be conducted by an African American conductor (Daniel Bartholomew-Poyser). I had an amazing time and look forward to seeing more symphonies in the future.
In continuing with the arts I was invited to preview the Duro Olowu: Seeing Chicago exhibit at the Museum of Contemporary Art. The guided tour was with Duro himself and senior curator Naomi Beckwith. Experiences like these really make blogging so rewarding and special.
Gala season is one of my favorite times of the year. I covered the 37th annual Black Creativity Gala as well as the 112th annual Chicago Auto Show Gala. Both gala's raised funds for non-profits and are A LOT of fun to attend. I was so happy to be invited back to both and sport my Frock Shop Gala Rental Gowns. The Frock Shop is a relationship I have valued throughout the years and they provide me with gowns to look fabulous at the many prominent gala's I attend.
The Black Creativity Gala was extra special this year because they were celebrating the 50th anniversary of the Black Creativity Program. The program helps to motivate youths in science, technology, engineering, art, and medicine. The Gala itself showcases a Juried Art exhibition which began in 1970. The exhibit highlights the achievements of African Americans. During the art exhibition portion of the gala I met one of the artists Dr. Yemonja Smalls. Her artwork spoke to me and I ended up buying my first piece of artwork from her during the pandemic quarantine.
2020 held a lot of firsts for me. The 2020 NBA All Star Weekend came to Chicago one month prior to the quarantine lockdown. The weekend hadn't been hosted in Chicago for 32 years. I had sooooo much fun! I interviewed celebrities and their children on the Red Carpet at the 11th annual Rookie USA Fashion show. I interviewed actor JB Smoove, rapper Fabolous, and Michael Jordan's Mother. Other events I attended were through the Black McDonald Operators. I got to interview Iman Shumpert and Kenny Smith. Wait it didn't stop there!! I was chosen as one of the Top Lifestyle Bloggers in Chicago to participate in a Puma activation with fitness trainer "I am Fly" and we were gifted a pair of Puma shoes and workout top. That weekend was definitely one of my highlights for the year!
There was one more big event I attended before lockdown. I packed my bags and headed to Miami Florida for the Foodnetwork and Cooking Channel South Beach Wine and Food Festival. I was so excited to attend Food Network Star Chef Chris Valdes influencer party a day before the festivities began. Chef Valdes is amazing and I was fortunate to get to interview him last year. Besides all the fun parties I was able to see some of my favorite chefs (Chef Kahari, Chef Simpson, and Chef Fowles) to name a few. I also attended for the first time Chef JJs New taste pool party where I was able to mingle and meet even more great people. Such a fun four day event and I didn't realize it would be my last big event I attended in 2020. Unfortunately, Chicago Gourmet, Cochon, and many other major events were cancelled this year due to the pandemic.
When I returned from SOBE late February the talking had begun on a pandemic that was ravishing the country. There still weren't any restrictions in place just yet. I attended my last media dinner with the Freemarkabbey Winery makers Ted Edwards and Kristy Melton at highly acclaimed restaurant Sepia. I loved hearing of their journeys and enjoyed a really fun wine and dinner pairing.
During Strict Quarantine
Fast forward to Mid-March. In Chicago restaurants were forced to close indoor and outdoor dining. Many other industries were affected as well. I certainly slowed down blog wise, but I did not stop. This was the chance to stay motivated and find other ways to do business. Although you were encouraged not to see people in person that didn't mean you couldn't talk to them on the phone or through means like zoom calls.
I kept up my interviewing and had a wonderful time speaking with Celebrity Chef Jamika Pessoa. Chef Jamika is known for her stint on Foodnetwork Star and currently co-hosting The Dish on Oz Show. Her love of combining Southern and Caribbean cuisine is infectious. I loved her personality and motivating spirit. I was looking forward to meeting Chef Jamika at the National Restaurant Association Show, but unfortunately that was cancelled. Hopefully I can meet her in the near future.
Pivoting was the name of the game during quarantine. One of my good friends transitioned her business "Shall we Wine" to an online platform. She hosted weekly happy hours to educate her audience on different wines and spirits. I was fortunate enough to attend and interview her in the process.
Instead of attending events in person it was all about Instagram Live or Zoom. I was invited by Aberlour on two separate occasions to attend a private whisky pairing for World Whisky Day and National Chocolate Day. I also was honored to take part in CH Winery first #FriendsofCoopersHawk zoom call. It was a wonderful evening of great wine and a delicious tasting via zoom with Founder Tim McEnery and President of the Boisset Collections, Jean-Chares Boisset.
Getting through the transitioning period…..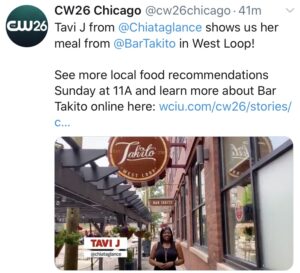 As Summer was arriving, the Covid restrictions were lessened. I was able to get out and do what I love best, showing off the city of Chicago. For mental health awareness month in May I teamed up with the "Hope is Foundation" non-profit to show off the beautiful city of Chicago and what I'm thankful for. You know I love my roundup lists and I put together a social distancing outdoor recommendations lists. Other lists you can refer to I put together this year were Valentine's Day recommendations and towards the end of the year I was commissioned to put together a skincare round up list.
With safety being a big concern this year I was so happy to be able to share ways to keep yourself and your loved ones safe. I was featured on the CW26 TV show "#ChicagoFoodtoGo" three times. I shared with local Chicagoans restaurant recommendations and ways to keep our local Chicago restaurants thriving.
Along the same lines of safety I did a staycation piece with the Renaissane Downtown Chicago hotel to showcase all the safety features put in place not only in the lobby and suites, but also at their rooftop restaurant Raised. I do several staycations throughout the year, but this one meant a lot to me because the purpose was around how we can return to normal while still being safe.
Events may have been cancelled this year, but I was still able to squeeze in a few socially distance events. I was invited to attend the media preview of Mad Hatter's (Gin &) Tea Party as well as the opening preview of the Museum of Illusions. Both event experiences are known world wide and made their way to Chicago this year. I love being at the forefront of what's new in Chicago!
I will always be a foodie and I was fortunate to still be able to experience the best of the best in Chicago through private dinners and home deliveries. One such menu preview was of Karyns Cooked Pop Up Menu. Karyn Calabrese is a leading holistic healer and teacher. Not only did she revive her restaurant, but she's 73 years old and living her best healthy life. I interviewed Karyn and co-hosted an Instagram Live with her.
This year I worked with so many restaruants and accomplished my goal of doing more product reviews. Scrolling through my Instagram I can't believe I was averaging one to two product reviews a week. I covered everything from food and wine, skincare, gadgets, and unique services. I even had repeat collaborations I'm very proud of. 🙂
I ended the year doing what I do best… Interviewing. For those reading this far, you get a heads up I interviewed Season 19 Hell's Kitchen contestant Chef Amber Lancaster. We spoke on issues the restaurant industry is facing, sweet home Chicago, and of course about Hell's Kitchen and Gordon Ramsey. What a great way to end the year!
I'm not big on vision boards, but I like to focus on setting one goal each year. Last year I told myself I wanted to increase my product reviews. This year I'm speaking into existence I want to do more travel blogging. I'm hoping my staycation pieces will propel me to the next level.
I truly want to thank you for following along with Chi-At-A-Glance. This year I celebrated my blogs five year anniversary. I always want this lifestyle blog to promote the positive side of Chicago and also be a space where I highlight folks doing great things. I look forward to 2021 and hope you will join me in seeing, doing, and celebrating all Chicago has to offer.

Copyright secured by Digiprove © 2020