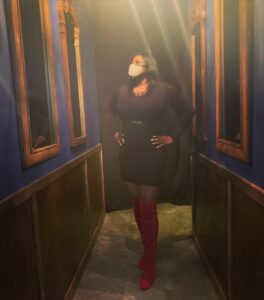 Last night I entered a land of fantasy and Gin! There's a new pop-up in Chicago called Mad Hatter's (Gin &) Tea Party. It's a FUN, wonderland themed theatrical, cocktail-laced evening that's been making its way around the globe.
I can see why it's getting rave reviews! My friend and I had so much fun as we made our way down the rabbit hole while enjoying craft cocktails, British snacks, and Insta-worthy photo ops. We were lucky to get VIP seating right on the stage!!! Such a fun interactive show and the drinks were AMAZING! Also, I love learning that some of the actors are out of work hospitality people, so you're supporting one of the industries we LOVE the most!  Read on below for more details. You have till the end of the year to enjoy the experience for yourself. P.S. REMEMBER TO WEAR YOUR MASK!!!!
"MAD HATTER'S (GIN &) TEA PARTY" NOW TAKING RESERVATIONS
Presented by Fever & Rabbit Hole Bespoke Gin, the pop-up
immersive cocktail experience arrives in Chicago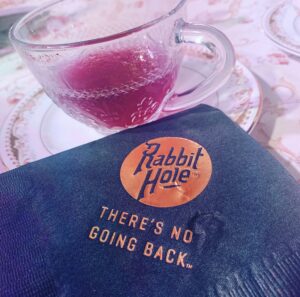 Fever & Rabbit HoleBespoke Gin announce the arrival of "Mad Hatter's (Gin &) Tea Party in Chicago after passing through London, Los Angeles, New York, Paris and other cities across the globe. Now taking reservations through December 2020, the Wonderland-themed theatrical pop-up features curious cocktails created by expert mixologists, sumptuous snacks, outlandish costumes and memorable performances.
Offering a taste of Wonderland in the Windy City, guests will step into an elaborately decorated, vibrant  and Instagrammable hidden garden Chicago's at 2239 S. Michigan Ave. (near South Loop) for a 90-minute extravagant tea party. After starting the evening with a "surprise potion", the eccentric and entertaining Mad Hatter will lead guests through a series of whimsical cocktails made with Rabbit Hole Bespoke Gin that will be accompanied by British tea-time snacks. Highlights include The Smoking Caterpillar, a stunning, sophisticated and totally smokin' drink that combines Rabbit Hole Gin with a dash of Rabbit Hole Boxergrail Rye Whiskey with rosemary flavored smoke bubbles for a touch of wonderfully mad magic.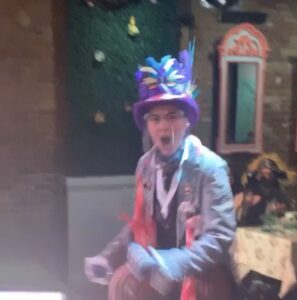 To enhance the immersive experience, guests are encouraged to dress the part as they take a trip down the rabbit hole to taste cocktails and engage in some friendly banter March Hare, Dormouse and more. Guests can also opt to borrow from the Mad Hatter's hat collection for the event (all costumes will be sterilized between use).
Tickets are available for $65 per person and can be purchased through the Fever app or by visiting https://bit.ly/3cBJ9P4. Along with entry to the 90-minute experience, tickets include snacks, three
creative cocktails and an additional welcome drink. Seatings are limited and run multiple times Thursday through Sunday. For a schedule, click HERE.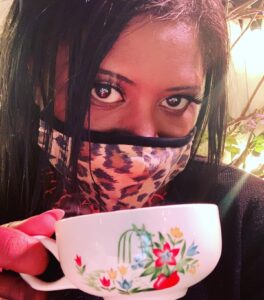 Covid-19 Safety Measures
Mariano Otero, Fever Americas VP said, "We want Chicagoans to be able to enjoy incredible and original experiences, always prioritizing their health and safety. That is why we are excited to bring such a special event to Chicago in accordance with social distancing requirements and city regulations."
The "Mad Hatter's (Gin &) Tea Party will follow strict Safety Measures in accordance with CDC and city of Chicago guidelines. Face masks and temperature checks will be available and mandatory for entry, tables will be separated by 6 feet, hand sanitizer will be readily available, and event space and costumes will be disinfected after each seating.

Copyright secured by Digiprove © 2020