I work hard and I relax hard. 🙂 Relaxation to me is not a want, but a NEED. I am that girl that likes to light a candle, pour myself a bubble bath, and listen to soothing music.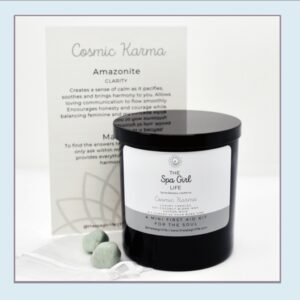 I was excited to review The Spa Girl Life fragrance and stone pairings that allow you to personalize a mind-body wellness experience. Each candle is paired with a guided meditation to help nourish your soul.
The Spa Girl Life is a newly launched NAPPA award-winning luxury and vegan candle brand. The products are made for ANYONE looking to unwind and distress. Their new fragrance stone pairing, Cosmic Karma with Amazonite, offers the natural and fresh scent of eucalyptus and mint to provide clarity, inner peace, and relieve grief or sorrow. The Candle boosts clarity, mindfulness, and relaxation. This one is definitely suitable to give to the man in your life and to make the home smell great.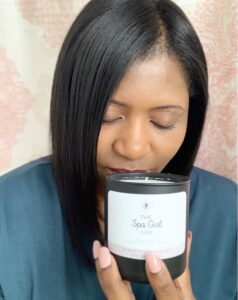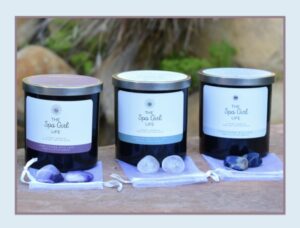 I opted to check out the SPECIAL Candle 3-Pack with 6 Energized Crystals ($99.95). There's eight fragrance and stone pairings to choose from. Each candle is paired with a guided meditation. I chose the following 3 fragrance/stone pairings:
Citrine (Inspiration) Encourages inspiration and can help with moving forward. Helps to build confidence while clarifying your thoughts and clearing your mind. Increases self-awareness.
Rose Quartz (Compassion) Increases self-acceptance and the ability to love others. Aides in soothing heartaches while bringing a sense of peace, compassion, and kindness. Allows you to deal with beginnings and endings.
Botswana Agate (Abundance) Attracts love and abundance. Enhances creativity, progress, and perception.
I'm always on the go and value and NEED my down time. The candles smell delicious, I was relaxed, and I love meditating!
Want to experience The Spa Girl Life for yourself or the man in your life?
Head to www.thespagirllife.com for more details and to place your order.

Copyright secured by Digiprove © 2020