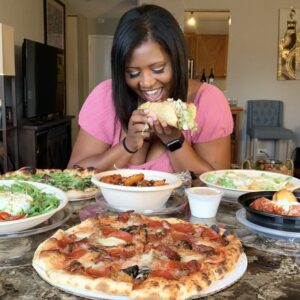 Ghost Kitchens are popping up ALL over the U.S! These facilities offer professional food preparation, but no dine-in areas, meaning food is only available for pickup and delivery. So you can enjoy your food at home!
800° restaurant partnered with Epic Kitchens last month to open the brand's first ghost kitchen in Chicago. 800° is known for their unique and innovative approach to the art of cooking with fire. The popular Chef-Driven restaurant has more than 10 national and international locations and offers a diverse menu of signature fire-roasted pizzas, salads, bowls, sandwiches, and more!!! Delivery options include Uber Eats, Postmates, Doordash, and Grubhub.
Chef Anthony Carron founded 800° in Los Angeles back in 2011. Three-time NBA champion Dwayne Wade serves as a Global Partner for the brand. The companies philosophy starts with using the purest ingredients like made from scratch dough, fresh produce, and artisan quality meats and cheeses. The ingredients are sourced from top purveyors, then fire roasted to impart a unique, subtle, smoky taste. The varied menu items features both clean- eating and indulgent options with something to please the palates of everyone.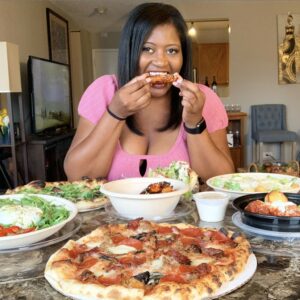 The Chicago incarnation of 800° will be open for lunch and dinner. Signature appetizers on the menu include: Meatballs made with grass-fed beef, ricotta, tomato, pecorino and grilled bread; Burrata with cherry tomato, pesto, wild arugula and grilled bread; and Fire Roasted Wings which are oven roasted (not fried), tossed in a sweet and spicy Calabrian chile sauce and served with creamy gorgonzola dip. Salads and bowls include the 800° Chopped with tricolor greens, spicy salami, fontina cheese, garbanzos, cherry tomatoes, pepperoncini and oregano vinaigrette; the Perfect Caesar Salad with parmigiano, toasted croutons and garlic dressing; and the 800° Power Bowl with quinoa tabbouleh, avocado, cherry tomatoes, sweet corn, cucumber, chickpeas, lemon tahini and the choice to top it off with hummus, fire roasted chicken or salmon. Sandwiches range from cold offerings like the Italian Hero made with soppressata, chicken, fontina, shredded lettuce, pepperoncini, mayo and vinaigrette to several warm sandwich selections like the Chicken Bacon Ranch Melt made with chicken, smokey bacon, cheesy garlic bread, peppadews, arugula and homemade ranch; or the Meatball Parm with homemade grass-fed beef meatballs, cheesy garlic bread and arugula.
Fire-roasted pizza also shares center stage on the menu with pies carefully crafted from scratch-made crust with the highest quality ingredients and toppings. Specialty pizzas include the ever-popular Tartufo with fresh mozzarella, wild mushrooms, truffle pecorino, roasted garlic and arugula; the BBQ, with fire-roasted chicken, BBQ sauce, smoked provolone, peppadews, red onions and cilantro; and the Carni with Italian sausage, all-natural pepperoni and smoky bacon. Guests with more individualized tastes or dietary restrictions can create their own pizza with a base of Margherita, Bianca or Verde, a selection of protein, vegetable, and cheese add-ons, and can substitute with gluten-free CauliPower Crust or vegan mozzarella.
800° Chicago will be open seven days a week from 11 a.m. to 10 p.m.
Stay up to date with specials and mouthwatering photos by following on Instagram and Facebook at @800degreeschicago and online through https://800degrees.com/locations/chicago/

Copyright secured by Digiprove © 2020