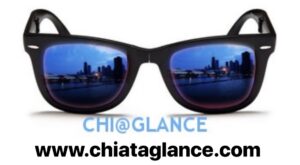 Chi@Glance is a Chicago Lifestyle Blog. I started this blog 5 years ago because I was tired of Chicago getting a bad rep. I LOVE Chicago and I was born and raised here. Chicago is a city of community, positivity, and possesses some of the greatest entrepreneurs. I interview fellow Chicagoans that are making a difference throughout various industries. Most of the interviews I conduct are with minorities. It's a way for me to highlight individuals that own businesses or have services that might not be getting promoted in the mainstream.
With that said Chi@Glance is primarily a positive blog. I want it to be a forum you come to in order to find new businesses to support, new food to try, events going on in the area, etc. What I DID NOT want it to be is a place that glorifies or highlights the violence that is rampant throughout the city. I do so not out of ignorance, but I believe as many images as you see of the bad you need to see of the good. I'm here to show the GOOD. I will not be posting every single injustice that happens because that would be everyday. As much as we need to inform ourselves of what's going on, you also need a retreat and Chi@Glance is the place to do so, while shining the light on many minorities that are making a POSITIVE difference.
There does come a time though where you can't keep saying everything is roses (which I've never done) but you have to address an issue before you're able to keep going. I want to use this post to address the issue of RACISM from MY point of view. The point of a view of a middle class black woman that lives on the North Side of Chicago.
Why do so now? #Amycooper. I feel we all have that one incident that really rubs you the wrong way. I was scrolling through my twitter feed Memorial Day weekend (when Black Twitter….LOVE Black Twitter 🙂 ) was posting about a White Woman in Central Park using her White privilege to call the cops on a Black man for doing nothing. He simply asked her to leash her dog and she used her "white tears" (while damn near choking her dog) to call the police and pretend she was in danger of being attacked by this Black man. If you've seen the video he is NOWHERE near her and she changes her voice at the end to suggest she's being attacked. I came upon that story when I was laying in bed at night and I was MAD…I immediately sent it to a friend and we vowed we needed to keep following that story to see what the resolution was. Resolution: she lost her job, she lost her dog, and her a$$ is band from Central Park. That to me is a win although some fines for using 911 in the wrong way would have been nice as well. Did it stop there… NO….the stories kept pouring in with people posting videos of overt racism captured on film. #TomAustin
You cannot deny what you keep seeing with your own two eyes. As Actor, Will Smith, said:
"Racism is not getting worse, It's getting filmed."
The more videos that are readily at your fingertips the more pissed off you get. It's one thing to hear about it, but to see it is a whole different story. Which now brings me to #GeorgeFloyd, #AhmaudArbery, #BreonnaTaylor. Society has shown us over and over again we're not allowed to sleep, jog, eat, drive…nor breathe…while black. Not to mention the micro aggression racists tactics (So and so is soooo aggressive "angry black woman" in the office)
That is why I speak up. I myself as a black woman am not discovering this is a new problem for the first time because it's not. There are a new set of eyes (hence new white allies) that are seeing these things firsthand and perhaps for the first time on film. They needed the videos in order to see what their "black friends" were saying is true.
I'm not writing this article to chastise. I'm writing it to speak my truth and if it helps someone great. I started this article over way too many times to count. I was going to focus on these topics:
Systemic Racism
Appropriation
Overt Racism
I am not your teacher
Black Lives Matter
I scratched all of that mainly because this article would go on forever (LOL), but also because I don't want to be your teacher. There I said it. I said what I said. Why should I have to provide resources on how you can try to control yourself and not shoot me? I get it….we (meaning black people) need allies so we're out here trying to provide resources but I know we must all be screaming in our heads (JUST STOP BEING RACIST….HOW IS THAT HARD)?
Before I keep rambling on….I decided to just give you one example of how I feel and leave you with that. I wanted to use a relevant example and a recent one.
How did I feel about #Blackouttuesday? Many conflicting feelings. Number one my friend passed away the day before, so I was late to the "Trend." When I signed onto Instagram the next day I kept seeing black boxes with the hashtag #blackouttuesday. I briefly looked it up and saw a lot of black people I respected posting it, so I decided to do the same (while feeling uneasy). I felt uneasy because it was feeling a little too trendy to me. Sort of like post this box to prove you're not a racist (clearly I'm not). And it looked like it was to have your audience give you a pat on the back. That's at least how I took it.
Once I looked up more information on it I clearly saw that some people (myself included) weren't using it right. It was supposed to be a day where we're just not quiet, but a day you choose not to carry on business as usual and share resources on how to help black people. I could clearly see that wasn't being done by all. Now I don't want to be the advocate police, but some people were posting drop dead gorgeous selfies of themselves, food pics, etc…and still not following the instructions on what to do. So although I posted out of solidarity it still felt like a slap in the face to see how some "supposedly down for the cause" people, were still making it about themselves. They saw the instructions clear as day and still didn't do that. People posting pictures of food versus a straight "Black Lives Matter" and maybe someone will read the comment section. But, then I heard some people were posting food to grab attention. SEE it can go either way, so that's why I'm saying I'm NOT trying to be the advocate post police. Only YOU know what was in your heart.
I DO NOT want to take away from the cause by telling other people what they should and should not post. But I do feel like if you're going to post you need to do so with true intentions. It's not a trend. After you post your little black box what are you doing to help the cause? Are you helping minorities to gain scholarships, are you mentoring within the community, are you providing jobs and assistance to minorities? Basically are you putting your money where your mouth is?
The examples I listed above are just a short list. There's so many other ways you can show your support besides posting a black box. In the influencer/blogger community there are those that posted a black box that say they are supposedly down for the cause, but act cold to you at events and pretend like you don't even exist. The thing is if you're really down for the cause you're going to have to look within your own heart and decide where you stand and what role you're going to play. None of us our mind readers….so we're judging based on actions.
I'm using an example of the blogger/influencer community because that's my playground, but just replace it with whatever yours is. Do you invite any black bloggers to join you at the table or at any of your events? Or are you like this individual, Reporter Fiona Moriarty, that likes to pretend there down for the cause. She really had the nerve to fake a picture of her helping to board up a business. If you posted the Black Box I want you to truly be a part of the solution. I want to commend white bloggers like "Amycookschicago" by posting in her stories black blogger accounts you can follow and support. That meant so much to me. I also want to thank other white bloggers that have shown me kindness at the beginning of my blogging career and throughout. One in particular didn't throw many events, but when he did he most often reached out and invited me to join. Thank you.
For those people that are a part of the problem, Can you change…YES, but show us, don't just tell us. Forgiveness is key and so is accountability. It's never too late to change and decide…"Hey a life is more valuable than my endorsements." Or Hey let me step outside the box and invite so and so to go to this event with me, or hey let me call out my friend who's always telling the racist jokes. Or let me support so and so on social media in their actual feed/comments versus sending them DM's all the time of my support. Or I'm a HUGE food blogger account. Let me show some black owned businesses. There are so many ways you can help as an individual. It's not my job to decide if you've helped enough, as it's also not my job to be your teacher. There's too many resources out there in order for you to figure out how not to be a racist. Racism is a choice.
I don't think it's fair that I'm supposed to provide you resources on how not to get the urge to want to shoot me. But so the story goes I'm told I have to or I will not like the outcome. IT's NOT FAIR!
Did this article help you? Am I off point? Where is this world going? I don't know and I pray for a better future, but I'm also working toward a better future. We ALL need to do our part. Just think of going outside your circle and educating yourself.
Here's a great start with what systemic racism is:
I'm sure you've already seen the many links circulating on Instagram on slavery books you can read…so I'll just end my article here. If you really want to do better, believe me YOU can. Start with realizing #BlackLivesMatter
For more resources or information: Google
If you want to see POSITIVE articles on black people and minorities you can support follow along with @Chiataglance on Instagram, Facebook, Twitter, and make sure to subscribe to www.chiataglance.com. We've been providing this information the last 5 years and we're definitely not stopping anytime soon.

Copyright secured by Digiprove © 2020