I have so many fond memories of eating, drinking, mingling, and having an ALL around fantastic time with regards to the Cooper's Hawk brand. At the beginning of last year I attended a private screening of Food Network Celebrity Chef, Tyler Florence, film "Uncrushable," hosted by Cooper's Hawk Winery. I got to learn more about the Cooper's Hawk brand and interview Chef Tyler Florence.
Mid-year 2019 I was invited to attend a Friends of Cooper's Hawk gathering at Victoria in the Park event space. Famed Wine Maker, Jean-Charles Boisset and Cooper's Hawk Winery & Restaurants Founder/CEO, Tim McEnery, walked us through the Cooper's Hawk brand while indulging in a superb tasting menu and drinking wine of course. 🙂
To end last year….Cooper's Hawk opened their first downtown location in Chicago and I attended the grand opening celebration. Located in the heart of the Gold Coast on Oak Street the space is 3 levels and 24,000 square feet. The décor is beautiful, there's a wine tower, and an Esquire Champagne Room. I can't wait to visit that location again!
In the meantime….while I wait,  I was invited to take part in a Friends of Cooper's Hawk virtual wine tasting hosted by Cooper's Hawk CEO Tim McEnery and President of Boisset Collections, Jean-Charles Boisset. Seeing these two together again brought back fond memories of the dinner I attended hosted by them last year. They have such great chemistry!
Our virtual wine tasting celebrated Cooper's Hawk July wine of the month Liberté. Liberté means freedom in French. The wine blends grapes from California with grapes from Boisset vineyards in France's Rhone Valley. It's rare that wine contains the fruit of both France and California. The bottle includes several iconic red varieties and it's composed around Cabernet Sauvignon from California, and the French component is led by Syrah.
Our wine pairing also included a delicious charcuterie board curated by Chef Matthew McMillin. Our goodies were from Oakville Grocery in Napa Valley and included: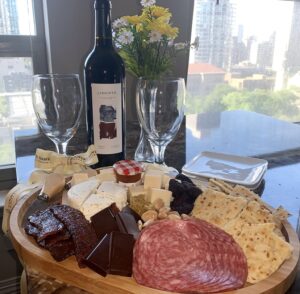 2 Beautiful Artisan Cheese (Cypress Grove Purple Haze Goat Cheese and Sartori MontAmore)
OLLI Genoa Salami
Spanish Marcona Almonds & Dried Figs
Savannah Bee Company Honeycomb
Cooper's Hawk Lavish Crisps
Cooper's Hawk Candied Bacon
Bonne Maman Apricot Preserves
Oakville Grocery Dark Chocolate Bar
All I can say is Hmmmm…. DELICIOUS wine and food pairing! If you like your wine on the drier side, make sure to check out Liberté on your next visit to Cooper's Hawk. To find your nearest Cooper's Hawk location head to CHwinery.com

Copyright secured by Digiprove © 2020