2020….??
Believe it or not until this year is COMPLETELY over with I will withhold my opinion on what kind of year it's been for ME and Chiataglance.
I started off my year with great intentions and many accomplishments. I was invited back to cover some of the biggest Chicago events like the Chicago Auto Show Gala, Black Creativity Gala, and Choose Chicago's First Bites Bash.
2020 was the year the NBA All Star Weekend made its way back to Chicago. It had been 32 years since we hosted in our town and Chicago showed up and showed out. I felt privileged to attend some major events and interview celebrities like rapper Fabolous, JB Smoove, Iman Shumpert, Kenny Smith, and Michael Jordan's mom on the red carpet.
I was also able to cover quite a few restaurant/bar openings and review new menus. (The Dandy Crown, I Dream of Falafel, Rick Bayless Tortazo, VU rooftop, Onward Chi, Einstein Bagel Bro's, Krispy Kreme, Encanto Agave Bar….to name a few).
Networking and building upon relationships has always been a top priority of mine at Chiataglance. I continued my work as a brand ambassador with dress rental company, The Frock Shop. I promoted for the Hustle Chicago event through the Respiratory Health Association. I was a part of the Mental Health Awareness month campaign through Hope is Foundation and I continued doing several product reviews with companies like Forever Wedding Favors. I even squeezed in a staycation piece with the Double Tree by Hilton.
On top of that I did interviews with celebrities like Chef Jamika Pessoa from "The Dish on Oz" show. I attended exclusive dinners like the one at Sepia hosted by the Freemarkabbey wine makers Ted Edwards and Kristy Melton.
Right before lockdown I flew to Florida to cover the Food Network and Cooking Channel South Beach Wine & Food Festival in late February.
I did SOOOO much before the quarantine/lockdown occurred. Even while in lockdown I interviewed, promoted products, and was invited to attend sponsored events through Zoom. My commitment to present articles of interest to the Chicago community never wavered.
However, I could tell the phase we were entering into was unchartered territory for most and would become our "New Normal." Interviewing entrepreneurs like Regine T. Rousseau from the company "Shall We Wine" was insightful on how owners were having to pivot to stay afloat in their industries through the lockdown.
When the lockdown first occurred I naively thought it was only going to last two weeks and I could stop hoarding toilet paper. Once I kept seeing the lockdown extension being extended over and over again I knew I had to mentally prepare myself to deal with "ME."
I have a great support system of friends, family, and lovers (LOL), but when you're alone with yourself 24 hours a day things start to get real. I started off the lockdown trying to keep myself on a productivity schedule. Between working, blogging, working out, cooking all my meals, and countless Instagram Live and Zoom interactions my days were pretty full.
About three weeks into that I felt exhausted. That's when I decided that my new normal would be to "relax." Before lockdown I was constantly attending events and working. That filled my whole life. I noticed I was carrying on that behavior, which was a little destructive, into quarantine. I decided I needed to use this time to discover me again and relax. I still didn't know how to go about that so I made a list of things I wanted to change.
With eating out all the time and attending events I have put on quite a few pounds over the years. The first thing I decided to focus on was changing my eating habits and exercising. Making that my main focus I let other things go and was happier. Working out had me on such a new energy high that it allowed me to clear my mind. I started incorporating things like phone calls with friends again, reading the bible and self-help books… VOILA….I felt like I was actually starting to enjoy quarantine. Not having a choice to attend this event, or meet up with friends, or attend this concert helped me to fully be present for myself.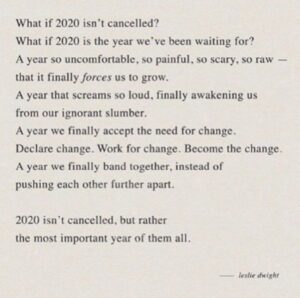 Then Memorial Day weekend all hell broke loose with the murder of George Floyd by the hands of the police. The issue of RACISM was full focused in the news, social media, social circles….you name it was all about RACE. I had done the work on myself mentally during quarantine and now was faced with having discussions with my diverse group of friends over different aspects of Race. It was mentally draining. A man was murdered and lost his life due to the action of 4 (Racist) police officers. The outcome of their actions will never be forgotten. People of ALL races coming together to say "Black Lives Matter." I don't know about you, but this time doesn't seem like all talk. People started losing their jobs or resigning, people of color started getting promoted, Black people and minorities ARE getting heard. This time I saw actions immediately being taken and some actions by industries you were shocked by like NASCAR banning the confederate flag at events.
See what I mean 2020 is strange…but it shouldn't be cancelled. 2020 seems to be the year of reckoning and not sweeping things under the rug anymore.
2020 is also the year we're saying that it's okay to mentally go at your own pace. In quarantine messages were circulating around the internet that "It's okay to not feel okay." At my job we were constantly being reminded to take time for ourselves and to take care of ourselves. 2020 seems to be turning into a year of compassion and I only hope it keeps growing.
So what's next in this NEW NORMAL????
Well as you know most events have been cancelled for this year. Gatherings are to be kept small for now (10 or fewer people) and social distancing (as well as masks) are still encouraged. During quarantine I was on the strict side of things. I quarantined by myself, did not associate with anyone if it wasn't through technology, and I only did my morning walks and grocery shopping between 6-8:30 in the morning.
As we moved into phase 3 I decided to go on a mini getaway with a friend to an isolated cabin in Wisconsin. When we returned I started getting even bolder. I went to get my hair and eyebrows done. The following day I met up with a friend for my first restaurant outdoor experience since the quarantine at Club Lago. Then to finish up the week I did a social distancing picnic/happy hour with friends. In my head I was like "Who is this person?!?" After months of being cooped up I was returning to my old event loving/socializing self….and it was nice. I was doing things on my own time and at my own speed. Not going to lie I'm still a little bit anxious around people, but wrapping my head around a new normal of air high fives, no lipstick because of masks, and limited interactions with people. It's a new normal, but I'm blessed to still be on this earth to take advantage of it.
2020 so far has been a year of change, uprising, compassion, adventure, and uncertainty. If this momentum keeps going A LOT of major change is coming for the next generation and hopefully mine too.
Be the change you want to see…Be YOU, Challenge your views, change if necessary, but this is the year to ask questions and grow. This is the "New Normal."

Copyright secured by Digiprove © 2020