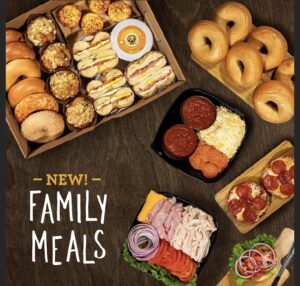 During these trying times, Einstein Bros.® Bagels is working to reduce at-home stress and encouraging families to make their time together count through the launch of Family Meals. Offering a fun and easy way to engage the whole family for breakfast, lunch and dinner, Family Meals are available now at over 700 store locations through take-out, Order Ahead on the Einstein Bros. Bagels mobile app or calling ahead to your local store.
Hot & Ready Brunch Box: Feeds six to eight people, $29.99
A made-to-order box for families looking for a treat after a hard week of working from home and/or home schooling, this box includes six fresh-baked bagels, one tub of shmear, three egg sandwiches cut in half (one Farmhouse, two Bacon & Cheddar), four blueberry muffins and four twice-baked hash browns.
Nova Lox Add-On Kit: Feeds four people, $19.99
Kit includes cold-smoked Nova Lox salmon, freshly sliced red onion, tomato and lemon, and savory capers.
Take & Make Pizza Bagel Kit: Feeds six people, $9.99
With this easy-to-make pizza kit, parents no longer need to dream of the day kids make dinner. The kit includes all of the ingredients needed to make six Cheese Pizza Bagel slices and six Pepperoni Pizza Bagel slices, giving kids a fun activity and their parents a break.
Take & Make Bagel Deli Kit: Feeds six people, $29.99
Guests can set up a sandwich shop in their kitchen and have the family build their own fresh-baked bagel sandwiches for less than $5 per person. This kit includes six fresh-baked bagels, plenty of turkey and ham, cheddar cheese, fresh-cut tomato, onion and lettuce, and comes complete with mayonnaise and mustard packets.
Einstein Bros. Bagels is urging guests to use the Order Ahead capability through the company's app, available on Google Play or the App Store, where guests can submit and pick up their order quickly in-store. Order Ahead is available at select Einstein Bros. Bagels locations, excluding franchise and license locations inside hotels, airports, hospitals, colleges.

Copyright secured by Digiprove © 2020