Mischievous Leprechauns Are Sneaking Into KRISPY KREME® Shops, Turning ALL Doughnuts GREEN to Celebrate St. Patrick's Day
Krispy Kreme has created a Leprechaun Trap Doughnut filled with Irish Kreme
for lucky fans to catch them Saturday, March 14th through Tuesday, March 17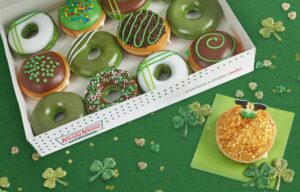 Mischievous leprechauns are sneaking into Krispy Kreme shops across the country and aren't just turning O'riginal Glazed® Doughnuts green this year – but all the doughnuts!
For the first time ever, fans who visit Chicagoland shops from Friday, March 13 through St. Patrick's Day, Tuesday, March 17 will find doughnut display cases filled with greenfield versions of their favorite Krispy Kreme doughnuts, including Chocolate Iced with green Kreme, Cake Batter with green icing, Strawberry Iced with St. Patrick's Day sprinkles, OREO® Cookies & Kreme with green icing drizzle and Chocolate Iced Custard filled with shamrock sprinkles.
In a stroke of innovation, or perhaps just the luck of the Irish, Krispy Kreme has devised a delicious way to catch these tricksters with an all-new Leprechaun Trap Doughnut. Decorated as a pot of gold and filled with irresistible Irish Kreme flavored filling, the doughnut will be available in limited quantities each day – only a few lucky guests in every shop will have a chance to catch one!
"Chicagoans love St. Patrick's Day, maybe even more than leprechauns do, especially paired with green Krispy Kreme Doughnuts all weekend long," said Carlos Larcada, President of Chicagoland Restaurants, LLC. "If you're lucky, you can catch one celebrating at Chicagoland shops this year."
Go green with Krispy Kreme and celebrate St. Patrick's Day all weekend long at Chicagoland shops located in Homewood at 17815 South Halsted Street, Evergreen Park at 9150 South Western Avenue, Hillside at 110 South Mannheim Road and Chicago in Block 37 at 108 North State Street.
Share how you're enjoying St. Patrick's Day or are among the lucky guests who snag Krispy Kreme's new Leprechaun Trap Doughnut by tagging @krispykremechi on Instagram and @KrispyKremeChicagoIL on Facebook. Visit www.krispykreme.com or download the Krispy Kreme Rewards™ mobile app to place your online order, find your favorite Krispy Kreme shop and get Hot Light alerts.

Copyright secured by Digiprove © 2020