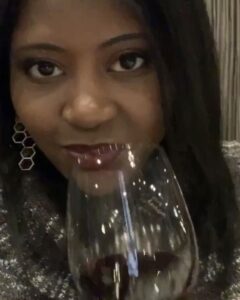 Take me back to Napa Valley! Breathtaking views, distinguish wineries, food/wine pairings, and of course wine tastings. Located in California, Napa Valley, has more than 400 wineries. 95% of wineries in Napa are family owned and operated. No matter your level of wine knowledge there's something for everyone in Napa. As one of the world's Premier wine regions, Napa is known for its Cabernet Sauvignon.
Its been seven years since I stepped foot in the lavish vineyards of Napa Valley. Last night I was invited to enjoy a beautifully orchestrated dinner at Sepia restaurant in Chicago with the winemakers of Freemark Abbey Winery in Napa Valley.
Freemark Abbey is celebrating its 130th year anniversary! The wines are elegant and classically structured versus keeping up with trends. The winery boasts being the first female owned Napa Valley Winery on record with Josephine Tychson at the helm in 1886.
Winemakers Ted Edwards and Kristy Melton joined us for last night's wine/dinner pairing. Ted is celebrating his 40th vintage and new role as Winemaker Emeritus. In 1985 Ted became a winemaker at Freemark Abbey and after three decades is one of the leading winemakers in California.
Ted's chosen successor, Kristy Melton, is only the seventh winemaker in the winery's history and the only woman to take on the role since the founder, Josephine Tychson. (Happy Women's History Month!)
Freemark Abbey has a great wine library going back to 1967. One of my "aha" take a way moments of the evening was from Kristy. She said instead of just pulling out those special wines for special occasions… why not have a special evening featured around the wine. If you have a great bottle of wine to share why wait, but have people over and enjoy the night with a great bottle of wine. I couldn't agree more!
Another takeaway for a wine novice like myself is you should NOT decant old wine. Decanting is for young wines. Decanting is to open up something that's tight and old wines do NOT need the air.
We had a great evening hearing stories about how the 2009 Cabernet Bosche got its name to how Freemark Abbey will continue with its classic traditional wines in the future.
I would have to say my favorite three wines of the evening were:
Ted's pick (1995 Sycamore Vineyard Cabernet Sauvignon; SRP:$325)
2018 Napa Valley Chardonnay; SRP$ 40
2009 Cabernet Bosche; SRP $225
For more information on Freemark Abbey head to freemarkabbey.com
Wine/Dinner Pairing at Sepia Restaurant in Chicago

Copyright secured by Digiprove © 2020