Duro Olowu – Seeing Chicago
Where: Museum of Contemporary Art
Address: 220 E. Chicago Avenue
When: February 29th – May 10th 2020
This February, the Museum of Contemporary Art Chicago presents a special exhibition, Duro Olowu: Seeing Chicago, curated by the internationally acclaimed Nigerian-born British designer Duro Olowu, best known for his award-winning womenswear label. For this exhibition, Olowu curates a major exhibition drawn from the public and private art collections of Chicago, anchored by the MCA's art collection, that reveals his creative process imagining relationships between artists and objects across time, media, and geography. Moving away from traditional exhibition formats, Olowu combines paintings, sculptures, photographs, and films in layered and textured scenes that also incorporates his fashion. The first exhibition of its kind, Duro Olowu: Seeing Chicago is inspired by Chicago's deep and emotional investment in the arts, something that Olowu cites as a distinct and dynamic aspect of the city's incredible cultural heritage. Duro Olowu: Seeing Chicago is on view at the MCA from February 29 to May 10, 2020, and is organized by MCA Senior Curator Naomi Beckwith.
I had the privilege of being invited to attend the press preview on February 28th. We listened to remarks on the exhibit from MCA Director Madeline Grynsztejn. Afterwards we got to tour the exhibit with Duro Olowu and Senior curator Naomi Beckwith.
Olowu's fashion design work is characterized by unique fabrics and evocative patterns in his impeccably constructed garments that speak to a cosmopolitan sensibility informed by his international background and curator's eye. Throughout his career, Olowu has forged personal relationships with artists across the world and has especially advocated for voices outside of the context of Western Europe and North America. Olowu's multicultural viewpoint has translated into popular platforms and projects from his Instagram posts to his innovative museum and gallery curatorial projects in London and New York. This global perspective translates to all of Olowu's work where his dynamic arrangements give context to his designs, and position him at the transcultural crossroads of art, culture, and fashion.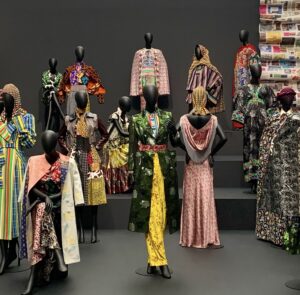 For this exhibition, Olowu engaged with numerous institutional and private collections in Chicago and selected artworks that reflect mutual ways of seeing, selecting, and acquiring across the city. Inside the MCA galleries, Olowu will place this diverse array of Chicago art holdings to reveal unexpected connections, patterns, and common interests between Chicago collections of various sizes and scales. With an artist's sense of experimentation, Olowu will take the approach of installing the works 'salon-style,' using vertical wall space and playful combinations to place works in surprising conversations with one another. Olowu organizes the show to prioritize aesthetics and the visual experience of the visitor, with wall colors including saturated shades of orange, purple, and teal – inspired by the exhibition.
Works of different movements and historical contexts are presented alongside one another, capturing the breadth of Chicago collections through the lens of a curious observer or visitor from another place. The exhibition features a diverse and inclusive roster of artists ranging from turn-of-the-century innovators Henri Matisse and René Magritte to contemporary artists Dawoud Bey, David Hammons, Barbara Kruger, Simone Leigh, Kerry James Marshall, Ana Mendieta, and Fred Wilson. A special emphasis is given to Chicago-based artists and movements originating in Chicago, such as AfriCOBRA and the Chicago Imagists, in addition to works that capture the city's signature spaces and architecture.
Olowu's invitation to audiences to join him in a sustained look at new arrangements of objects propels Seeing Chicago. The exhibit is a sampling of Chicago collections – both institutional and private – many of which were the product of the singular visions of the collectors and curators. And while these visions are altogether unique, Olowu recognized a striking familiarity in their ways of seeing and selecting. Olowu's idea of the "second look" has become a model for spending respectful time with an object and giving attention to those objects that are either overlooked or even hypervisible to the point of not offering any more discoveries. A second look is the mode by which Olowu was able to visit Chicago and offer a new connection and meaning into the city's collections.
Chicago gained a reputation as a stellar collecting city by the 1980s. It became an important center for art fairs, and local collectors played advisor and mentor to budding collectors from all over the country. Some of the star collectors were founders and supporters of the MCA, some were artists that supported their contemporaries, while many collected to support their cultural community. Olowu recognized a certain independent streak among Chicago collectors, who, as a whole, amassed an eclectic, significant holding of works of great diversity.
Olowu made many visits to Chicago as a curator, and spent time learning about art exhibitions, institutions, movements, and galleries in Chicago, including the art holdings in museums and private homes. Works for the exhibition were loaned from public collections such as the Art Institute of Chicago, Block Museum of Art, South Side Community Art Center, and Intuit: The Center for Intuitive and Outsider Art; artists' collections including Richard Hunt, and the Estate of Archibald Motley, Jr.; and individual Chicago collectors who have made major, selfless contributions to many cultural institution around the city.
ABOUT DURO OLOWU
Born in Lagos, Nigeria, to a Nigerian father and Jamaican mother, Olowu's first eponymous collection in 2004 was a critical hit with the fashion world and sold out internationally. It featured the now signature "Duro" dress, hailed by both British and American Vogue as the dress of the year in 2005. That same year, he won the prestigious New Designer of the Year Award at the British Fashion Awards.
Olowu was also awarded TopShop's 'NEWGEN' sponsorship, and in 2010, he was named Best International Designer at the African Fashion Awards in South Africa and was one of six finalists for the Swiss Textiles Award in Zurich. Alluring silhouettes, sharp tailoring, original prints juxtaposed with luxurious fabrics in off-beat yet harmonious, combinations became Olowu's signature. His collections are a reflection of his interpretation of an international style that is timeless and relevant. His curatorial projects "Material" in 2012 and "More Material" in 2014 at Salon 94 Gallery in New York met with critical praise by the art world.
Olowu's next museum exhibition, "Making and Unmaking" at the Camden Arts Centre in London, also garnered high critical curatorial praise and is regarded as a landmark exhibition both for the scale and range of artists included as well as the deftly original installation he designed for the show. He lives between London and New York.
POP-UP STORE
The MCA Store features a pop-up shop with 30 exclusive pieces designed especially for the exhibition by Duro Olowu. These Items include home goods, stationary, and accessories such as a silk scarf, a bespoke patchwork dog, and other novelty items. A limited edition tote bag by MZ Wallace will be available for pre-order in the store. Proceeds from the sales of the tote bag will be donated to the MCA.
RELATED PROGRAMS
Talk: Duro Olowu with Madeleine Grynsztejn
Saturday, February 29, 2 pm, $15
On the opening day of Duro Olowu: Seeing Chicago, MCA Director Madeleine Grynsztejn engages Olowu in a discussion on the themes and revelations of building this exhibition, with an introduction by Senior Curator Naomi Beckwith.
In Progress: Lagos/Chicago 1977
Tuesday, April 14, 6 pm
Inspired by Duro Olowu: Seeing Chicago, exhibition curator Naomi Beckwith leads a conversation with local artists, musicians, and scholars of FESTAC '77, the pivotal Second World Black and African Festival of Arts and Culture that took place in Lagos, Nigeria and was co-led by Chicago-based artist Jeff Donaldson of AfriCOBRA. Through live performance and discussion, the assembly asks pivotal questions about ongoing research into this important transcultural moment.

Copyright secured by Digiprove © 2020