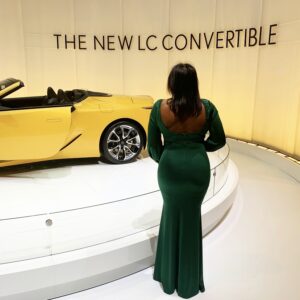 Event: The Chicago Auto Show
Date: February 8th – February 17th
Time: 10am – 10pm (8pm 2/17)
Where: McCormick Place
Address: 2301 S. King Drive, Chicago
Tickets: $13 Adults $8 Seniors and Children
Children 6 and under are FREE!
Website: www.chicagoautoshow.com
The 112th annual Chicago Auto Show opened to the public on Saturday February 8th and runs through President's Day on Monday February 17th. Automotive manufacturers, exhibitors, and enthusiasts from across the globe are revving up for the 2020 show. The Chicago Auto Show is held annually at McCormick Place and is the nation's largest and best attended auto show. Hours are 10am to 10pm each day except for the final day when the show will close at 8pm. The auto show is a must see for those looking to cure the winter blues through fun & entertainment, seeing NEW vehicles, and definitely for those wanting to compare and shop.
As a social media influencer for the Chicago Auto Show I've had the privilege to preview the show for the last few days and attended hosted events by the automotive industry. The two day preview of the auto show hosted more than 3,000 registered media and an additional 1,000 invited bloggers, digital, and social media influencers.
The Chicago Auto Show is approximately one million square feet of exhibit space. There's nearly 1,000 cars, trucks, and SUVs on display. Make sure to check out the complete range of domestic and imported passenger cars, trucks, sport utility vehicles, and concept cars. There's four indoor test track experiences and three outdoor ride-and-drive opportunities.
I roamed the Chicago Auto Show floors for 3 days…..check out my highlights below! Thank goodness I stayed at the Hilton Garden Inn at McCormick Place (which connects via a bridge) to McCormick Place. It was nice being able to take my time and head for a drink or two (LOL) at the trendy rooftop lounge VU located within the hotel afterwards. Keep scrolling for a look of the 2020 Chicago Auto Show through my eyes and as always thanks for exploring Chi-At-A-Glance!
Tavi J. 2020 Chicago Auto Show Highlights
A few days before the Chicago Auto Show there's a hosted Concept & Technology Garage for 100 to 150 of the nation's top tier automotive media, broadcast outlets, and social media influencers. There's 30 to 40 vehicles featured from 20+ automakers. We got to take a dive into the industries latest concept vehicles, safety technology, and telematics. Even better the garage is climate controlled and we got to test drive the vehicles at a low speed. You can check out some of the concept cars for yourself at the 2020 Chicago Auto Show. This year the show features more than a dozen concept vehicles.
https://www.chicagoautoshow.com/vehicles-on-display/concepts/
If you want to get dressed up, munch on world class food, and preview the Chicago Auto Show before it opens to the public… the First Look For Charity Gala is the way to go. This was my fifth time attending the Black Tie Charity Gala and it never gets old! The Gala is Chicago's finest fundraiser. Last year nearly $3 Million dollars was raised for 18 charities. The event has generated more than $50 Million Dollars since 1992. Guests are treated to champagne, wine, mixed drinks, local craft and domestic beer, coffee, espresso, soft drinks, world class hors d'oeurves and desserts while walking the floor of the Chicago Auto Show. One lucky attendee this year walked away with the keys to a brand new 2020 Ford Explorer ST. If this sounds like your type of event check it out next year!! Firstlookforcharity.org
Ofcourse the main point of the Chicago Auto Show are the cars!! I always love taking a visit to the Wintrust Super Car Gallery. The Super Car Gallery is an area at the show featuring rare, exotic, and ultra-high-performance sports cars. Note, you need special access to enter this area. However, Wintrust offers its customers and show-goers multiple opportunities to gain exclusive access inside the Gallery. For example, snap a picture of your favorite "Super Car" or Concept Car and share to Facebook, Twitter, or Instagram using the hash tag #Supercarsweeps. You will be entered for a chance to win exclusive access to the Super Car Gallery.
Indoor Test Tracks and Ride-and-Drive Opportunities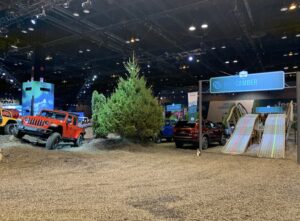 What better way to get acquainted with the automobiles then to Ride in them. There are four indoor test track experiences and three outdoor ride-and-drive opportunities.
Bring out the kid in you with the interactive exhibits at the Chicago Auto Show. Ford has a fun performance stimulator. The state-of-the-art ride lets you experience the thrill and action of world class racing. You can test your driving skills while experiencing this challenging virtual road course.
KIA also has a Hyundai Racing challenge where you can put yourself in the Driver's seat, and feel the excitement with this motion activated simulator.
Environmentally Friendly Exhibits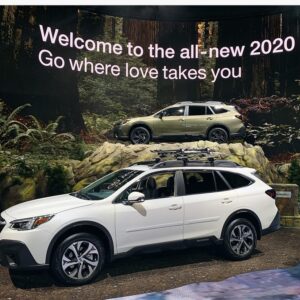 I LOVED Subaru environmentally friendly exhibit. Subaru became the first auto manufacturer in U.S. history to become zero-landfill, since May 2004, Subaru's manufacturing plants have not sent a single thing to any landfill. 100% of all manufacturing waste is either recycled or turned into electricity.
OKAY….so I know now you want to check out the Chicago Auto Show for yourself! Head to www.chicagoautoshow.com for all the details and to purchase tickets.
Visiting the Chicago Auto Show from out of town or looking to make a staycation of it? Check out the Hilton Garden Inn at McCormick Place. www.hiltonsatmccormickplace.com. I stayed here during the show and loved the non-conventional feel of the hotel. Bonus there's a swanky rooftop called VU. Brunch was AMAZING and definitely a cute place to eat and grab a drink.
Did you attend the First Look For Charity Gala?! Or are you attending next year? For the ladies….check out The Frock Shop Chicago Dress rentals. Frockshopchicago.com. I've worn the Frock Shop every single year and have gotten sooooo many compliments on my gowns. Why buy when you can rent?

Copyright secured by Digiprove © 2020