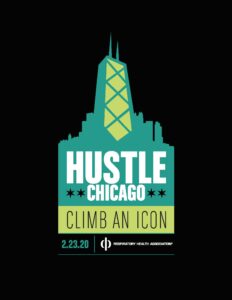 Event: Hustle Chicago Stair Climb
Benefiting: Respiratory Health Association
When: Sunday, February 23rd 2020
Where: 875 N. Michigan
Time: Will be assigned 15-Minute Climb Wave Window
Entry Fees: Varies
Climb: 52 Flights (816 Stairs) or 94 Flights (1,632) Stairs
Website/Tickets: https://resphealth.org/hustle
Each year more than 4,000 people take part in the Respiratory Health Association's stair climb at the previously called iconic "Hancock" building. The name of the building has changed, but the mission of the event remains the same…. Raise funds for Respiratory Health Association's lung disease and clean air education, research, and policy change efforts.
Participants can choose between climbing 52 flights (816 stairs) or 94 flights (1,632 stairs). Some climb for the individual fitness accomplishments, while others dedicate their efforts to honor or remember a loved one. More than 55% of participants indicated they or someone they know has been touched by asthma, COPD, lung cancer, or other diseases.
Take for example the story of Kevin Byrne. Kevin Byrne was at work when his phone rang. As he looked down, he saw his parents' number flash on the screen. He quickly shut the door to his office before answering. The tone in their voices immediately confirmed his worst fears: his mother's biopsy showed that she had lung cancer.
"My family tends to live really long, healthy lives and we got comfortable with that fact. My mom has always taken very good care of herself and we didn't expect anything like this early in her life," says Kevin. "You can do everything right, but things like cancer can affect anyone."
This jarring reality of a lung cancer diagnosis meant that Kevin's mother Dianne, still only in her early 70s and until just recently the primary caretaker for her own mother, would now need help with her care.
But with his family in Virginia and his life centered in Chicago, Kevin felt devastatingly distant. "What can I do from a distance? What's the right thing to do?" he asks. "I wanted nothing more than to be there with them. Not being able to give her a hug – it was really tough, you know?"
Dianne's treatment included radiation, but she also found that she was eligible for targeted therapy, a newer treatment option that was developed after research led to better understanding of how cancer grows. Targeted therapy uses medication to address specific changes or mutations present in a tumor and helps avoid damage to healthy cells.
"If I were to imagine a scenario where my mom had cancer, my mind would have gone to breast cancer. Breast cancer related organizations have done a good job with visibility," Kevin acknowledges.
But Dianne's diagnosis is common. Lung cancer kills more women each year than all other cancers— including more than breast, ovarian and uterine cancers combined. Still, federal funding for lung cancer lags behind other cancers, leading to less understanding and fewer treatment options. Advances like targeted therapy are only possible through research, and future discoveries could save lives.
Due to the success of her treatment and pain management regimen, Dianne and Kevin were able to travel over the past year – first a cruise, followed by a family trip to Universal Studios. Doctors have called Dianne's improvement with targeted therapy very effective – not only have her tumors not grown, but some have reduced in size.
Now for the second straight year, Kevin will participate in Respiratory Health Association's Hustle Chicago stair climb event on February 23. In doing so, he'll help raise money for lung cancer research.
To other climbers, he suggests breaking the race down into achievable goals. Subdividing 94 flights into 9 sets of 10 and 1 set of 4 makes the prospect of hustling up 875 N. Michigan Ave – one of the tallest buildings in the Western Hemisphere and an icon of the Chicago skyline – much less overwhelming.
Though Kevin's goal of climbing to the top of a skyscraper is impressive, he emphasizes the extraordinary willpower of his mom.
"When my mom first got diagnosed, she basically thought her life was over. Once she got into treatment, we found that that was not necessarily the case. We're just figuring out what lung cancer means for her. But it's not what she had thought it was, in terms of the sentence."
If you are interested in taking 1,632 steps toward a future free of lung disease at the 2020 Hustle Chicago stair climb, visit resphealth.org/hustle to learn more.

Copyright secured by Digiprove © 2019