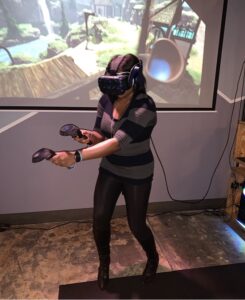 Being an adult has me dreaming about being a kid again! I did just that this weekend at the new virtual reality arcade and bar, Redline VR. The 2200-Square Foot space offers solo, couples, and group gaming fun that takes virtual entertainment and immersive art to a new level.
My friend and I ventured to 4700 N. Ravenswood Ave to explore this brand spanking new spot. Visitors may book a free first-time experience for guests who are unfamiliar with virtual reality, or purchase a la carte VR arcade gaming for $10 for each 10 minute increment. The current Arcade promotion offers one hour of gaming for $45.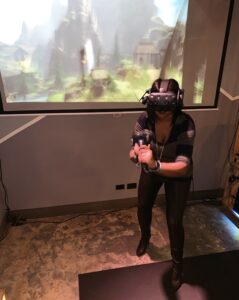 Redline VR is Chicago's new immersive entertainment center, curating virtual reality arcade and escape experiences for gamers, novices and neighbors. Expertly crafted for players at any level, Redline VR uses the latest technology to fuse face-to-face fun with creative play as well as opportunities to share a mixed reality drink with your date, cheer on your friends while sampling a local brew or team up with your coworkers to win one of the augmented reality escape rooms.
Redline VR is crafting a completely different kind of entertainment. Founders Jonathon Irons and Aaron Sawyer are a technical director for animation and a film and theater director, respectively. They have combined their talents to create an environment where anything, and everything, can happen. From walking the streets of Paris, to fighting aliens, to helming the Starship Enterprise, to painting a new 3D masterpiece, Redline VR has something for everyone. These custom adventures are responsive to each group, adjusting tone and content to be as stimulating, challenging, or playful as their hearts desire.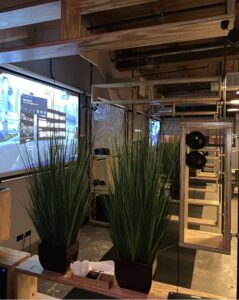 The space, designed by Chicagoan Joe Schermoly, an award-winning set designer, also features a bar and lounge which not only lets gamers add to their VR experience, but is also an added feature to the neighborhood's lively nightlife scene. Beverage Director JW Basilo oversees the bar experience for guests at Redline VR. Select drink items such as The "Fuzzy Navel" and "Box Car" are examples of the individual VR experiences where headsets will be given to guests as their cocktails are prepared. Featured drinks and experiences will rotate throughout the year as seasons change.
"After many obstacles, Jonathon and I are so relieved to officially open our doors and be the business we intended – Chicago's only carefully curated VR bar.  The experience here is so unique – come play a game, come have a drink, come do both at the same time! We are just so excited to be sharing this with Chicago," said Redline VR Co-Founder Sawyer.
Redline VR hours are Mondays through Fridays 4 – 10 p.m., Saturdays and Sundays 1 p.m. – 10 p.m. Reservations and a full menu of pricing may be found at redlinevr.com or by calling 773.609.0056. Group sales and special events may be scheduled by contacting events@redlinevr.com.

Copyright secured by Digiprove © 2019