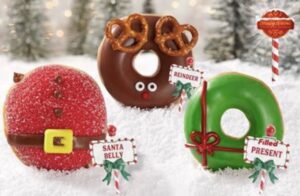 This holiday season, Krispy Kreme's doughnut innovators went straight to the source of holiday magic, the North Pole, to "workshop" a tasty lineup. Now through Tuesday, December 24, Krispy Kreme's new Holiday doughnuts feature a trio of North Pole-inspired treats available at Chicagoland shops located in Homewood at 17815 South Halsted Street, Evergreen Park at 9150 South Western Avenue, Hillside at 110 South Mannheim Road and Chicago in Block 37 at 108 North State Street.
The festive collection specially made for the season includes:
Reindeer Doughnut: An Original Glazed® doughnut dipped in chocolate icing and adorned with pretzel antlers and a red nose almost too cute to eat.
Santa Belly Doughnut: A fan-favorite, this chocolate Kreme™ filled shell is dipped in red icing and decorated to resemble the big guy himself.
Present Doughnut: A festively decorated Original Glazed® Doughnut, filled with Original Kreme™.
"Bringing a taste of the North Pole to Krispy Kreme fans this festive season is the perfect way to experience the wonder and joy only this time of year can offer," said Carlos Larcada, President of Chicagoland Restaurants, LLC. "With our Holiday doughnut collection, we'll be spreading holiday cheer all month long."
Share your magical holidays by using #KrispyKreme and tagging @krispykremechi on Instagram and @KrispyKremeChicagoIL on Facebook. Experience even more magic from Krispy Kreme's seasonal offerings by visiting www.krispykreme.com/promos/magic-of-the-north-pole.

Copyright secured by Digiprove © 2019