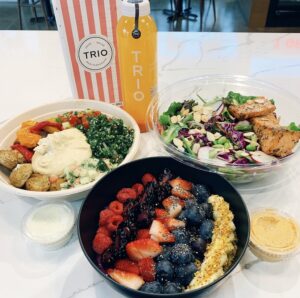 With the holidays approaching I'm trying to eat as healthy as possible whenever I can. I was so excited to hear that Trio Eatery & Juice Bar opened up down the street from me in the River North area. Trio Eatery & Juice Bar, a fresh casual concept from The Pink Group, is bringing LA vibes and healthy deliciousness to 840 North Orleans.
Trio is named for its three food bars: Mediterranean bowls, salads, and smoothies/açaí/juices. Trio gives its guests the freedom of choice: they can order from chef-driven menus or create their own dishes and drinks – the concept is designed to satisfy multiple tastes, preferences and appetites under one roof. Known for its ultra-fresh ingredients (produce is delivered daily), homemade clean dressings and fresh-pressed juices, Trio is a neighborhood spot for lunch breaks and a stylish gathering place to grab a bite with friends. The restaurant also features a fully-stocked grab-and-go selection of menu items from each food bar, including a variety of juices.
Trio offers vegan, gluten-free, keto and paleo-friendly items and is one of the only spots in Chicago that offers Alkaline 9.5+ pH water bottled in-house and infused with fresh ingredients – the ultimate for hydration, fitness and detoxification.
Saif Yasin, Owner and Chief Executive at The Pink Group, opened Trio to bring the best aspects of healthy lifestyles from coastal communities in the U.S. and the Mediterranean to River North – enabling residents to quickly satisfy their cravings with nutritious food and drink served in an environment that elevates the fresh casual experience.
"I started Trio because I passionately believe that good food is the best medicine," says Yasin. "My sincere belief is that there is nothing better in this category in Chicago – period. The fact that our menu is also guilt-free is a bonus. Our endless ingredient options make it easy to eat 'Trio-healthy' every single day with selections that satisfy multiple cravings in a build-your-own concept."
Yasin and his father, who are originally from the Middle East, spent more than a year fine-tuning each recipe in a fryer-less kitchen and a focus on creating healthy and tasty dishes while honoring the traditional cuisine of the region. Working with Michelin-starred Chef Henry Hill (Dusek's, Thalia Hall), Yasin riffed on his father's authentic, time-honored Mediterranean recipes, using healthier ingredients without compromising flavor. Hill and Yasin developed a recipe book with nutritional profiles for every dish.
Featured menu items include "build-your-own" Mediterranean bowls and salads with healthy grains, fresh-delivered produce (daily), fresh prepared protein options (daily), cold-pressed juices, açaí bowls, dessert-worthy-yet-healthy smoothies packed with the fresh fruits, greens and superfoods, along with a bountiful salad shaker bar. All of Trio's clean, house-made dressings and sauces are bright and flavorful, as well sugar- and gluten-free.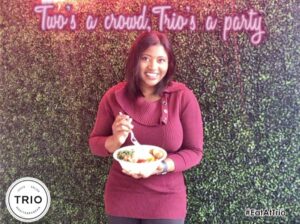 Stepping into Trio is like taking a mini-vacation to the West Coast. Yasin, a Chicago native with deep roots in LA, wanted to bring a California feel to Chicago's restaurant scene. The interior features minimalist elements such as thick-cut white Quartzite countertops along with whimsical elements including a pink neon "Two's a Crowd/Trio's a Party" sign on a lush green wall and wallpaper from the Beverly Hills Hotel. The space features outdoor dining and seats 40 and accommodates those who are on-the-move and want to grab a quick cache of super-fresh, hand-packaged "Grab-and-Go" items from their fully stocked fridge.
As Yasin's focus is on nourishing the neighborhood, the menu is both ultra-fresh and priced for everyday eating. The restaurant offers catering services and can accommodate pre-orders, making it easy for residents to find the time to eat well. Delivery is available through GrubHub, UberEATS, DoorDash, Seamless and Caviar.

Copyright secured by Digiprove © 2019