Get ready to step inside the world of "Flyboy" and "Lil Mama" at Hebru Brantley's #NevermorePark. Nevermore Park is a 6,000 Square Foot immersive art experience. The immersive art experience transforms you into an exciting alternate reality filled with new sights and sounds. Hebru Brantley takes us on a journey into the day and life of his Iconic characters, Flyboy and Lil Mama.
The exhibit opens to the public on October 24th and runs through 12/1/2019. I was lucky enough to attend a media preview last night and judging by the looks on everyone faces these tickets will definitely be a hot commodity. Media personalities, reporters, and even rapper, singer, songwriter, producer – Jidenna was in the building to admire Hebru Brantley's brilliance.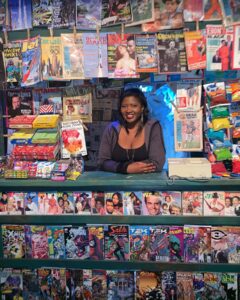 #NevermorePark let's your imagination roam free. There's even a section dedicated to Black Journalism that tells the story of our history. Like the Chicago Tribune article with President Obama being reelected on the front.
The Newsstand would have to be my favorite part of the experience. Seeing all the iconic magazine covers up close brought me down memory lane of being in the hair shop and watching the women gossip over the latest headlines. Nostalgia is definitely a feeling invoked through my journey at Nevermore Park.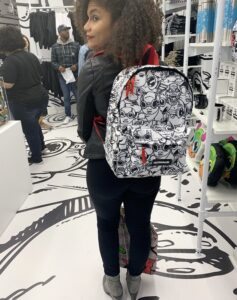 On the way out there's a small gift shop packed with dope memorabilia. My friend opted for the $50 backpack (Love it and so unique)! I got myself a keychain so I'll have a little piece of the iconic characters everywhere I go!
Head to Nevermorepark.com for more details and get your tickets before their sold out!
Nevermore Park
Opens to the Public October 24, 2019
Nevermorepark.com
949 W 16th St.
Instagram @Flyboyuniverse

Copyright secured by Digiprove © 2019