I think I have to declare this past weekend the BEST weekend of my year! I traveled back and forth from my home to Revel in the Fulton Market District to partake in the Whisky Extravaganza (9/13), Wine Riot (9/14), and ended the weekend with Grand Cochon (9/15). Each of these events are super fun, educational, and definitely worth checking out next year. See my highlights below!
Whisky Extravaganza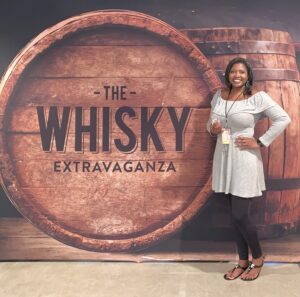 Whisky Extravaganza is an event featuring more than 100 varieties of the most prestigious single malts, premium scotch whiskies, and other unique whiskies from around the world. Since 2000, the Whisky Extravaganza has been fostering a broader and deeper appreciation of whisky and its complexities by connecting consumers and brands through curated experiences.
My friend and I went the VIP route to attend Whisky Extravaganza ($195). We wanted to take advantage of the Master Classes offered an hour before the start of the event and also the connoisseur lounge that offered some extra special pours.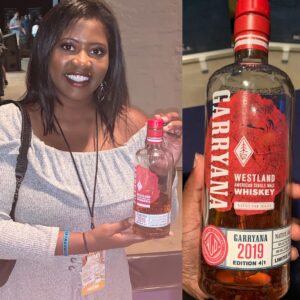 I made my way around the tastings and of course had some of my tried and true favorites like High West Whisky. (I love a good Rye :)), but I also made sure to venture and check out whiskies I've never had. One in particular that stood out to me hasn't even hit the market yet!!! Westland: American Single Malt Whiskey – Garryana: Edition 4/1 will be hitting the market in about 2 weeks. The focus of this new edition is squarely on the marriage of Garry oak and Pedro Ximenez Sherry casks. At 100 Proof (50% ABV), only 3,750 bottles will be available globally for $149.99. Yay to trying new things before they hit the market!!
Another highlight was filling my belly in the connoisseur lounge while enjoying a special tasting hosted by the "Scotch Malt Whisky Society." So you know how all the wine people have all these special wine delivery program services….well the Scotch Malt Whisky Society does the same, but with single malt whisky. The membership based organization purchases individual casks from more than 125 Malt distilleries in Scotland and throughout the world. They then bottle them and retail them directly to the members. How cool is that?!?
I love Whisky and left with some new favorites and drops of wisdom! From attending the round table with the masters of Midwest distilling they taught us how to really take in and enjoy our whisky from the taste, to the nose, to the color. Also side note did you know Beer is just watered down whisky?!? LOL…. see the many drops of knowledge…see you next year Whisky Extravaganza!
Wine Riot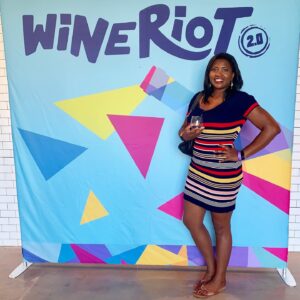 Wine Riot is an event that features over 40 wine exhibitors. You're able to pick the brain of local sommeliers, taste wines from regions all over the world, compete in head to head challenges with friends, sip on your bubbly favorites, and much more! I'm always concerned with the "much more" part, so again my friend and I went the VIP route ($95). That let us have access to the event 30 minutes early to sip and interact with our favorite brands. It also included access to the VIP lounge where we had preferred seating, enhanced culinary experiences with VIP only wine & food pairings from local restaurants, and one on one time access to local sommeliers.
The event was hosted by Erik Segelbaum who was recently named one of Food & Wine Magazine's 2019 "Sommeliers of the Year" and is an advanced Sommelier through the Court of Master Sommeliers, representing one of under 600 people in the world that currently hold this level of certification.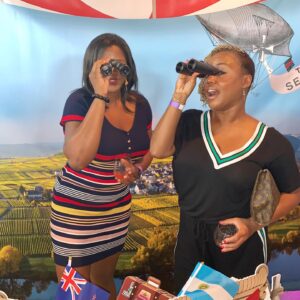 One definite thing I enjoyed about this event is it's for all level seekers of wine knowledge. I know I cover a host of wine events at Chi@Glance, but I still consider my level of wine knowledge to be minuscule. All over the event space they have posters up dropping pearls of knowledge. Like did you know Champagne is made using super strict standards? Champagne can only be made in Champagne, France and has to be made using ONLY specific grape varieties. For those wanting to learn even more there were educational classes being held throughout the venue.
If you were feeling super confident, like my friend and I, you could test your knowledge and compete in the "couples challenge" where couples compete in multiple choice questions to see who has the most wine knowledge and to win prizes. Like did you know most of the larger bottle wine sizes are named after biblical kings? (Well now you know!)
So what were my highlights you say?!? Believe it or not one highlight had to do with my beloved Whisky. I took a Hennessy Le Voyage class where the brand ambassador led us on exclusive hands on experience making our own French 75 cocktail.
And of course one major highlight was the wine tastings themselves. I tried wines I was familiar with from Coopers Hawk, I tried wines I wasn't familiar with from South Africa (Reyneke was pretty good), and I sipped on Rose packaged in the most beautiful bottles (I see you Berne Provence).
If you're looking for a chill, good time with some friends over wine…. mark you calendar for Wine Riot next year!!!
Grand Cochon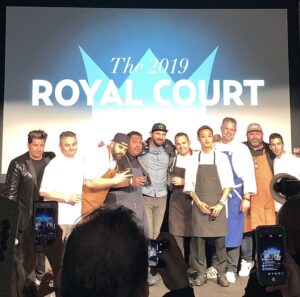 Grand Cochon has always been one of my favorite culinary competitions to cover. Grand Cochon brings together the winning chefs of the regional competitions – the outcome is a friendly competition featuring more than 2,500 pounds of heritage pork raised by America family farmers. The event features celebrated chefs and nose-to-tail cookery representing an array of cultures, cities, and cooking styles. Each of the chefs is tasked with preparing the best 3 bites of heritage breed pig from the whole-animal menu they created to win their perspective cities. The event is akin to a 40 course stand-up tasting menu, with dozens of competition plates served alongside artisan wines, boutique spirits, handcrafted cocktails, and some of the best cheese, charcuterie, sweets, and pop-up food experiences the country has to offer.
Daniel Espinoza from the restaurant Cantina Loredo was representing Chicago at Grand Cochon. His dishes were FANTASTIC and he definitely had quite a crowd supporting him at the event. I asked Danny "What was his inspiration behind the dishes he made that evening?" He Responded "My Grandmother. I don't show many people, but it's somewhere here." (Daniel then pulls out a spoon) "I lived in Mexico till I was three years old and this is the only spoon she used to feed me with. It's pretty old and I still have it. We left Mexico when I was like 3 ½. My Grandmother is the reason why I have a tamale tattoo with a spoon. It's the same spoon. It's like I tell my crew we could always try to go above and beyond… out of the norm….but here's the thing. I know I serve Pozole and you know you can get Pozole anywhere, but that doesn't matter….I cook Pozole because it means a lot to me. I do things outside the box at times, but the feeling isn't the same as when I try to connect with my grandmother.
Daniel definitely gave it his all at Grand Cochon. There was some stiff competition and the winner crowned "Prince of Pork" was Brian Redzikowski of Kettner Exchange in Los Angeles California. He definitely brought it with his "whisky pigs" and "pig mac."
If you LOVE pork, this is definitely worth checking out next year! Also if you really really LOVE pork you'll want to go the VIP route like my friend and I did. ($225). It allows you to start eating a whole hour before everyone else!
Happy Eating!!!!

Copyright secured by Digiprove © 2019