Lights, Camera….NAPKIN! Chicago Gourmet is back and the rainy weather did not stop the fun of this action packed weekend!!! Each September Bon Appétit presents this fun filled weekend of more than 250 of Chicago's finest restaurants, wineries, spirits companies, brewers, and a chance to mingle with your favorite chefs. The two main tasting events on Saturday and Sunday are hosted at Millennium Park. There are also Encore events hosted throughout the city to keep the party going!
This year I attended the main tasting Chicago Gourmet event on Saturday and later that evening headed to the Encore event "The Big Chilli(i): Gourmet Chili Cook-Off." Both events left me stuffed! Check out my highlights below.
The FOOD!
Of course one of the main reasons to attend Chicago Gourmet is for all the world class culinary food! One of my favorite pavilions to visit was the backstage BBQ & Beer Pavilion. Tyson Fresh Meats was the title sponsor of the South Promenade Tasting Pavilion. During the event over 20 Chicago Chefs, such as Chef Carlos Gaytan of the newly opened restaurant Tzuco, partnered with Tyson Fresh Meats and prepared creative dishes using Chairman's Reserve Meats. Tyson Foods, Inc. is one of the world's largest companies and a recognized leader in protein.
Always a fan favorite is the Seafood Pavilion hosted by Supreme Lobster & Seafood Co. My tip is to RUN to this station right when you enter the park. It always has the longest line! One of my favorite bites was the Seafood Salad from The Signature Room at the 95th. Fresh lobster, shrimp, and crab on an artisan cracker. Yum!!
Veggie lovers were in luck cause right next door to the seafood pavilion was the "Gardens of the Galaxy Tasting Pavilion. I was a huge fan of all three restaurants showcasing their meatless cuisines (Hakka Bakka, Mozzarella Store, and Mango Pickle).
Other tasty bites!
The DRINKS!
At Chicago Gourmet there's something for every thirsty attendee. I love experimenting and trying new things. I'm a whisky girl at heart and loved the Aberlour Scotch Whisky. When it comes to wine I like it sweet and was a huge fan of St. James Winery Strawberry Rose. And a visit to Chicago Gourmet isn't complete without stopping by to sample Bordeaux Wines!
You can't have dinner without……
The DESSERT!
One of my favorite stations was the Cadillac Cupcake Corner with Swirlz Cupcakes. You got to create your own cupcake! Just incase your wondering what my creation entailed it was a vanilla cupcake, stuffed and drizzled with caramel, and topped with Streusel.
Another dessert fan favorite was from the Keeping up with the Konfections Dessert Tasting Pavilion that included desserts from Jenny McCoy (Recette), Mai Giffard (Bang Bang Pie & Biscuits), Mindy Gohr (Bittersweet Pastry Shop and Café).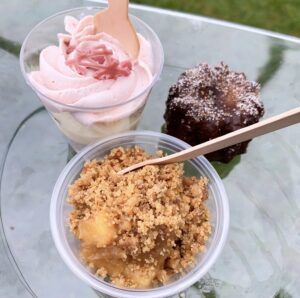 ENCORE EVENTS!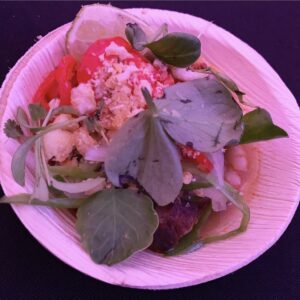 I attended the Chicago Gourmet Encore event "The Big Chili(i): Gourmet Chili Cook-off." It was presented by the Illinois Beef Association and Iowa Beef Industry Council. The super fun event was hosted by Texas Native and chili aficionado Chef Sarah Gruenesberg from the restaurant Monterverde. Chefs and local firefighters competed with their chili creations. Chef Kevin Hickey of The Duck Inn was named the Chili Champ. Chef Hickey chili featured brisket, chili with aged cheddar, homemade oyster crackers, scallions, and duck chicharrones. Firefighters Dan LaBonte and Nick Delmarto won People's Choice awards for their Gnawsome Chili which included brisket and chuck-eyed steak chili with sour cream, cheddar cheese, and lime.
Such a fun time and main tasting Day 2 is today! Happy EATING!!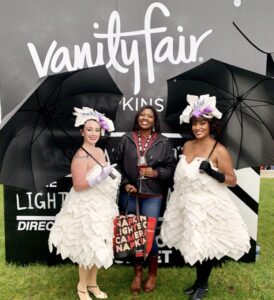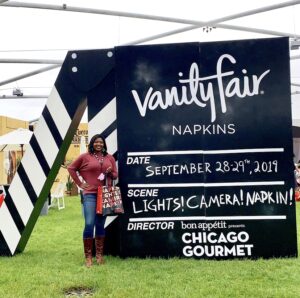 Copyright secured by Digiprove © 2019