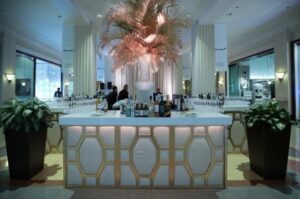 The Midwest's largest residential design conference, DESIGN CHICAGO, returns to the iconic Merchandise Mart (theMART) in downtown Chicago October 2nd and October 3rd. The Design Center at the Merchandise Mart and LuxeHome are excited to announce that registration for this TRADE ONLY event is now open!!! Seating is limited, so RSVP to reserve your spot NOW!
Over the course of two days, Design Chicago will showcase over 175 feature presentations, CEU seminars, open houses and product debuts, along with newly opened showrooms ready to be explored, as well as 16 strategic media partners and more than a dozen well-respected editors.
Design Chicago will welcome leading interior design, architecture and luxury custom homebuilding professionals from across the Midwest, as well as coast-to-coast. All programming in the more than 120 showrooms across 600,000 square feet on theMART's 1st, 6th and 14th floors is complimentary to trade-only professionals.
"Registration to Design Chicago opens the door to exclusive presentations and CEU programs; a wide array of product debuts from our many showrooms; and networking opportunities with leadership from industry leading kitchen, bath and home furnishings brands," said Susan McCullough, Senior Vice President at theMART. "It's truly a can't-miss two-day experience for trade professionals."
In addition, 16 media partners from coast to coast will be on hand, presenting another compelling reason to attend Design Chicago. Media will offer their deep knowledge of the industry and years of expertise, including representatives from: Architectural Digest, Aspire Design and Home, Chicago Agent, Dering Hall, Domino, Elle Décor, Food & Wine, Galerie, House Beautiful, Interior Design, Luxe Interior + Design, Miieu, Modern Luxury Interiors Chicago, Residential Design, Sophisticated Living Chicago and Traditional Home.
Also, Design Chicago features two exclusive and ticketed celebratory events: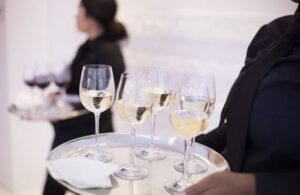 Opening Night Reception, Wednesday, October 2, 2019, (5:00-7:00PM) – Celebrate the first day of Design Chicago with an opening night reception at Marshall's Landing (Floor 2, theMART). Networking with colleagues and toasting fine design will be top of mind for those in attendance. Tickets on sale soon. For more information or to purchase tickets, visit www.designchicagoevent.com.
Chicago VIP Luxury Gala, Thursday, October 3, 2019, (5:30-8:00PM) – Design Chicago culminates with the eleventh annual Chicago VIP Luxury Gala, where a who's who of the design industry will come together to celebrate the best of Chicago and Midwest design. The event will honor the induction of four residential design industry icons into the Merchandise Mart Hall of Fame. The 2019 Chicago VIP Luxury Gala is generously sponsored by exclusive Media Sponsor, Luxe Interiors + Design; Platinum Sponsors, Gaggenau, Thermador and Bosch; Gold Sponsors, Broome + Greene, Sherwin-Williams and Vicostone; and Silver Sponsors, House of Rohl and GABBY. Tickets are on sale now, $100/person. For more information or to purchase tickets, visit www.designchicagoevent.com/gala.
For more information, and to register for programming, please visit www.designchicagoevent.com.
Design Chicago welcomes trade professionals from across the country, including members of trade organizations; such as, The American Institute of Architects (AIA), American Society of Interior Designers (ASID), Home Builders Association of Greater Chicago (HBAGC), Institute of Classical Architecture & Art (ICAA), International Interior Design Association (IIDA), National Association of Home Builders (NAHB) and National Kitchen & Bath Association (NKBA).
About the Design Center at The Merchandise Mart (theMART)
The Design Center, located in Chicago's historic Merchandise Mart, is home to four floors constituting the world's largest and finest design center. As a leader in the $65 billion residential home furnishings market, the Design Center offers the largest presentation of high-end, customizable, residential and outdoor home furnishings worldwide, all under one roof. Encompassing 750,000 square feet, boasting more than 125 showrooms and featuring more than 2,500 product lines, it is the ultimate resource for designers and design enthusiasts of luxury furniture, fabrics, floor coverings, wall coverings, lighting and much more. For more information, visit designcenter.com. Visit Design Center on Facebook and Instagram.
About LuxeHome®
LuxeHome is the world's largest collection of premier boutiques for home building and renovation located on the first floor of the Merchandise Mart in Chicago. With more than 125,000 square feet of showroom space featured in over 45 boutiques, LuxeHome is host to the finest products for home building and renovation from the most recognized and respected manufacturers worldwide.
LuxeHome offers discerning homeowners and trade professionals one-stop shopping convenience with access to the finest kitchen, bath, tile, lighting, cabinetry, appliances, countertops and much more. LuxeHome displays the widest selection of products to suit all upscale design styles, from modern European to classic American to traditional English. In addition to the extensive lineup of premier brands, each boutique offers knowledgeable designers who are available to assist with all phases of each design project. LuxeHome's boutiques are open for shopping Monday through Saturday. For more information, visit luxehome.com. Follow LuxeHome on Facebook, Houzz, Instagram or Twitter.

Copyright secured by Digiprove © 2019