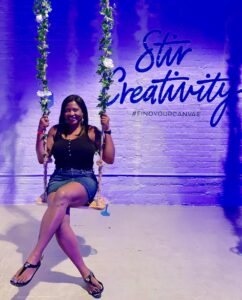 How about a little mid-week Gin?!? Last night, I got over the hump by attending an invite only media event for tastemarkers and influencers sponsored by Bombay Sapphire Gin. The one-of-a-kind experience brought us all together to foster more creative expression within the community and to #Stircreativity.
We all piled inside of the event space Revel in the Fulton Market District of Chicago's West Loop. Our host for the evening was Dwayne "Young Wayne" Young, (Actor/Comedian and Chicago Native), our special guest of the evening was Hebru Brantley (Visual Artist and Chicago Native), the music was provided by DJ Jay-Illa (Chicago Bears Official DJ), and of course our drinks for the evening were provided by Bombay Sapphire Brand Ambassadors and Mixologists.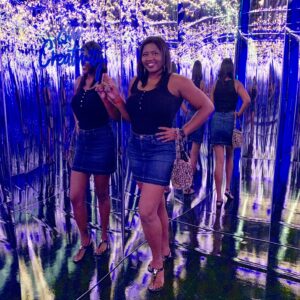 Guests took a journey through Gin showcasing the brand's signature ten botanicals and one-of-a-kind vapor infusion distilling process through the lens of art, music, and community. We gained first hand insight into the ingredients and process that goes into making one of the world's most premium gins. It was definitely a night of education and enjoyment as we sipped on locally-inspired cocktails.
My highlight of the evening was interviewing Chicago Native Visual Artist, Hebru Brantley. Of course I wanted to hear more about his new projects and what Chicago means to him. Check out our one on one interview below!
Tavi J. One on One Interview with Artist: Hebru Brantley
Tavi: Can you tell us a little bit more about the "Nevermore Park" project coming to Pilsen this Fall? What can we expect as we venture through the homes of #Flyboy and #Lilmama?
Hebru: Wow…that's a loaded question! I think it's definitely something that Chicago needs. In terms of creative outlets it's in a spot other than the formal institutions that we have like the MCA and the Museum of Science & industry. It's a full immersion into the world of my artistry and my characters. And it's coming through a few different scopes. You're coming in through the guise of Hebru Brantley, the creative, the artist and then it's sort of like Alice and your following her down the rabbit hole. You sort of get sucked into this world. So I think that again, it's something different and as a Chicagoan I always want to see things like this.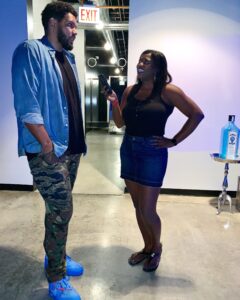 You're a huge believer in giving back to the community. Last year I attended "The Other Art Fair" where you created a limited edition art work called "girl with the red scarf" to benefit the "Little Black Pearl" organization. Are there any other organizations we should be taking notice of that you're involved with?
Not directly, but obviously we're here tonight for Bombay Sapphire and my ties with them go back to 2012. Bombay Sapphire has been very supportive of the arts and artists. There are different artist series throughout the years and I was fortunate to win one back in the day. I think it's great!
Last question cause you're from Chicago! If you could pick one word to describe Chicago what word would it be?
AMAZING
Make sure to follow the hashtag #Stircreativity and #FindyourCanvas
to see what @BombaySapphire is up to next!

Copyright secured by Digiprove © 2019