When I think of "The Titanic" I think back to Jr. High school and making plans with my friends to see my crush Leonardo DiCaprio in the 1997 James Cameon movie. And who cannot forget the ultimate love song….."my heart will go on" by singer Celine Dion. What I didn't think about was all the yummy dishes the passengers aboard the Titanic must have eaten. Living my life as a foodie I was compelled to check out the book press release event hosted at The Gage Chicago for the book "The Last Night on the Titanic: Unsinkable drinking, dining, & Style" by author Veronica Hinke.
The book shares recipes from the Titanic, a rare printed menu from the first class dinner on the Titanic, Drink Recipes from John Jacob Astor IV's luxury hotels, an extraordinary eye witness testimony to Captain Edward Smith's final moments, intimate and captivating stories about select passengers, and MORE!
Chef Art Smith (personal chef to Michelle Obama; former personal chef to Oprah Winfrey; James Beard award winner & Top Chef Masters contestant) said, "Veronica has taken a story that we all know so well and interwoven delicious recipes that are…worthy of any modern-day table. She has unearthed a vibrant culinary subtext that often left me breathless and dreamy-eyed."
The book draws Chicago ties to the Titanic and last night we got to try some of the delicious food and drinks inspired by the meals aboard the titanic. Executive Chef, Christopher Gawronski, from the Gage Hospitality group contributed his recipe for Scotch Eggs. He uses Duck egg's and they were DELICIOUS!! Check out the other menu items we were treated too.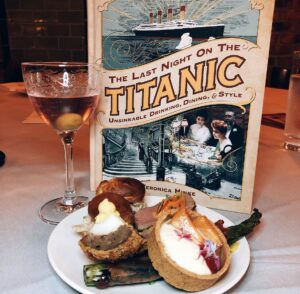 You can't have dinner without drinks! Jeffrey Pogash, The Cocktail Guru, started us off with the Marguerite Cocktail. The MARGUERITE Cocktail was the first DRY Martini, made with white French dry vermouth, rather than the traditional sweet red Italian vermouth that was more prominent at the time. The base of the cocktail was the deliciously complex, juniper forward SCAPEGRACE Gin from Rogue Society Distilling Co. in New Zealand, winner of the 'Best Gin i The World' at the 2018 International Spirits Competition in London, placing FIRST in a field of 600 gins.
We ended the evening with the Roman Punch. The ROMAN PUNCH was served as a palate cleanser at most High Society grand dinners in the 19th century. The exceptionally smooth, Triple Distilled KNAPPOGUE CASTLE Irish whiskey is the perfect spirit for this interlude, a fine tribute to RMS Titanic, as the ship was built in Belfast.
While eating we got to delve more into the book and we were treated to a story by Astra Burka, Toronto Filmmaker, Great-niece of First Class survivor Adolphe Saalfeld. She told us about Adolphe letter home about his first lunch aboard the Titanic.
What a fun evening of history, food, and mingling. The Last Night on the Titanic: Unsinkable Drinking, Dining, & Style is in bookstores NOW!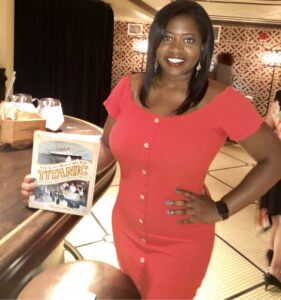 Copyright secured by Digiprove © 2019