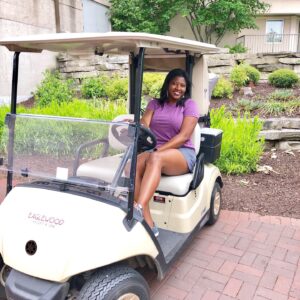 #Summertimechi is in full effect! It's always funny to me how Chicago summers can quickly make us native Chicagoans forget about the brutal winters. I try to save most of my vacation days (and vacation money) for winter getaways, but I still value a little time a part from the city in the summer. That's why I'm so happy that #STAYCATIONS are here to stay! I love being able to quickly plan a weekend getaway someplace out of the hustle and bustle of the city I work and live in.
I had previously visited Eaglewood Resort & Spa in Itasca, IL to enjoy a relaxing therapeutic massage earlier this year. This time I headed back with a friend for a relaxing staycation weekend, but also to take part in their "Sounds of Summer" concert series (more on that later).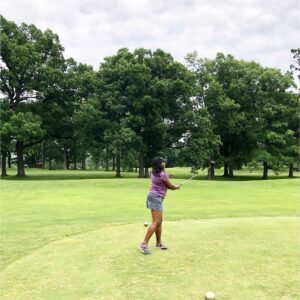 We were super impressed with all the amenities. Besides the pampering spa treatments there's also a state-of-the-art fitness center, indoor pool, private bowling alley, 106 magnificent acres of beautiful landscape, par 72 USGA-certified golf course, and for those cooler summer nights an outdoor fire pit with bocce ball & bags. All of this is located about 20 miles outside of the downtown Chicago area. Far enough from the city for a retreat, but still close enough that you don't spend you whole weekend getaway on the roads!
As a huge foodie I was also happy to see there's onsite dining to fit any occasion. Burnham's Restaurant offers farm to table menu selections and alternative healthier foods. The internationally themed buffets are a unique experience in Chicago dining. There's an interactive show kitchen that allows guests to design their own experience to fit their personal palate. I definitely want to check out the Chef's Corner next time! Chef's Corner is an intimate experience for food lovers. Chef Billings leads a group of 10 through an award winning fare dining experience to discuss everything from custom menus to setting and plating. At Burnham's Restaurant you can enjoy a fireside meal as you gaze out at the scenery or dine outdoors just steps from the beautiful golf course.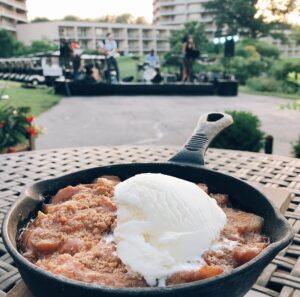 We took advantage of the American cuisine and full service bar at the Prairie River Fire Pit & Patio. Prairie River offers remarkable views of the golf course as well as an intimate outdoor patio and grand fire pit.
We dined at Prairie River while taking in the "Sounds of Summer" Concert series. I know what you're thinking…..HOW COOL FOR A CONCERT SERIEIS TO BE RIGHT WHERE YOUR STAYING. It totally was! The "Sounds of Summer" concert series is completely FREE and open to resort guests as well as the public and locals. There's a total of 35 concerts that will be running through the end of September.
Such a cool experience! The concert stage is actually set up on the golf course. The performance we enjoyed that night was by "Standing Room Only." https://www.onthedancefloor.com/ They covered everything from pop, swing, Motown, and other hits that had us dancing all night long. No outside food or beverage is allowed at the concert, but there's plenty of amazing food deals and specials to choose from at Prairie River. Blankets and lawn chairs ARE welcome though, so get ready to have a cozy good time!
Now if you want to know what my favorite part of any #Staycation is…..well it would have to be my room! If you've been following along with Chi@Glance you know we cover events 24/7 and I always cherish the moments I can climb into a cozy bed and just chill. The 295 guest rooms and suites at Eagle Ridge Resort and Spa have rich décor of cherry mahogany furnishings. The rooms are a decent size and provide a space to live and relax. I love the oversized balconies that give a view of 106 pristine acres! It's nice to see greenery versus tall buildings every now and again. You can choose between staying in a deluxe guest room or a rooftop suite. We chose the rooftop suite!
My time at Eaglewood Resort & Spa was used to kick back and relax with a friend, but this is also the perfect spot for business travelers and weddings. We saw at least six beautiful weddings going on while we were there. There's 37,000 square feet of purpose-built meeting and event space. And if you're looking to venture off the resort there's activities and sites to check out nearby. https://www.eaglewoodresort.com/things_to_do/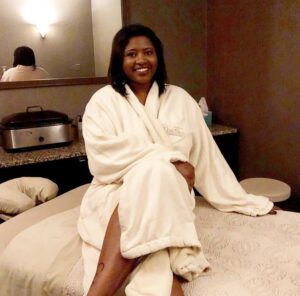 So what are you waiting for?!?! Head to https://www.eaglewoodresort.com/ to book your next retreat and hopefully you'll be able to check out one of the summer concert series performances. Thanks to Eaglewood Resort & Spa for getting my #summertimechi off to a great start!! I headed back to the city relaxed and ready to explore more of Chi-At-A-Glance. 🙂
Eaglewood Resort & Spa
1401 Nordic Road, Itasca IL 60143
https://www.eaglewoodresort.com/

Copyright secured by Digiprove © 2019