The Museum of Contemporary Art Chicago presents:
Virgil Abloh: "Figures of Speech"
June 10th – September 22, 2019
Timed admission tickets to view the exhibition are on sale online at www.mcachicago.org. These advance tickets are available for the regular admission price ($15). Admission for anyone 18 and under is free.
For the first time, the MCA will be open every Monday throughout the run of the exhibition from 10 am to 5 pm, in addition to regular museum hours: Tuesday and Friday 10 am – 9 pm; Wednesday, Thursday, Saturday, and Sunday: 10 am – 5 pm.
"Question Everything" is a theme that resonates throughout Virgil Abloh work. Attending the press preview on Friday, June 7th was eye opening. We we're lead in discussion with MCA Chief Curator, Michael Darling, Virgil Abloh, and Samir Bantal, space designer and director at AMO. Virgil gave us much insight into the exhibit and why "Question Everything" is a must do in today's society.
I browsed through the exhibit, but knew I definitely needed another run through, which I was able to get the next evening. June 8th was the Art Edge Gala which celebrated the renowned artist and designer Virgil Abloh. The evening theme was 'urban ruins,' giving attendees an exclusive first look at the exhibition, curated by MCA Chief Curator Michael Darling. Guests arrived at a red carpet entrance via the MCA loading dock for a lavish cocktail reception inside the museum and an advance preview of the Virgil Abloh: "Figures of Speech" exhibition. The urban ruins theme came to life in the MCA's re-imagined concrete parking garage for an immersive, Abloh-inspired dinner. After Dinner the evening continued with a special solo concert with English producer, multi-instrumentalist, composer, songwriter, and vocalist Dev Hynes. The proceeds from ArtEdge support the MCA'scollaborative efforts to provide a platform, workshop, laboratory, and performance space for teens.June 10th "Figures of Speech" opens to the public. Check out the details below on what you have to look forward too!
This June, the Museum of Contemporary Art Chicago presents Virgil Abloh: "Figures of Speech," the first-ever museum exhibition devoted to the work of the ultramodern, genre-bending artist and designer Virgil Abloh. Set in an immersive space designed by Samir Bantal, a Director of AMO, the research studio of Rem Koolhaas's renowned architecture firm OMA, the exhibition focuses on the creative process and collaborative work of Abloh who is redefining fashion, art, and design. Chicago artist Abloh is pioneering a new creative discipline that ranges across media and is at its core deeply collaborative, connecting visual artists, musicians, designers, and architects. Virgil Abloh: "Figures of Speech" is organized by MCA Chief Curator Michael Darling and runs from June 10 to September 22, 2019.
Michael Darling says, "An exhibition like this in a major contemporary art museum is the next milestone in the evolution of Virgil's practice. This show examines the choices Virgil has made, the media he works with, and the context of his artistic inspiration. His projects have unfurled with intention, precision, critique, historical awareness, cultural sensitivity, and rigor, and when taken out of the buzzy, frothy context of luxury fashion, celebrity mannequins, and hip hop one-upmanship, a very measured vision emerges."
An artist who is always in motion, Abloh's approach to fashion is equally inspired by contemporary art, his architectural training, and the style-conscious world of music. He uses the codes of fashion to deconstruct modes of dress in a playful, Duchampian style. His inspiration began with the street fashion in urban centers like Chicago, where looks emerge spontaneously and organically from trendsetting youth. Likewise, his work celebrates the ethos of streetwear and culture, where high culture is appropriated, altered, and served up as something fresh and new. The MCA exhibition offers an in-depth look at the defining highlights of Abloh's career with signature collections, video documentation of his most iconic shows, music highlights, and his distinctive collections of furniture, design, and graphic work.
Raised outside of Chicago by parents who emigrated from Ghana, Abloh trained in engineering and architecture, but from an early age cultivated an interest in music, fashion, and design. While pursuing a master's degree in architecture from the Illinois Institute of Technology, the artist connected with a then-emerging Kanye West, joining a fledgling creative team to work on album covers, concert designs, and merchandising. Abloh took the experience gained from working with West to his own stand-alone fashion brand Off-White™, which is designed in Milan, Italy, and presented at the seasonal shows of Paris fashion week alongside luminaries of the high fashion world. Most recently, Abloh's profile expanded when he became the artistic director of Louis Vuitton's menswear collection.
This survey exhibition covers seven areas of Abloh's work over the past twenty years, chronicling the different pillars of his work in fashion, music, art, furniture and graphic design.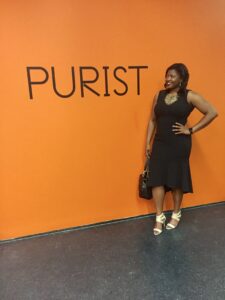 For me, "Figures of Speech" is an art exhibition rooted in advertising and "the projected image." Any time an idea takes shape on a particular surface—a photo print, a screen, a billboard, or canvas—it becomes real. This exhibition demonstrates how I wrestle with this concept freed from any one medium, looking for personal and specific solutions. This twenty-year survey shows how I am constantly looking for a way to transform myself from consumer to producer, navigating a path between "Tourist" and "Purist," between the literal and the figurative.—Virgil Abloh
VIRGIL ABLOH STORE: CHURCH & STATE
A special Virgil Abloh pop-up store which Abloh named "Church & State" is another extension of the exhibition, and is located on the fourth floor of the museum. Abloh and his team provided the concept and design of the store, which features chromed stainless steel finishes on the shelving and retractable accordion doors, with industrial PVC plastic curtains for the fitting room, and colored plastic palettes serving as fixtures. The walls of the store are covered with large graphics of photographs related to the exhibition taken by German fashion photographer Juergen Teller.
The store will feature a variety of products related to Virgil Abloh, many created exclusively for the MCA, including limited edition collections and a retrospective of best-selling Off-White™ items. Collaborators on the limited edition collections include influential designers such as Simon Brown, Futura, Brendan Fowler, Cali Thornhill DeWitt, Some Ware, and Tom Sachs, among others.

Copyright secured by Digiprove © 2019