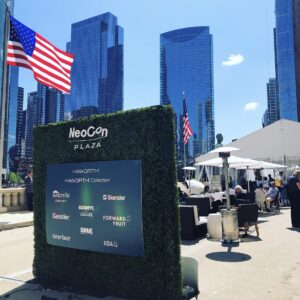 Neocon descended upon Chicago and brought with it 50,000 design professionals from near and far. Known as the world's leading platform for the commercial design industry, the three day event featured game changing products and services from both leading companies and emerging talent. Hosted at the merchandise mart (222 Merchandise Mart Plaza) there's nearly 1 million square feet of exhibition space and over 100 accredited seminars. Attendees spend three days checking out the latest and most innovative solutions in commercial design.
It can be overwhelming planning your schedule, especially for someone like me that's not in the industry. Just as a side note this is a trade only event. I love covering this event because so many concepts stand out to me and are very interesting from an outsider's perspective looking in. One of the topics that was clearly at the forefront this year was the emergence of coworking spaces and how it's effecting the design industry. As someone that works remotely and looking to perhaps invest in a coworking space in the future, I find the topic riveting and the seminars I attended addressing coworking spaces were eye opening.
I spent my days at Neocon roaming the showrooms, networking on the patio, attending seminars, and of course joining in on the after party fun! Check out my highlights below….and make sure you read to the very end. I think you'll find the Coworking Space information very interesting.
Tavi J. 2019 Neocon Highlights
Showrooms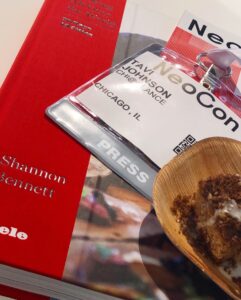 I love the Neocon app! It helps me feel prepared and less overwhelmed with all the activities and events to choose from. However, I do like to take time to just browse from showroom to showroom with no agenda in mind. I recently moved into a new home and seeing the various trends on display and design setups help me plan my next home interior moves. I especially love strolling through the Luxehome boutiques on the first floor of merchandise mart. Luxehome is a retail destination that is open to the public and trade to shop six days a week. Luxehome is the world's largest collection of premier boutiques for home building and renovation. One of my favorite showrooms to visit is Miele. Miele offers high-end domestic appliances and commercial equipment. I stopped by one morning during the show and for the first 50 people they were giving out a Miele Cookbook. Such interesting recipes and hopefully I'll be making a few dishes!
Trends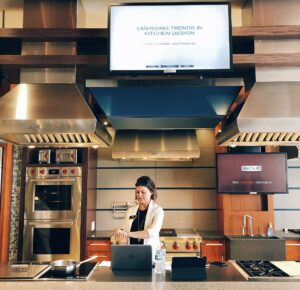 Who doesn't like to be in the know and on the cutting edge of design?! I love to attend seminars where trends are being forecast and to stay up to date on trends occurring in the industry now. I stopped by one of my favorite showrooms, (Sub Zero, Wolf, and Cove) and attended the emerging trends in kitchen design course. Luxury kitchens have so much to offer and I hope to have one someday. Three trends in luxury cooking and refrigeration in the kitchen are:
Convection Steam Ovens – Perfect Combination of heat and moisture to deliver perfect cooking techniques and results
Coffee Systems – Allow customization in space and owner taste
Refrigeration and wine systems that actually preserve contents, not just keeping them cold.
This was just one of many seminars I took that provide education on what's happening now and forecasting what's to come.
Networking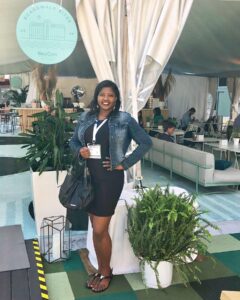 Neocon definitely ISN'T an all work and no play event. Case in point the "Neocon Plaza." The Neocon Plaza was an experimental outdoor environment focused on outdoor workspace. It was created by Haworth Inc., designed by Gensler Chicago, and brought to life in collaboration with Forward Fruit interior design studio. The Neocon plaza was a place to connect, relax and enjoy the beautiful weather we had. The plaza showcased the next frontier of flexible workspaces and also provided beautiful views of the city. DMK restaurants and iida_hq was on hand to provide food and drinks! 🙂
Open Concept Space Furniture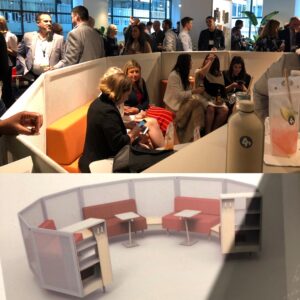 Before I talk more in-depth about coworking I want to highlight a piece of furniture I found intriguing while attending the happy hour party at the Allseating Furniture Showroom. Take a look at this set up. Designer Nick Gillissie in collaboration with Allseating designed this award winning soft seating system that is highly customizable, retrofittable, and modular. There are 13 added features for up to 180,000 possible configurations. The endless possibilities of this workspace provides private soft seating enclosures to ideation rooms. Workers are able to move throughout and change the space based on their functional and emotional needs.
Coworking: Novelty or Innovation?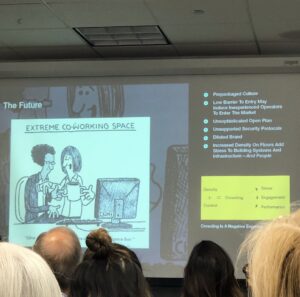 I work remotely and have been to several coworking spaces. One thing that always draws me in is the friendly work environment and the amenities. It's hard to believe that Coworking is still very much a new concept. The first coworking space was started in San Francisco in 2005 at Mission District. The Coworking space had a garden, full kitchen, healing space with massage therapists, and life coaches.
The first person credited with using the term Coworking space was Brad Neuberg "Freedom and independence of working for yourself along with the structure and community of working with others."
I attended the seminar entitled "Coworking: Novelty or Innovation?" The main focus was to answer the question is coworking working? In order to delve into that question the speaker, (Matt Gammel, AIA – Practice area lead at Jacobs) first had us look at the difference between disruptors and innovation. Disrupters frame our understanding of innovation and are generally good for business. An example of a disrupter would be how the cell phone industry disrupted the fixed line telephone. Or how Uber disrupted the taxi industry. Or how streaming services disputed the video rental industry. You see Blockbuster video stores anymore?
In order for an innovation to occur a disruption has to take place. Disruption innovations create new markets and business ecosystems. Disruptions establish market leaders and typically your industry has to adapt or get left behind. For example when the internet came about you had to build your companies online presence or get left behind.
It's important to note that not all disrupters turn into innovations, but all innovations are caused by a disrupter. Novelties are an incremental improvement on something that's already an innovation. Novelties are usually temporary, but sometimes can look like innovations.
So how did coworking evolve? We were at the end of a recession and technology allowed us to be able to work from anywhere. Technology allowed us to work at a restaurant, home, or at a hotel. We were moving from the age of manufacturing to the age of the customer. Meaning everything was turning to the user experience. It's about engaging with the customer and coworking spaces seemed to be listening to what the consumer wanted.
I'm a factual based person so I loved seeing the statistics of the people that make up coworking environments. Here's some of the statistics I found interesting. Please note every coworking space varies, so these are average statistics.
40% freelancers, 47% small businesses, and 12% mobile corporate users make up coworking space residents.
Average age of a coworking space coworker is between 35 to 38 years of age (I would have estimated much younger than that)
There is 67 Million square feet of coworking flex space in the US.
66,000 square feet of coworking space hits the market everyday (globally)
Space for coworking members is typically 95 SF to 120 SF. Space for non coworking members is 145 SF to 175 SF. (That makes a huge difference…think about your personal space).
Membership duration for those using Cowork space is 54% up to one year. 30% 1 to 3 years.
Only 42% of coworking spaces are profitable.
So….what does all of this mean?
Landlords are responding by offering shared conferencing, hospitality style lobbies, communal gathering spaces, curated events, and health and wellness programs. Coworking spaces put hard to lease spaces back on the market, adds cache to the traditional office buildings, and 11% or coworking spaces are joint ventures with landlords. It was interesting to find out there are even "Non-traditional" coworking spaces. Like some restaurants that are open during the evening are renting out their restaurants during the day time for coworking space.
Some obvious benefits to the individuals using the coworking spaces are better connectivity and technology options for remote employees. Coworking currently occupies between 2 to 5 % of the space inventory in the U.S. depending on location and definition of coworking. 25% of new leases signed since 2017 are coworking spaces. Coworking offers not just the cool factor but flexible alternative to leasing and the agility to respond to business conditions. By 2020 there will be 2.8 million coworking members and by 2022 there will be 5.1 million coworking members. Many successful companies like Instagram, Uber, and Spotify started in coworking spaces.
So coworking Novelty or Innovation? We determined in our seminar that for now it's a disrupter for sure, but only time will tell if it's a true innovation. What are your thoughts?
Neocon provides such a tremendous wealth of knowledge for the commercial design industry. If you're in the industry make sure to check out neocon.com to stay up to date on the next conference.

Copyright secured by Digiprove © 2019