Have you heard of the term FOMO (Fear of Missing Out)? I totally felt that way after hearing ALL the rave reviews and seeing ALL the delicious pictures circulating since the February opening of Joe's Imports. Joe's Imports is the new premium wine bar and dining destination by the Francesca's Restaurant Group. Located in the West Loop at the Gateway of the Fulton Market District, Joe's import offers a unique collection of global wines paired with seasonably-focused shared plates. When you enter the enchanting European wine bar you're greeted with warm woods, cozy banquets, aged brick, and contemporary furnishings. The intimate space hosts 65 seats, including 15 bar seats year around. I wish the weather had cooperated so we could sit outside on the beautiful patio….oh well….next time!!
Inspired by the global travels and living abroad experiences of Operating Partner and Wine Director of Francesca's Restaurant Group, Joe Fiely, Joe's Imports pays homage to global wines, by sourcing from some of the world's oldest and familiar wine houses, as well as newcomers to the wine scene.
The wine menu features more than 250 bottles and anywhere from 10 to 20 red and white wines by-the-glass. Featured wines will also rotate throughout the year, as varietals are sourced during peak harvest seasons from around the globe. Guests to Joe's Imports will be impressed with the wine menu, but shouldn't feel intimidated by unfamiliar labels, as each bottle of wine comes with a special story – which will be told through Joe's Imports expert staff – and will be paired to fit each patron's preferred taste.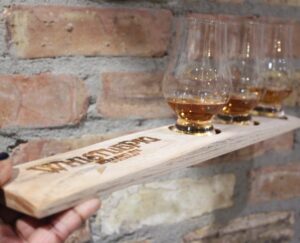 Wine enthusiasts will also be pleased to learn that Joe's Imports has a retail license, and every bottle of wine in the venue is available for purchase to enjoy off premise. Those looking to try unique beers will also be gratified, as Joe's Imports features bottles of beer from around the globe, as well as a classic cocktail menu. I'm a huge whisky drinker so I had to try the Whistle Pig flight. It left me a happy camper. I also had the Pisco Sour cocktail and again another winner!
While wine is the primary focus of Joe's Imports, the food menu also shares the spotlight, as it features shared plates with truly seasonally sourced ingredients from the global culinary talents from Francesca's Restaurant Group corporate Chef, Peter DeRuvo. The curated dishes pair perfectly with the global wines.
Guests to Joe's Imports are treated to a menu of shared plates for every appetite, ranging from light bites to hearty entrees. Check out the dishes we tried below!
Joe's Imports is located at 813 W. Fulton Market. Open seven days per week, Monday through Wednesday, 4:00 p.m. to 1:00 a.m.; Thursday through Saturday, 4:00 p.m. to 2:00 a.m.; and Sunday 4:00 p.m. to 10:00 p.m. The kitchen closes at midnight Monday through Saturday, and 10:00 p.m. on Sundays. For more information please visit: www.joeswineimports.com.
All photo's were taken by Tavi J. of the Chicago Lifestyle Blog Chi@Glance.

Copyright secured by Digiprove © 2019