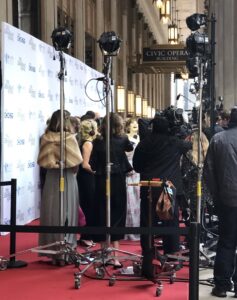 "Good Food For Good" was the theme Monday night as the culinary industry descended upon the Civic Lyric Opera House in Chicago, May 6th. The James Beard Awards Gala, also known as the Oscars of the food world, were in town. The Foundation's annual gala has been hosted in Chicago since 2015 and will continue to be hosted in Chicago through 2027. At the awards gala the chef and restaurant awards are presented. This year Chicago earned 17 finalist nominations in eight categories and took home four Beard awards:
Boka Restaurant Group's Kevin Boehm and Rob Katz – Outstanding Restaurateur
Parachute's Beverly Kim and Johnny Clark's – Best Chef: Great Lakes
Pacific Standard Time – Outstanding Restaurant Design, 76 Seats and Over
Publican Quality Bread – Greg Wade – Outstanding Baker
To see a complete listing of the winners click HERE.
I'll be honest there was a time I didn't know what the beard awards were. After blogging and entrenching myself in the food world I know how highly a beard award is sought after and viewed in the food service industry. At Chi@Glance we're an informational blog so I want to give a brief history of James Beard before continuing on with my experience.
James Andrews Beard was an American Cook, cookbook author, teacher, and television personality. Beard was a champion of American cuisine who taught and mentored generations of professional chefs and food enthusiasts. James Beard passed away in 1985 at the age of 81. His legacy lives on in twenty books, other writings, and his foundations annual James Beard awards in a number of culinary genres. The mission of The James Beard Foundation is to celebrate, nurture, and honor chefs and other leaders making America's food culture more delicious, diverse, and sustainable for everyone.   jamesbeard.org
The James Beard mission lives on today and could be felt at the awards show. This was my first year attending and I want to share my top 5 highlights of the show.
Diversity at the Awards Show
I love the diversity within the culinary industry. There's still room for more growth, but seeing Kwame Onwuachi win the "Rising Chef of the Year" award and Mashama Bailey win Best Chef: Southeast were truly special moments of the evening.
The Humanitarian of the Year Award
Speaking of touching moments….The Humanitarian of the year Award was definitely a tear jerker. The Humanitarian of the Year award is given to an individual or organization whose work in the realm of food has improved the lives of others and benefited society at large. I have surrounded myself with the food industry enough to know how protective they are of each other. Giving Kitchen was this year award recipient. Giving Kitchen is a non-profit that provides emergency assistance to food service workers through financial support and a network of community resources. The non-profit grew out of beyond expectation response to the devastating stage four cancer diagnosis of Chef Ryan Hidinger in 2012. He received an outpouring of love and financial support to help with his expenses not covered by insurance.
OMG! Fan Girl Moments
Being at the awards show….you're among the best of the best in the industry. This year it was hosted by Jesse Tyler Furgeson, from the television show, Modern Family on ABC. At the after Gala I was running into Top Chef alum like Tanya Holland. Seeing so many of your favorite chefs up close (and taking selfies with them) was an experience like no other. I also enjoyed seeing Chef Fabio Viviani, Actress Zooey Deschanel, Ayesha Curry, and countless more chefs and celebrities. Mayor Rahm Emanuel was also on hand at the gala to deliver his final mayoral speech at the awards show. He had some funny remarks to say about President Trump that drew a favorable response from the audience.
Gala Reception Food Menu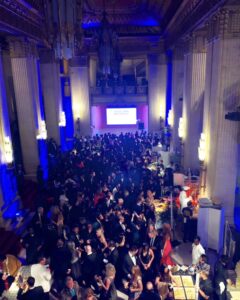 After the awards show there's a Gala reception with some of the most delicious culinary food you've ever tasted. Walking amongst the floors of the theater and having bites like the Black Cod with Coconut Dashi and American Caviar from Chef Gregory Gourdet from Departure Restaurant and Lounge in Portland Oregon was a treat!
After Parties
After the show is the after party! Chefs work hard and they party just as hard too! I couldn't tell you the last time I was out till 5:30am. I started my afterparty celebrations at Lena Brava where Rick Bayless was definitely getting the party started with some awesome dance moves! Lena Brava supplied party goers with some of the best carnitas and cocktails. From there we party hopped on over to Stephanie Izard "Goats in Wonderland" themed after party. Once 3:00am hit we still didn't want to end the evening so we headed on over to Bourbon on Division. They closed at 4:00am and we headed to 2019 Michelin Star restaurant  Temporis where we popped a few bottles with the Chef!!
So…. for those of you that are like I want to join in on the FUN!!! Well you can! The James Beard Awards is a ticketed event and open to the public. It'll set you back $500 though. Luckily there are other events during James Beard Awards weekend that help you feel like you're part of the celebration, but cost considerably cheaper. One of the public ticketed events I attended this year was the "IDE All-Star Culinary Bash" presented by the Iconoclast Dinner Experience. At this event James Beard Foundation recognized chefs of color are celebrated (and the food/cocktail line up at this event are not to be missed either)!
I am in awe and so proud of the culinary community and especially the Chicago culinary community. I make it a priority to interview as many chefs as I can and to learn their back stories. It was such an honor to be able to attend and cover the James Beard Awards Gala. Definitely an experience I will NEVER forget. Keep Scrolling for more award show and after party pics!
Wanna know where I got this beautiful gown? The Frock Shop, ofcourse!
Why buy when you can rent?!
MORE PICS From the 2019 James Beard Awards!!!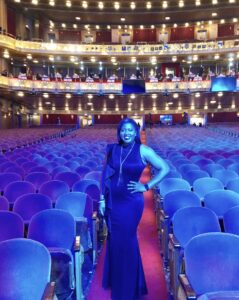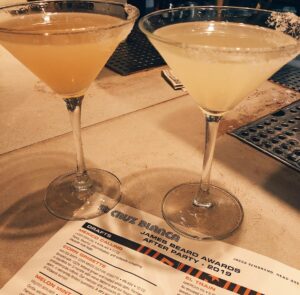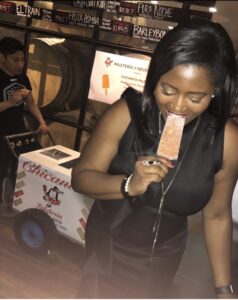 Copyright secured by Digiprove © 2019-2022