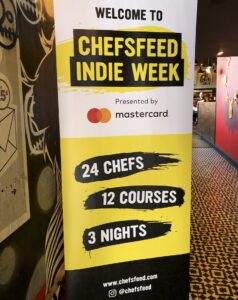 I'm still on a culinary high from James Beard Awards weekend in Chicago! I think the month of May should be crowned foodie month with all the extraordinary culinary events and conferences to choose from. I was super excited the ChefWear team clued me in on a fine dining experience making its way to Chicago for the very first time.
ChefsFeed Indie week is a national dinner series that brings chefs and food lovers together for a 12 course food and wine pairing. What makes this event so unique is the genuine "come as you are" vibe and the close interaction you get to experience with the chefs. Each event features a curated crew of 24 chefs. Some of the chefs are James Beard Foundation Award and Food & Wine Best New Chef winners, so you know the food will be AMAZING! Attendees get to watch up close the preparation of the meal in the kitchen and each chef comes tableside to explain their unique culinary creations.
At Chi@Glance we cover several dinners, pop ups, and festivals. What some of you may not know is a lot of times the chefs or their restaurants are paying to be at these events and supplying their own food. What makes ChefsFeed Indie Week so honorable is the cost of the tickets covers the guest chefs' airfare, hotel accommodations, and food costs! That makes for very happy chefs putting their all into 12 delicious food courses.
ChefsFeed Indie Week in Chicago was May 16th – May 19th hosted at Fulton Market Kitchen. The Chef hosts for the event were Chef Christopher Curren (Executive Chef at Fulton Market Kitchen) and Chef Lamar Moore (Executive Chef at the Swill Inn). Thursday and Friday twelve chefs served a 12 course meal with wine pairing. I was lucky enough to attend the Sunday Grand Finale event were 24 chefs served a 12 course meal and wine pairing. The Chefs were paired together for the grand finale and we experienced a tantalizing 12 course tasting. The Chefs participating in the Chicago ChefsFeed Indie week were:
Mary Lovelace – Yonder: Portland, OR
Callie Speer – Holy Roller: Austin, TX
Miles Thompson – Unaffiliated: Santa Monica, CA
Christine Rivera – GalaxyTaco: LA Jolla, CA
Lamar Moore – The Swill Inn: Chicago, IL
Casey Rebecca Nunes – Media Noche: San Francisco, CA
Rogelio Garcia – Spruce: San Francisco, CA
Geovanna Salas – Smyth and the Loyalist: Chicago, IL
Brett Oliver Sawyer – The Plum: Cleveland, OH
Alan Sternberg – Common House Supper Club: Indianapolis, IN
Steve Samson – Rossoblu: Los Angeles, CA
Francis Ang – Pinoy Heritage: San Francisco, CA
Diego Galicia – Restaurant Mixtli, Antonio, TX
Christopher Curren – Fulton Market Kitchen: Chicago, IL
Zoe Schor – Split-Rail: Chicago, IL
Rico Torres – Restaurant Mixtli: San Antonio, TX
Deirdre Quinn – G&O: Chicago, IL
Reem Assil – Reem's California: Oakland, CA
Tim Maslow – Whaling in Oklahoma: Boston, MA
Zen Ong – INDA Dining: Los Angeles, CA
Jenner Tomaska – Unaffiliated: Chicago, IL
Dawn Burrell – Kulture: Houston, TX
Mia Li – Lenoir: Austin, TX
Mark Steuer – Funkehausen: Chicago, IL
Check out the dishes we had below and make sure to follow @chefsfeedindieweek on social media to find out when their headed to your town! www.chefsfeedindieweek.com. Boston you're up next!!

Copyright secured by Digiprove © 2019