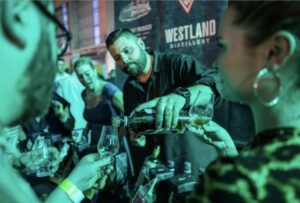 Event: The WhiskyX
When: Friday, May 31st
Where: Revel Fulton Market
Address: 1215 W. Fulton Market, Chicago
Time: 6:00pm to 10:00pm
Cost: $75 (GA) $125 (VIP)
Tickets: Click HERE
Website: www.thewhiskyx.com
MAY 31: CHICAGO'S REVEL FULTON MARKET TO HOST THE WHISKYX
New Kind of Whisky Experience Brings Together Established and Emerging Whisky Brands with Music by St. Paul & The Broken Bones, Plus Chefs, Food Trucks and More
The WhiskyX, the cultural whisky event series for the whisky-curious, is coming to Chicago's Revel Fulton Market on May 31, 2019 from 6 pm-10 pm.
Returning to Chicago for its second year, the event, which has also stopped in Los Angeles, Denver, New York, and Austin, features whisky tastings from more than 60 long-established and emerging whisky brands along with great music, food trucks, top chefs, and more.
Whisky Discovery
Whisky brand ambassadors and bartenders will be on hand to introduce guests to whiskies across the Bourbon, Scotch, Single Malt, American Whisky, and Rye categories. It all happens in an atmosphere that's as exciting for those new to whisky as it is for seasoned aficionados.
A complete list of whisky and food offerings can be found at TheWhiskyX.com.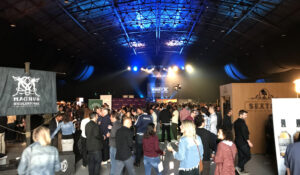 "The WhiskyX was created for new whisky drinkers, while still being a lot of fun for the whisky connoisseur. You can discover and learn about some of the world's best whiskies next to exciting newcomers. The melding of great whiskies with music, interesting food and some fun things you don't expect like free beard shaving, hair trims from Blind Barber, and a cigar lounge make for an amazing night of discovery," said Brandon Baptiste, Vice President of The WhiskyX.
Local Chicago Chefs and Food Trucks
In addition to whisky, The WhiskyX will treat guests to bites from top local Chicago chefs and food trucks. Among the trucks are Three Legged Tacos, Soul Kantina, and more to come.
Music
St. Paul & The Broken Bones are the featured performers at The WhiskyX Chicago.
Following the release of its new album "Young Sick Camellia," the high voltage, Birmingham, Alabama-based band just played to a packed house at The Riviera Theatre on October 10th. Lead vocalist Paul Janeway is a dynamic and passionate performer whose songwriting has been inspired by artists ranging from Prince to Thom Yorke to Otis Redding.
"Chicago is an incredibly passionate music town with a real hunger for discovery of bands like St. Paul & The Broken Bones whose following is growing rapidly. We're excited to bring them to Chicago!" said Brian Murphy, CEO of The WhiskyX.
Both VIP ($125) and General Admission ($75) tickets are on sale now. Tickets can be purchased through Eventbrite and more info can be found at www.TheWhiskyX.com. Special early bird discounts are available for a limited time. The Revel Fulton Market is located at 1215 W Fulton Market, Chicago, IL 60607.
Social Media:

Copyright secured by Digiprove © 2019