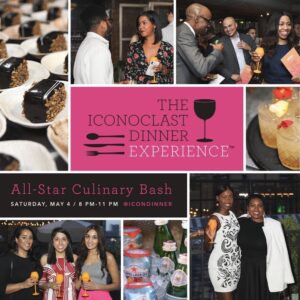 Event: 2019 IDE All-Star Culinary Bash
Presented by: The Iconoclast Dinner Experience
Hosted By: Viking Ambassador Chef Jaime Laurita
When: Saturday, May 4th
Where: Viking Showroom at the Merchandise Mart
Address: 222 Merchandise Mart Plaza, Suite 137, Chicago
Time: 8:00pm – 11:00pm
Admission – $100
Website: theiconoclastdinner.com
Tickets: Click HERE
The James Beard Awards will once again be hosted at the Chicago Lyric Opera House on May 6th. Known as "The Oscars of the Foodie World," The James Beard Foundation's mission is to celebrate, nurture, and honor chefs and other leaders making America's food culture more delicious, diverse, and sustainable for everyone.
During Beard Awards weekend there are tons of festivities and parties. One party in particular you should kick off the weekend with is the IDE All-Star Culinary Bash. This unique celebration is going on its third year and recognizes James Beard Foundation chefs of colors.
Net ticket proceeds benefit Spelman College. This year the event will be hosted at the Viking Showroom at the Merchandise Mart. (222 Merchandise Mart Plaza, Suite 137). Chef Jaime Laurita, Viking Brand Ambassador, will host the intimate gathering. Viking is such a unique and beautiful space with an open kitchen concept. Guests can expect free flowing wine, spirits, and culinary offerings from some of the county's most trailblazing chefs including Event Chair and 2019 JBF Best Chef Nominee: Southeast, Mashama Bailey. Guests will have the opportunity to meet, interact with, and enjoy exceptional cuisine from The 2019 IDE All-Star Team:
I know you're probably wondering who's the mastermind behind the IDE All-Star Culinary Bash? The founder and curator of the event is Dr. Lezli Harvell. I met Dr. Lezli during a taping of the Kitchen Chat podcast segment with host Margaret McSweeney and Co-host Chef Jaime Laurita at the Viking Showroom inside the merchandise mart. Make sure to follow kitchenchat.info for their segment airing next week.
In the meantime, I had the pleasure of interviewing Dr. Lezli. We spoke about the upcoming IDE All-Star Culinary Bash presented by The Iconoclast Dinner Experience. The Iconoclast Dinner Experience is a series of signature events that take place in Atlanta, Chicago, and NYC. The mission of the events is to celebrate food, wine, and spirit trailblazers of colors. Check out our one on one interview below!
Tavi J. One on One Interview with Dr. Lezli Harvell: Founder and Curator of
The Iconoclast Dinner Experience
Tavi J: First off, you're a dentist correct?
Dr. Lezli Harvell: Yes. My husband and I have a practice. I'm a board certified pediatric dentist.
How did you get involved with the culinary world? Can you tell us how your journey began?
As a food enthusiast I would go to a lot of food and wine events. I attended sit down dinners, food festivals, and pop ups. I really found that the landscape was pretty homogeneous seven to ten years ago in terms of the chefs that were being featured, written about, or who were getting the awards. It was all very homogenous to me. As an entrepreneur I'm not really the type of person that waits around. If there's something I want to see or want to do I'll just do it. So I decided to curate an event I wanted to see.
I started with the Iconoclast dinner, which we're going into our fifth year anniversary on June 8th. The dinner celebrates a team of culinary and wine trailblazers that all come together at the James Beard House. James Beard is an invitation only kitchen. The event honors the chefs but, the chefs are also cooking and get to display their talents. It's a really beautiful event.
Each year we've added an event to the Iconoclast Dinner Experience and this will be the third year for the IDE All-Star Culinary Bash hosted in Chicago.
How did you decide to make the events revolved around the James Beard Organization?
I selected the James Beard House to host my events because I understand the significance of The James Beard Foundation in the culinary world. What it means to go there is an honor.
We're lucky in Chicago to host the James Beard Awards through 2021. What made you decide to host an event here in Chicago during James Beard Awards weekend?
I remember the first year I went to the James Beard Awards and not really being able to get into any of the events unless I was on a chefs guest list. That's not really who I am as a person. I personally don't want to ride on anybody's coattails. Chicago is such a great food city and I'm sure there is a huge population of folks in Chicago that would love to partake in the festivities by just purchasing a ticket. Also I noticed there were not any events that recognized JBF chefs of color. So I decided to create an event and knew it was going to be dope.
One of the things I will definitely say sets your event a part is people from the public can go. I went to a few events during James Beard Award weekend last year and they were only industry related and not for the public. Chicago does have a huge foodie population and being able to partake in a cool event Beard Awards weekend would appeal to a ton of people. What else makes your event stand out from the rest?
The events in the Iconoclast Dinner Experience all highlight and recognize James Beard Foundation chefs of color. It's important for people to understand that everybody needs to have a seat at the table. There's so many people that are not celebrated and this event celebrates these amazing chefs with different cooking styles from all different regions.
I'm really looking forward to the IDE All-Star Culinary Bash! I love that your hosting it at Viking at the Merchandise Mart. It's such a gorgeous space. Being from New York, how do you pick your Chicago venues for events?
As a curator I like to provide lasting experiences in unique spaces. To me that means spaces that people wouldn't typically go to for a party. I always want to create a unique celebration that people aren't typically used to attending parties at.
I like having intimate events where there is meaningful interactions between the people who are producing the art and the people who are partaking in the art. As someone who attends a lot of food events, I find that there isn't a lot of meaningful interaction, in my opinion. The way our events are structured you don't have one chef trying to produce a whole bunch of food. The chefs take turns and it allows them to come out and interact with the people that are there to celebrate with them. All of our events are set apart with the meaningful interaction between the food enthusiasts, Chefs, and Sommeliers.
What type of atmosphere should we expect for the event May 4th?
I like to say it's a cocktail/chic style. About 100 people will attend. Viking showroom has a beautiful open kitchen. Each chef has a block of time for their pass hor d'oeuvres and it's paired with a particular cocktail. Our cocktail program is being curated by Lynn House. The chefs will explain each food item and introduce themselves and the cocktail that is paired with the hor d'oeuvre will also be explained as well.
I love that you're a go getter. You were included in Root's 2018 Annual list of African American's ages 25 to 45 that are innovators, leaders, public figures, and game changers whose work from the past year is breaking down barriers and paving the way for the next generation. What do you think people of color can do to help ourselves and to help each other?
I think as an entrepreneur, and in general, everybody has to help everybody else. The Iconoclast dinner experience is an event series, but also it's a start up. It's something that I literally started from the ground up. It's growing, but I'm still really new. There are a lot of people out there whether you're a food blogger, food photographer, etc…everybody can support everyone. We all have to help each other rise. There's enough room for everyone.
I cannot wait for the IDE All-Star Culinary Bash! To stay up to date on the Iconoclast Dinner Experience series check out the website at www.iconoclastdinner.com and follow on Instagram @Icondinner
2018 IDE All-Star Culinary Bash Video

Copyright secured by Digiprove © 2019