Chicago has some amazing Chefs and Restaurants representing the James Beards Awards 2019 Semi Finalists list. Check out the full details below!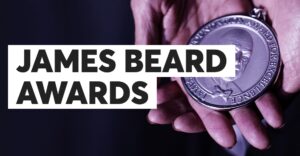 JAMES BEARD FOUNDATION ANNOUNCES 2019 RESTAURANT AND CHEF SEMIFINALISTS
The James Beard Foundation announced its list of Restaurant and Chef Award semifinalists in advance of the 29th annual James Beard Awards. The prestigious group of semifinalists across all categories represents a wide collection of culinary talent, from exceptional chefs and dining destinations nationally and across ten different regions to the best new restaurants, outstanding bar, outstanding baker, and a rising star chefs 30 years of age or under.
The Foundation will announce the final nominees for all Award categories during a press conference in Houston, hosted by James Beard Award–winning chef Hugo Ortega at his namesake Mexican restaurant, Hugo's, on Wednesday, March 27th, 2019. The event will take place at 9:00 A.M. CT / 10:00 A.M. ET and will be streamed live online (details coming soon on the Foundation's website) and the nominees will be live-tweeted via the James Beard Foundation Twitter feed at twitter.com/beardfoundation.
The James Beard Foundation holds an online open call for entries beginning in mid-October of each year. Entries received, along with input solicited from an independent volunteer group of more than 250 panelists around the country, are reviewed by the Restaurant and Chef Committee to determine eligibility and regional representation. Based on the results and eligibility requirements for each award, the committee then produces a nominating ballot that lists the semifinalists in each of the 21 Restaurant and Chef Award categories. The list of semifinalists is then voted on by more than 600 judges from across the country to determine the final nominees in each category. The same group of judges, which comprises leading regional restaurant critics, food and wine editors, culinary educators, and past James Beard Award winners, then votes on the nominees to select the winners. Tabulations to determine the nominees and winners are done by independent auditors Lutz & Carr. The governing Awards committee, board of trustees, and staff of the James Beard Foundation do not vote, and the results are kept confidential until the presentation of winners in May. James Beard Awards policies and procedures can be reviewed at jamesbeard.org/awards/policies.
Check out the categories below Chicago is listed in!
Best New Restaurant
A restaurant opened in 2018 that already demonstrates excellence in cuisine and hospitality, and that is likely to make a significant impact in years to come.
Kyoten, Chicago
Passerotto, Chicago
Outstanding Baker
A pastry chef or baker who demonstrates exceptional skill, integrity, and character in the preparation of desserts, pastries, or breads served in a retail bakery. Must have been working as a pastry chef or baker for the past five years
Stephanie Hart, Brown Sugar Bakery, Chicago
Greg Wade, Publican Quality Bread, Chicago
Outstanding Bar Program
A restaurant or bar that demonstrates exceptional care and skill in the selection, preparation, and serving of cocktails, spirits, and/or beer.
Lost Lake, Chicago
Outstanding Chef (Presented by All-Clad Metalcrafters)
A chef who sets high culinary standards and who has served as a positive example for other food professionals. Must have been working as a chef for the past five years.
Sarah Grueneberg, Monteverde, Chicago
Outstanding Pastry Chef (Presented by Lavazza)
A pastry chef or baker who demonstrates exceptional skill, integrity, and character in the preparation of desserts, pastries, or breads served in a restaurant. Must have been working as a pastry chef or baker for the past five years.
Meg Galus, Boka, Chicago
Outstanding Restaurant (Presented by S.Pellegrino® Sparkling Natural Mineral Water)
A restaurant that demonstrates consistent excellence in food, atmosphere, service, and operations. Must have been in business 10 or more consecutive years.
North Pond, Chicago
Outstanding Restaurateur (Presented by Magellan Corporation)
A restaurateur who demonstrates creativity in entrepreneurship and integrity in restaurant operations. Must have been in the restaurant business for at least 10 years. Must not have been nominated for a James Beard Foundation chef award in the past five years.
Rob Katz and Kevin Boehm, Boka Restaurant Group, Chicago (Boka, Girl & the Goat, Momotaro, and others)
Outstanding Service
A restaurant in operation for five or more years that demonstrates consistency and exceptional thoughtfulness in hospitality and service.
Birrieria Zaragoza, Chicago
Gibsons Bar & Steakhouse, Chicago
Outstanding Wine Program (Presented by Robert Mondavi Winery)
A restaurant or bar that demonstrates excellence in wine service through a carefully considered wine list and a well-informed approach to helping customers choose and drink wine.
Income Tax, Chicago
Rising Star Chef of the Year (Presented by S.Pellegrino® Sparkling Natural Mineral Water)
A chef age 30 or younger who displays exceptional talent, character, and leadership ability, and who is likely to make a significant impact in years to come.
Alisha Elenz, MFK, Chicago
Best Chefs
Chefs who set high culinary standards and also demonstrate integrity and admirable leadership skills in their respective regions. A nominee may be from any kind of dining establishment but must have been working as a chef for at least five years, with the three most recent years spent in the region.
Best Chef: Great Lakes (IL, IN, MI, OH)

Thai Dang, HaiSous Vietnamese Kitchen, Chicago
Diana Dávila, Mi Tocaya Antojería, Chicago
Paul Fehribach, Big Jones, Chicago
Jason Hammel, Lula Café, Chicago
Brian Jupiter, Frontier, Chicago
Beverly Kim and Johnny Clark, Parachute, Chicago
Ethan Pikas, Cellar Door Provisions, Chicago
David Posey and Anna Posey, Elske, Chicago
Iliana Regan, Kitsune, Chicago
Noah Sandoval, Oriole, Chicago
Lee Wolen, Boka, Chicago
About the 2019 James Beard Awards
The 2019 James Beard Awards celebrations begin in New York City on Friday, April 26, 2019, with the James Beard Media Awards, an exclusive event honoring the nation's top cookbook authors, culinary broadcast producers and hosts, and food journalists that will take place at Pier Sixty at Chelsea Piers.
The events then move to Chicago, beginning with the Leadership Awards dinner on Sunday, May 5, 2019, at which honorees will be recognized for their work in creating a more healthful, sustainable, and just food world. The James Beard Awards Gala will take place on Monday, May 6, 2019, at the Lyric Opera of Chicago. During the event, which is open to the public, awards for the Restaurant and Chef and Restaurant Design categories will be handed out, along with special achievement awards Humanitarian of the Year, Lifetime Achievement, Design Icon, and America's Classics. A gala reception will immediately follow, featuring chefs and beverage professionals from across the country, all of whom are involved in the Foundation's Impact Programs.
The 2019 James Beard Awards are proudly hosted by Choose Chicago and the Illinois Restaurant Association and presented in association with Chicago O'Hare and Midway International Airports and Magellan Corporation as well as the following partners: Premier Sponsors: All-Clad Metalcrafters,
American Airlines, HMSHost, Lavazza, S.Pellegrino® Sparkling Natural Mineral Water ; Supporting Sponsors: Hyatt, National Restaurant Association™, Robert Mondavi Winery, Skuna Bay Salmon, TABASCO® Sauce, Valrhona, White Claw® Hard Seltzer, Windstar Cruises; Gala Reception Sponsors: Dogfish Head Craft Brewery, Ecolab, Front of the House®, Kendall College, Segura Viudas USA with additional support from Chefwear, Loacker and VerTerra Dinnerware.
Established in 1990, the James Beard Awards recognize culinary professionals for excellence and achievement in their fields and further the Foundation's mission to celebrate, nurture, and honor chefs and other leaders making America's food culture more delicious, diverse, and sustainable for everyone. Each award category has an individual committee made up of industry professionals who volunteer their time to oversee the policies, procedures, and selection of judges for their respective Awards programs. All James Beard Award winners receive a certificate and a medallion engraved with the James Beard Foundation Awards insignia.
About the James Beard Foundation
The James Beard Foundation's mission is to promote good food for good™. For more than 30 years, the James Beard Foundation has highlighted the centrality of food culture in our daily lives. Through the James Beard Awards, unique dining experiences at the James Beard House and around the country, scholarships, hands-on learning, and a variety of industry programs that educate and empower leaders in our community, the Foundation has built a platform for chefs and asserted the power of gastronomy to drive behavior, culture, and policy change around food. To that end, the Foundation has also created signature impact-oriented initiatives that include our Women's Leadership Programs, aimed at addressing the gender imbalance in the culinary industry; advocacy training through our Chefs Boot Camp for Policy and Change; and the James Beard Foundation Leadership Awards, which shine a spotlight on successful change makers. The organization is committed to giving chefs and their colleagues a voice and the tools they need to make the world more sustainable, equitable, and delicious for everyone. For more information, please visit jamesbeard.org and follow @beardfoundation on Instagram, Twitter, and Facebook.

Copyright secured by Digiprove © 2019