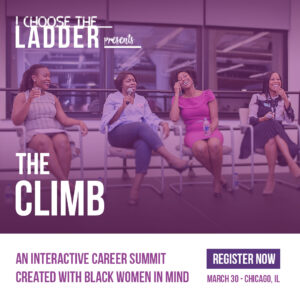 Event: The Climb
What: Black Female Professional Career Summit
When: Saturday, March 30th
Where: University of Phoenix (Downtown Chicago)
Address: 203 N LaSalle St, Chicago
Time: 9:00am – 6:00pm
Tickets: https://www.theclimbsummit.com/events/the-climb/pick-tickets
Cost: $249 Regular $349 VIP
(Note: Discount pricing available for Grad Students)
** Discount Alert!! Between now and end of day Wednesday, March 20th each woman who purchases a ticket gets to bring a sister friend to the summit for FREE!!!!**
Are you ready to take your career to the next level and invest in yourself? Whether you're a novice on the job or a seasoned professional there's always room for more growth and understanding as it pertains to the work place. The Climb is an immersive experience designed for Black Millennial, Xennial and GenX professional women who are looking to share their experiences, learn best practices, quantify their impact and elevate their careers. The summit will feature senior-level, female Black executives from a variety of companies including Digitas, Ernst & Young, HBO, the Indiana Pacers, JP Morgan, Northern Trust and Ulta.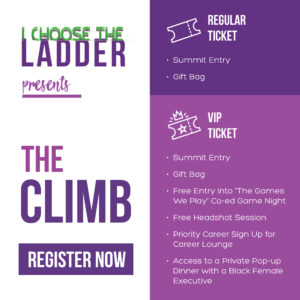 I had the pleasure of interviewing the founder of The Climb, Watchen Nyanue. Although we are all there to encourage each other she said this shouldn't be looked at as just another women empowerment summit. The summit plans to go beyond the empowering and cheerleading by giving you tangible skills and resources you can bring with you to your current or future job. As we discussed, what's the point of attending these summits to get energized, but not know how or be able to apply what you've learned.
One of the major components that appealed to me about this summit is the opportunity to establish connections with C-Suite women and other Black professional women on the same trajectory. Networking is essentially the framework to success and being able to connect with executive level women that are succeeding in their field is a must if you want to mirror or achieve a higher level of success.
Summit topics include: Lessons in negotiating, Navigating a career switch, Making money moves, Leveraging your 9-5 to build your 5-9, Self-advocacy in the workplace, and much more! To see a complete list of speakers, keep track of updates, and to purchase your tickets head to theclimbsummit.com.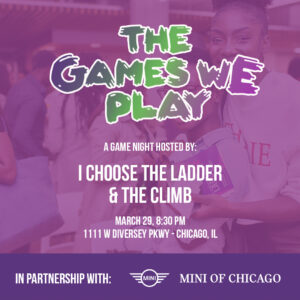 For those wanting to get a little mingling in the night before the summit there's a "The Climb: Game Night." This event is Co-Ed and will be reminiscence of undergrad college kickbacks. Think Black Card Revoked, Spades, Taboo, Martin Trivia, Etc. The event will be hosted at MINI of Chicago, 1111 W Diversey Pkway, in Chicago. Tickets are $25 and can be purchased at: https://www.theclimbsummit.com/events/the-climb-game-night/pick-tickets
Please note: 1 Game Night ticket is already included in VIP packages.
Tune in Monday (March 18th) on Chiataglance.com. We're interviewing the founder of The Climb, Watchen Nyanue. Watchen works at the Chicago Sky and is the Vice President of Marketing Partnerships. She'll be giving us some more insight into The Climb Summit as well as how her career journey has taken her to where she is now.
See you at the summit! #TheCLIMB

Copyright secured by Digiprove © 2019