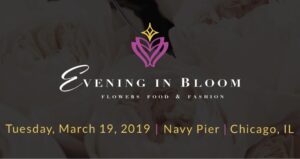 Event: Evening in Bloom Gala
Date: Tuesday – March 19, 2019
Where: Navy Pier
Address: 600 E. Grand Avenue, Chicago
Time: 6:00pm – 9:30pm
Tickets: Click HERE
The Chicago Flower & Garden Show is right around the corner! The Flower show is Wed, March 20th – Sunday, March 24th. The origins of the show can be traced all the way back to 1847 when the first exhibition debuted of fruits and flowers. The exposition was a big hit by the trade and the general public. Since then the show has evolved! The show today is attended by more than 40,000 attendees to the festival halls at Navy Pier, where they can experience every facet of horticulture. While visiting, attendees can walk through life-sized gardens, participate in DIY workshops, learn from educational seminars, enjoy garden-to-table cooking presentations and more.
Every year on the eve of the show's public opening, the Chicago Flower & Garden Show hosts an exclusive preview benefit, Evening in Bloom. As a sneak peek at what's to come, Evening in Bloom is an exciting event that brings together friends and fans of the show to benefit local charities. Our MC for the evening will be Candace Jordan from the Chicago Tribune. The charity preview benefit is presented by Wintrust on Tuesday, March 19th.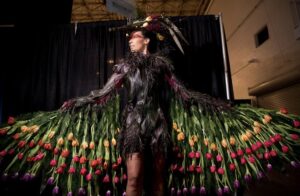 The 1,000+ VIP attendees of Evening in Bloom will not only behold the Midwest's Iconic Chicago Flower & Garden Show in all its grandeur the evening before it opens to the public, but will be treated to extraordinary culinary presentations and a high energy floral fashion show – Hort Couture . Hort Couture spotlights the spectacular talents of Chicago's leading floral designers and landscape artists as they draw inspiration from the flower show to create breathtaking garments and accessories made in part from plants, flowers, and natural materials. Proceeds benefit Bernie's Book Bank, Catholic Charities of Chicago, and the Get Growing Foundation. To purchase your tickets to evening in bloom gala Tuesday, March 19th click HERE
The Chicago Flower and Garden show is Wednesday, March 20th through Sunday, March 24th. Wednesday – Saturday from 10am-8pm and Sunday 10am–6pm. For more information on the Chicago Flower and Garden Show and to purchase tickets head to http://chicagoflower.com/tickets/.

Copyright secured by Digiprove © 2019