Say It with Valentine Doughnuts!
Express 'All the Feels' this Valentine's Day with Conversation Doughnuts
Chicagoland Krispy Kreme Shops Introduce Limited-Time Heart-Shaped Doughnuts Available through Valentine's Day
With a shortage of candy conversation hearts expected this Valentine season, Krispy Kreme Doughnuts is showing America just how CRAZY 4 U they are by introducing Valentine "Conversation Doughnuts."
Join the sweet conversation and head to Chicagoland Krispy Kreme shops located in Homewood at 17815 South Halsted Street, Evergreen Park at 9150 South Western Avenue, and Hillside at 110 South Mannheim Road for the all-new Valentine Conversation Doughnuts collection, available Wednesday, January 30 through Valentine's Day, Thursday, February 14.
"Due to an outage of America's favorite Valentine's Day candy this year, say it with doughnuts instead," said Carlos Larcada, President of Chicagoland Restaurants, LLC. "We're excited to keep the conversation going this season with an all-new, sweet collection."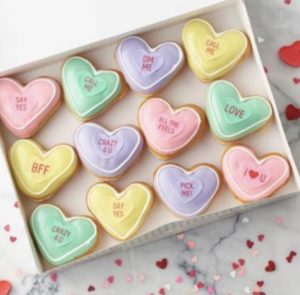 Topped with more than a dozen new and traditional edible phrases, including "DM ME," "ALL THE FEELS," and "BE MINE," conversations get even sweeter as the doughnuts feature four Krispy Kreme classic fillings including Cake Batter, Chocolate KREME™ Filled, Raspberry Filled and Strawberries & KREME™.
"Finding the right word can be like, I don't know….hard. But eating a doughnut is easy. So, we printed the right words on the doughnuts for you so you can't mess this up," said Dave Skena, Chief Marketing Officer for Krispy Kreme Doughnuts.
Additionally, Krispy Kreme Rewards members can receive a FREE Conversation Heart Doughnut of choice with any purchase on Wednesday, February 6. Download the Krispy Kreme Doughnuts app or visit www.KrispyKreme.com to become a member.
Show friends how you #SayItWithDoughnuts this Valentine season by tagging @KrispyKreme on Facebook, Twitter and Instagram, and using #KrispyKremeChicago.

Copyright secured by Digiprove © 2019