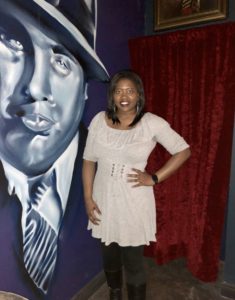 This past weekend I got a sneak peak of the soon to be open Hyde Park Speakeasy….The Hyde. Expect a secret entrance (with password required), a weekly rotating food menu, live music, and a NO CELL PHONE policy. Owner, Jovanis Bourgoub, said he wants to make sure there are no distractions and that means no cellphones. "The focus should be on each other and not your phones," Jovanis said. There will be an area where you're allowed to use your phone and take pictures, but the speakeasy main area will adhere to a strict policy of no phones. There will be live entertainment throughout the week. Expect live piano players and jazz bands, but at a level where you can still hear your dining companions speak. 
While listening to live entertainment you can enjoy cocktails and order appetizers and tapas. The weekly rotating menu will include food items like truffle fries, oysters, and ceviche. The fully stocked bar will have a strong focus on Cognac. The owner wants to expose the patron's to cognac all over the world from France, Italy, Japan, etc. The bar will feature over 100 cognacs from around the globe.
The speakeasy has room for 120 with seating for 80. Private parties can rent out the adjacent restaurant with the speakeasy which will then accommodate up to 400 guests. Reservations can be made by contacting The Hyde with your name and number of your party. Bottle service will be available, but not required. The hours of operation through the week and weekends will be 9pm to 2am. On the weekends the Speakeasy will transform into a club with bands and Djs. The Hyde is aiming to open by Mid January. They're working on a few final details and licensing. Adjacent to the speakeasy is the soon to be open seafood restaurant, Red Fish Bleu Fish. Red Fish Bleu Fish estimated opening is mid to late December. Follow @thehydechi and @Redfishbleufish on Instagram for exact opening date announcements.
Inside of Red Fish Bleu Fish. The bar is shaped like a boat! Opening Mid to late December. 5121 S Harper. Follow along on Instagram @Redfishbleufish for the exact opening date.

Copyright secured by Digiprove © 2018