"Vanderpump Rules" Watch Party at Broken Barrel Bar Every Monday
Goat Cheese Balls, Vanderpump Rosé & Proceeds to Vanderpump Dogs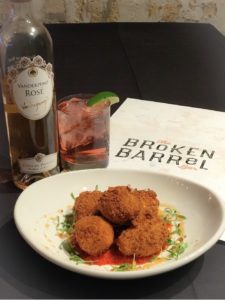 Season 7 of Bravo TV's highest rated reality show Vanderpump Rules starts tomorrow! Broken Barrel Bar is "SURving" up weekly Monday night watch parties beginning December 3rd from 7-9pm throughout the shows airing. Executive Chef Bryant Anderson is a huge fan of the show and created food and drink specials inspired by the drama-filled show. You can expect recreated SUR specials like Stassi's favorite Goat Cheese Balls, plus drink specials like the "Tequila Katie." A portion of the proceeds from the specials will benefit Lisa Vanderpump's rescue and adoption center, Vanderpump Dogs. See all the details below and I hope to see you at the watch party tomorrow!
Vanderpump Rules Watch Party Specials include:
The Pumptini vodka, lime juice, mint, cranberry $10
Vanderpump Rosé $58/bottle*, $15/glass
Tequila Katie chilled tequila, simple syrup, lime juice, served as a shot $6
Fried Goat Cheese Balls with smoked tomato sauce and rosemary-truffle honey $11
"It's Not About the Pasta" rotating pasta topped with house smoked meats $16
Specials also include *Half Priced Bottles of Wine and Sangria Specials
 Broken Barrel Bar
2548 N. Southport Ave
Chicago, IL 60614
Phone: 773-327-4900
Website: Brokenbarrelbar.com
@brokenbarrelbar on Instagram and Facebook
              RSVP: Seating is limited and reservations are recommended by calling Broken Barrel Bar.

Copyright secured by Digiprove © 2018