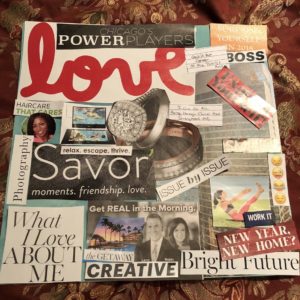 It's that time of year again where women (and maybe some men as well) are planning out there New Year visions. I myself am not a huge fan of vision boards, but I get suckered into doing one every now and then. My last vision board is posted up on the side of my fridge and only looked at when I'm making cake and the batter from the bowl sprays the fridge. I go to clean it and ah ha…OMG let me look at my vision board! I guess I could place it somewhere more predominant, but I don't want to ruin the aesthetics of my home. LOL
So I recently went to visit my vision board. Although I didn't achieve everything I set out for, I would have to say I at least scratched the surface of everything I wished for. Those of you following me know I had a rough mid year. I don't go around sharing names or exact details, but there was a lot of heart ache in my personal life this year…which thankfully turned into a lot of growth. I plan on ending this year strong and thanks to God, friends, family, my therapist (yes one was needed) and Myself…I'm on the right path.
I was down for months, but open communication pulled me out of my funk. One thing I used throughout the years to NOT deal with pain is not acknowledging I'm hurt. "How are you doing?" "Great!" I would say. Not anymore. I was knocked down sooo hard that I finally said, "I'm not doing well. I'm hurting." Just because you acknowledge this doesn't mean you have to tell every single detail. I was able to tell my story (just like I'm doing now without even mentioning names). If you share your story with people who truly care about you, they're not looking for detailed gossip, they're looking for the big picture to help you.
I had to learn that opening up doesn't make you weak. It actually makes you human. I didn't even realize people thought I was standoffish until this year. My need to prove everything was wonderful was not making me real or approachable. With that said there comes a point where you gotta change the story narrative. Do you want a happy ending? I do.
I knew from the very beginning I wanted my story to end with my self respect and happiness. I learned so many lessons this year and one big one is who my real friends are. Like I said…I don't name names. I had one girlfriend in particular that I hadn't talked to in forever. We had a falling out over nothing major, but it had been a couple of years since we spoke. She ended up being my main source of support through my hard times. I would call her up and she always took my calls and met up with me to talk. I cried on her at the beach, at the mall, at her house, walking down the street. I was a mess, but she never made me feel like I was a nuisance or I needed to hurry up and get happy. She knew I was trying my best and for her that was good enough. True friendships stand the test of time. Going through rough patches help you clearly see who is meant to be in your life.
I have another friend that doesn't live here, but she called me every day and sends me (till this day) quotes to get me through the day. I'm sorry, I know you can get through life alone, but without these ladies in my life (and a few men)…. I don't know what I would have done. I admit my faith is not what it's supposed to be, so when I turned to God I felt my heart was so hypocritical that he wouldn't hear me. I now believe that God used my best friends to show me it's never to late to turn back to him and that I am loved. God may not love some of my actions, but he loves me.
So am I still in a little bit of a funk….yes, but nowhere near where I was. I wanted to share what help me get out of it in order to remind myself for next time and hopefully it'll help someone going through the same thing.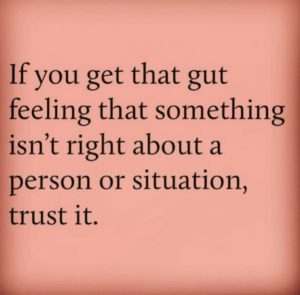 One day you wake up and you just can't take being depress anymore. You hit rock bottom and decide to let go of everyone and everything that is causing you pain. It's not as simple as it sounds, but once you're ready to face your fears it really is as simple as it sounds. Ask yourself why are you holding on, play out the worst case scenarios….did you die at the end of any of them? No? Well then release that fear and move on. I didn't want to die…and believe me depression can lead to that…so I decided to move on. One day I just got fed up being taken for granted and decided that no matter if these people are in my life…I gotta respect myself and move on.
I did my own prescription this time and I prescribed myself to "Reality Check Therapy." Constant conversation with God, my friends, myself, and even memes taught me I was living a fantasy. I was pretending like I was in a fairytale when it was me doing all the dreaming and work.
Below are the problems I had and I think they are all too common. If you do a reality check with yourself DAILY you can punch a hole through fiction.
He said vs he did
Old Tavi used to hang on every word and be mesmerized. "He said we're going to do this, see that, be this, be that." Now reality check time….go through everything said and see if the actions match up. If they don't….get out of that fairytale head space. You won't give all of you once you realize you're not or possibly never were getting the same in return. I tend to fall fast because I was looking at words and not actions. This is not just for romantic relationships, but friendships too.
Your picture vs real life
A picture is worth a 1000 "unspoken" words. A picture doesn't tell the whole story. I've posted several pictures of me smiling on the outside, but angry on the inside. I think I've done a good job being transparent on my blog and letting you guys know I'm not living in complete happiness all the time. Other people may not be so transparent though, so just know that what you see on the internet is what people want you to see, but the picture doesn't tell the whole story.
Believe patterns and not apologies
I will never knock an apology. It takes a lot of love and character to apologize. However, being on the receiving end of that apology can get old if you constantly hear it. My new approach is not to get angry (because believe me it does neither side any good), but to get indifferent. If I see a pattern develop that I'm not happy with…I acknowledge to myself and that individual that I'm not happy. I don't assume they know or get angry and ignore. I confront the issue with that individual and then both parties have the option/control on what to do. If I see the problem persist I will distance myself and frankly remap my thoughts. I will take their words with a grain of salt until I see action. On the apologizer end they also have the free will to decide if they agree or if they simply want out of the friendship/relationship.
What are your goals?
One key to my reality therapy is acknowledging what my goals are. Not my families goals, not my friends goals, not my boyfriend goals, but….MY GOALS. My goals are different from other people's. Some people value work vey highly. I was never the type to care about position status or quite frankly what I do for a living. My philosophy was always I work for the lifestyle I want to lead. Flashback to 2015 that goal changed slightly. I was fine with my current job because it provided me flexibility and money, but my creatively was being limited. I fixed that with my passion and side hustle…Chi@Glance Blog.
I don't necessarily want kids, but I do want to be married. My actions weren't aligning with my goals. I have so much fun that I don't speak up on the serious topics like…"Where is this relationship going" or "let's talk about how we are in a pretend relationship." Believe me not being upfront in the beginning will cause you heartache in the end. You need to figure out where that person is at. Even though they say one thing…it all goes back to looking at their actions.
My last vision board goal I'm still staying active with is…being on a morning show to share my passion and love for Chicago. I can honestly say I've been networking my butt off to make that happy.
2018 kicked my a$$ in so many ways, but it also led me into an adulthood of understanding. Things won't always happen on my timeline, I need to continue being empathetic, listen without forming an opinion right away, and most important of all LOVE. The word LOVE is thrown around so casually, but what does it truly mean? I think LOVE is caring for an individual so much that you want them to truly be good no matter what. So I want to leave 2018 knowing that I received love and was able to give love in return.
I pray you have a good rest of the year and you take time for YOU. 2019 has not started and it's a blessing and privilege to think about all the amazing opportunities and friendships the next year WILL (not May) bring.
With LOVE, Tavi J.

Copyright secured by Digiprove © 2018