Thanksgiving is almost upon us and with that comes a lot of eating and probably some drinking. 🙂 This month's spotlight feature focuses on the drinking part. Chi@Glance had the pleasure of interviewing Sommelier Derrick C. Westbrook. Derrick has quite an extensive and impressive wine background. Recently he was recognized by Wine Enthusiast Magazine as a 2018 40 under 40 Tastemaker and landed the October issue magazine cover.
I've been to several wine industry events and seminars. To be honest some can be quite stuffy. What I loved when I first met Derrick was how he broke down wine in such a fun way and appealed to us novice wine drinkers. Derrick's rule of thumb is…"Know the rules, but feel free to break them."
Over the last six years Derrick has been creating experiences around wine, beer, and spirits. His main focus is on wine. Additionally, he builds wine, beer, and spirit menus for businesses. Derrick's currently curating the wine/bar list for highly anticipated new Hyde Park restaurant & bookstore, Bibliophile Gastropub & Public House. In addition he's also working with a close friend (Cody) at Madison Vine Wines in the West Loop on a wine club and wine classes. Derrick also hosts events which include pop-ups, wine events, wine tastings, and wine dinners. He trains rising sommeliers, but also schools us novice wine drinkers. His goal is to make wine accessible while elevating the culture. You can often find Derrick working as a thought leader in the industry, sitting on panel discussions, round tables, and forums.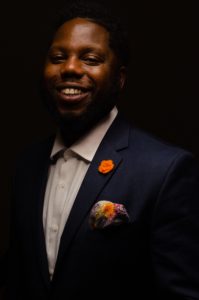 Why is Sommelier Derrick C. Westbrook a Chicagoan WE should know?
I'm one of the rising stars of wine in the city and country. Moreover, I'm part of the changing landscape and approach to wine, as I have been in Michelin Starred restaurants, to developing wine retail in areas where none existed. Most importantly you should know me if you fall in the following categories:
You Like Wine
You want to know more about wine
You're a novice
You're an Enthusiast
You don't like the pretense around wine
You like to be entertained
If you don't like wine.

I myself have an ever growing relationship with wine. I definitely know more about wine today than I did three years ago. I cover several wine events and each one leaves me a little more knowledgeable. However, there's so much to learn about the intricacies of wine and the industry as a whole. Derrick gave me the basic tools to expand my wine knowledge and also shared his journey to becoming the Sommelier he is today. Check out our one on one interview below (especially if you want to know what wine to bring to Thanksgiving Dinner. 🙂 ).
Tavi J. One on One Interview with Sommelier Derrick C. Westbrook
Congrats on your 40 under 40 Tastemakers of 2018 by Wine Enthusiast! I know it took a lot to get to this point. Can you share with us a little bit about your background/schooling in the industry?
I went to college at UAB (University of Alabama at Birmingham). It was working at a small Italian restaurant during college where I discovered my love of wine. I was working at the restaurant when they were rebuilding their wine list. Upon them rebuilding the wine list I had the opportunity to taste, try, and see things I never would of otherwise. It was then my official/unofficial wine education began.
What was the catalyst that caused you to work in the restaurant industry and led you to your passion of wine?
I started working at the restaurant just to make some extra money on the side. During my junior/senior year of college my mentor told me restaurants were the way to go to make money in college. You'll always be able to eat, have money in your pockets, and as a college student you're going to want to be able to drink. Restaurants have alcohol. It's funny cause at that point I didn't even know how to open a bottle of wine. My buddy had to show me. I was figuring out everything on the fly. After a week or so, I got pretty good at it….and BOOM…here I am.
What was your wine pallet like starting off? What types of wines did you gravitate too?
I'm a little nervous to say. LOL. Sparkling, Arbor Mist, was the first wine I was drinking in college. I was like….ooooh this is nice. Mainly because I was new to wine and it felt good drinking Arbor Mist at the age of 20. Most of the time though I was drinking beer. I also liked spiced rums that weren't too sweet and I was really into Gin.
When I was working at the restaurant I started to learn about what good wine tastes and looks like. Then I started learning the mechanics behind wine making and drinking. I had the opportunity to learn on really good wine. It was fun figuring out the metrics and it fed my curiosity. When I first began I had no wine sophistication. Over time my level of sophistication grew as I learned.
Now it's time to make us jealous! Where have your wine adventures taken you around the world?
My wine adventures have been quite interesting. I'll start close to home. My first wine adventure was in Napa. One of my college friends lived in Oakland. Every year there's three of us that get together for a guys trips. It was our second to last day in Oakland and we were pretty close to Napa and Sonoma. We jumped in the car and decided to head to Napa. It was right after harvest, so there wasn't a lot of energy around Napa at that time. That's the time I like to go because there's less tourist and I can venture and try things more easily. I snuck onto the properties and looked at the vines. We also went on winery tours and I got to look at vines that were dormant. From there I fell in love with the wine making process.
My father and my grandparents have a green thumb. My grandfather on my fathers' side had an acre of land he farmed. My father till this day has acres of land in Nashville that keeps getting bigger and bigger each year. Those things resonated with me and the fact that wine making and having a vineyard is like being a farmer. In the midst of this dormant state it resonated with me how all these connections are one in the same. The growing of grapes and my family background with farming are intricately related. Wine gives me the opportunity to live in my parents/grandparents world.
I've also been to France recently on a vineyard trip that was fantastic!! I got to travel up and down France. I flew into Paris and went to the long valley. I got to visit my favorite winery outside of Barcelona. The thing I liked most was when the other wine makers and sommeliers asked me for feedback on what the American palette is like and where I see the market going. Some of the most fun I had was being the bridge for wine makers and consumers.
So that's a good question. Where do you see the American wine market going?
A wine trend really big right now is Natural wines. Wines that are made sustainably. The understanding of natural wines is very limited. If you ask five different wine makers the definition of natural wine you will get five different answers. For me its wine that is made sustainably and not highly manipulated. Meaning not using pesticides. The issue with this type of hands off approach is you're making wines that aren't as pretty and often times the wine will be unstructured and a little funky. Not in a good funky way though. There's some conflict of finding the right balance between being as natural as possible without giving up the taste and how the wine should be expressed. You want the wine to be pretty, but in its natural state.
Can you tell us two or 3 wines that are under the radar and are cost affordable?
This question is a good question because oftentimes people want brands. The problem with that is knowing brands doesn't get you to a place of autonomy. If you have a brand you're married too then you never really know what you like. So instead I like to focus on styles.
When we talk about style we talk about how the wine was made. Only in America do we talk about wine based on grapes. People say "I like cabernet, merlot, and yada yada yada." The problem with that is depending on where you're at in the world the winemakers are going to be very different. Chardonnay in California is different from Chardonnay in Oregon, and much different from Chardonnay in France. Grape varietals don't give much information because it's not about the single grape, but it's about the process. I want to give people the tools to be empowered and not beholden to a brand. If you know the styles you're in control.
So styles that are quite inexpensive are wines from Central Eastern Europe. If you're thinking red wines from Croatia, Hungary….varietals I think are really cool are St. Laurent. The style usually from Central Eastern Europe reds have kind of earthy bold reds that have a little bit of funk or tartness or they have lighter juicer fruiter reds that have a little earth funk and tartness to them which is really cool. Eastern European wines are highly underpriced because there not as popular and those producers can't charge as much, but there still making them. They have to make really high quality wine because if you're going to take a chance on it ….it better be good. So they have to produce high quality, but for a deeply discounted price.
If you're a white wine lover and you want bright crispy mineral wine…Austrian wines are a good bet. Austria wines are high in acidity so their sort of mouth-watering and citrusy. Once you figure out the styles you like you can go from there. It's all about regions. If you walk into a store they should be able to help you by style or you can ask a sommelier. Through exploration you find what you like and don't like.
Thanks for schooling us Derrick. I think everyone's wine knowledge increased by this interview. Last question, what bottle of wine should we expect for you to show up with for Thanksgiving? 🙂
It's funny I like to show up with highly macerated Rosé. What does that mean? Great question? I like Rosé…but when I say highly macerated that's basically Rosé that's dark in color. Color doesn't really tell you level of sweetness, but typically color for wine (wine gets it's flavor and color from the skins of the grapes…mostly). So the longer the skin is in contact with the juice the more color and potentially the more flavor it's going to impart. Now this a very broad sweeping generalization but with that said Rosé that has a ton of maceration you're going to get a little more rich component and brightness. I like really bold Rosé with acidity to cut through the dressing and all the proteins and the richness. Thanksgiving food is typically hardy and full of fats, but you need something to cut through it with a lot of acidity but you don't want something that's super heavy because everything else is heavy. You want something light and refreshing and Rosé tends to be that. You still get something with body and structure to it but it's not so heavy that you're adding heavy on top of heavy.
Rosé is great any time of year and I like to do it because it's not expected. Everyone expects for you to bring a red wine. That's not really what I'm in the mood for. I want to bring something where I'm not going to drink too much and get drunk too fast.
Happy Thanksgiving! Follow along and keep up with Derrick and his wine adventures on social media. Derrickcwestbrook.com

Copyright secured by Digiprove © 2018