This past weekend I #RockedTheFork at the 11th Annual Bon Appétit presents Chicago Gourmet! The foodie festival was September 28th – 30th. It was the 9th annual year for the crowd favorite Hamburger Hop event. Guests got to enjoy tasty gourmet burgers, Blue Moon Brews, Josh Wines, Spirits, and more!! There was also a celebrity panel of judges to determine which burger was the best. Tony Priolo of Mailard Tavern took home the People's Choice and Judge's choice award!
Last year was Chicago Gourmet's 10th year anniversary and they hosted several ancillary events. The ancillary events were such a success that they kept them going this year. I had the pleasure of attending the ancillary Global StrEATS event at the Harris Theater Rooftop.
The globally inspired event had a stellar line up of chefs that provided a menu inspired by their expertise on cuisines that stretched from Bangkok to Barcelona, Tokyo, to Tegucgalpa. We were transported around the world with no passport required! Thanks to S.Rosen's Baking Company for presenting such a fun event!
The main stage events were held on the 29th and 30th at Millennium Park. There were more than 250 of Chicago's finest restaurants and chefs gathered to present culinary demonstrations and tastings. Since its inception, Chicago Gourmet has celebrated the city's outstanding culinary community, and this year was no exception. The 2018 event turned up the volume with an all-star lineup of celebrity chefs including Rick Bayless, Carla Hall, Jeff Mauro, Stephanie Izard, Duff Goldman, Joe Flamm, Tony Mantuano, Lorena Garcia, Art Smith, Angie Mar, Emily Fiffer, Heather Sperling and more – plus an impressive nine Master Sommeliers curated by presenting sponsor Southern Glazer's Wine & Spirits.
Last year the weather was so HOOOTTTTT! This year it was much cooler and pleasant to walk around. There were photo op's galore and it was so much fun to get to meet your favorite chef's in person.
Tavi J. Tips for Chicago Gourmet
If you like Seafood start at the Seafood tasting station. The line is only going to get longer throughout the day.
Get to Chicago Gourmet on time. There's so much to do and I really did need the 5 hours to cover it all.
Stay Hydrated. Don't just drink alcohol. Make sure to drink water too!
Plan, but be able to deviate a little
Dress appropriately. Flats are a must!
Make sure to make time for events you really want to check out. Lines can form, so get to seminars/demo's earlier than the start time.
Familiarize yourself with the park layout
Download the Chicago Gourmet App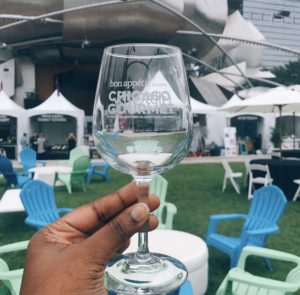 If you enjoy food, the outdoors, and cooking demonstrations…..Save the date for next year!! You don't want to miss out!! September 27th – September 29th. Make sure to follow Chicago Gourmet on social media and the website. They offer discounted tickets throughout the year.
Through its ancillary events, online auction and onsite weekend raffle, Chicago Gourmet raises funds for the Illinois Restaurant Association Educational Foundation, whose mission aims to educate, inspire and preserve the future of the hospitality industry. Proceeds from Rise & Shine Gourmet benefit Pilot Light, which helps children make healthier choices by connecting the lessons they learn in their classrooms to the foods they eat on their lunch trays, at home and in their communities.
For more information, please visit chicagogourmet.org and follow on Facebook, Twitter, and Instagram.

Copyright secured by Digiprove © 2018