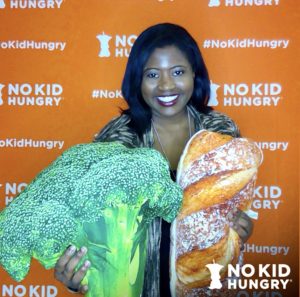 I packed my bags and headed East this past weekend to support a good cause! I attended the 2018 Food Network & Cooking Channel New York City Wine & Food Festival presented by Capital One. NYCWFF is considered the largest food and wine festival in New York City and they're over 80 events to choose from. Truly a food and wine lovers paradise! The event offers festival goers intimate dinners with world-renowned chefs, late night parties, hands-on classes, educational seminars, coveted wine tastings, and much more!! 100% of the net proceeds from the event benefit the Food Bank for New York City and No Kid Hungry. To date, NYCWFF has raised more than $11.5 million in support of its mission to EAT, DRINK, and END Hunger.
What I love about this festival is the wide range of events to choose from. NYCWFF takes pride in offering 47,000 passionate gourmands and aficionados something for every palate and budget. This year marks the 11th anniversary for the festival and it keeps getting bigger and bigger! Attendees had access to over 500 world-renowned chefs, culinary personalities, entertainers, wine, and spirit producers. We got to party at the best venues throughout New York City!
"The New York City Wine & Food Festival is a place where you can taste a lot of different foods from a lot of different chefs around the country. A foodie's heaven." Giada De Laurentiis
NYCWFF was definitely foodie heaven for me! I attended a plethora of events and I want to take some time to highlight some of the events and food below. First up though, I had the pleasure of interviewing New York chef Peter Botros. Check out our interview and keep scrolling for other festival highlights.
Tavi J. One on One Interview with Chef Peter Botros
I was given a list of Chef's that would be attending the Southern Glazer's Wine & Spirits event. One of the reasons I wanted to interview you is first off you have a very impressive resume. Second though, what caught my eye is you're a self-taught chef. Was it harder for you breaking into the industry?
I always loved food and worked in the food industry before going to college. From thirteen on I worked in the restaurant industry as a waiter, bus boy, bartender, and manager. I was working in restaurants, but at the front of the house. I always had a great interest in cooking, but at that time it was still very difficult to make a living in the kitchen. I cooked at home and I always asked the chefs questions to learn from them.
I went to college and got my bachelor's degree in entrepreneurial studies and I got my master's in marketing and finance. Out of college I left the restaurant industry and worked as a full time mortgage banker. It was a great career and I did very well in it for about 3 years. I was then diagnosed with male breast cancer and went through some treatment and got myself better. It opened my eyes to wanting to do things every day that made me happy and it wasn't mortgage banking. Mortgage banking was a great career, but it certainly wasn't something I got excited to get up and do every day.
I had a passion for the food and the restaurant industry. Even after I left the industry to become a mortgage banker I knew I would return someday and open my own restaurant. The opportunity presented itself for me to buy space and open up The Stone House at Clove Lakes. This was my first restaurant and it wasn't easy. The city owned the property and they had to approve me to go in as a tenant. It's a very complicated difficult red tape bureaucratic type of environment. I made sure to stick with it and I was determined to open my restaurant. After 14 months of going back and forth with the city they finally approved me and I was able to open. I decided, even though I had never been a chef or worked in the kitchen, to write the menu's and develop the recipes.
How did you come up with the menu cuisine?
I based what I wanted to put on the menu off of what I like to eat. That probably wouldn't of been what most people would do, but I felt like I had a pretty diverse and eclectic palate that could cover all the bases. I made sure to put a few things on the menu that would be approachable to people that may not be as adventurous as I am. I was able to develop a very balanced menu with the executive chef I hired, Chef Antonio Vasquez Flores. Chef Flores had 30 years of experience and together we developed recipes. He was very instrumental in helping me put the ideas I had in my mind in motion.
What's the most adventurous menu item at The Stone House at Clove Lakes?
So the most adventurous part is there's a restaurant within a restaurant. On the 2nd floor overlooking the main dining room we have a restaurant called the Chef's Loft. I change the menu twice a month and it's a five course wine paired dinner. Every dish we serve in the Loft is a dish that no one has ever had before. It might be centered around a dish you've had previously, but never quite the same. We never repeat dishes either. Every time you come to Chef's Loft it's a new experience and an experience you won't have again. The Chef's Loft has maximum seating for 16 people and The Stone House at Clove Lakes seats 200.
Earlier this year you cooked dinner for the James Beard House. How did you feel when you were selected and what was that experience like?
That was a surreal experience to be selected so quickly and so young. I was in awe! Two ladies had dinner in the Chef's Loft back in December of 2017. At the end of the dinner Izabela Wojcik, who is the director of house programming at the James Beard House, came up to me and said "This was a wonderful dinner! I'm Izabela Wojcik director of house programming at the James Beard House and we'd like for you to come cook at the James Beard House."
Did you know when preparing the meal you were cooking for Izabela?
I had no idea! My heart sank briefly not knowing, but at the same time I knew that the dinner went perfect and everything was phenomenal. They actually asked me to cook for a really important day. February 13th is the James Beard House Valentine's Day dinner. I was asked to cook a dinner in the spirit of Valentine's Day. I developed a menu centered around Chocolate that included 3 passed hors d'oeuvre and 5 dishes all having Chocolate in them. Even the savory dishes.
That sounds DELCIOUS!!! Can you give us examples of the savory dishes?
We did an expresso chili crusted filet mignon with white chocolate whipped potatoes and a chocolate port wine sauce. We also did a seared scallop with a chocolate chestnut cream and cocoa nibs. Also, a roasted beet crostini with chocolate whipped goat cheese and fennel pollen.
Yum! How do you come up with these dishes and how do you know what goes together?
It comes natural to me. At a young age I always experimented with putting flavors together. The basics of flavor combination are always there. Bitter, sweet, salty, sour, savory…so if you know what each ingredient produces you can replace things that might not traditionally go together. We sold out the James Beard Dinner in 48 hours. The meal we put out was impeccable. I couldn't have been more proud. At the end of dinner I was invited to participate in a James Beard House event in the Hamptons at the Wolffer Estates.
Next up we're hosting a James Beard dinner in Staten Island in the second restaurant I opened, Violette's Cellar. Violette's Cellar is a contemporary American small plates menu. We also have a speakeasy within Violette's called the Button Room. It's hidden behind a sliding book shelf and you need a password to get in. It's very cool! The James Beard Dinner will be hosted November 8th. It's the first time the James Beard Organization will be coming to Staten Island. It's called the Friends of James Beard benefit at Violette's Cellar.
What other restaurants do you own?
I just opened Corner House BBQ with pit master Anthony Valios. He's phenomenal! We met at a charity event and his barbecue blew me away and more importantly his personality and  demeanor. We already signed the lease for our second location. Also, coming up in mid-November I'm opening a taco and tequila bar called Sofia's Taqueria. I also own Binnekill Tavern located in Margaretville New York.
I've opened all these spots in the last four years. I've been very busy and I only know one speed which is kind of my strength and weakness. We do events like the New York City Wine & Food Festival as much as possible. We're always doing off premise charity events to showcase our food. I have an amazing team! At this point with all the restaurants were at 250 employees and I wouldn't trade any of them.
Make sure to visit Chef Peter Botros at all his restaurant locations!! Keep scrolling for my 2018 Food Network and Cooking Channel New York City Wine & Food Festival highlights.
Tavi J. Highlights from the 2018 Food Network & Cooking Channel
New York City Wine & Food Festival
I started off the festival with Southern Glazer's Wine & Spirits tasting presented by Beverage Media and hosted by Spectator. The exclusive invite only trade event offered top clients and partners the chance to network with industry peers while sampling dishes from the best New York City chefs and learning about new trends and products in the food and beverage industry.
I spoke with Chef Robert Crawford briefly and he had me drooling over his new pop up restaurant Sarah's Breakfast & Brunch. Expect delicious Cajun and Southern cuisine!
A huge highlight was the return of the sought after wine GEMS Collection Room Presented by Wine Spector and the Boutique Spirits collection, where guests tasted rare, exclusive, or limited vintage wines and spirits from SGWS and Lauber Imports' portfolios. We also spent the afternoon listening to celebrity chefs and industry experts discussing today's hot topics at a series of exciting trade panels.
Friday evening we headed to Aperitivo! Presented by Peroni and hosted by Debi Mazar and Gabriele Corcos. This event was definitely the ultimate happy hour!
Debi and her husband Gabriele are best selling cookbook authors and all around foodie celebrity couple. They host the popular cooking channel series, Extra Virgin and Extra Virgin Americana. At the happy hour we got to enjoy creative cocktails, wine, charcuterie, and DELICIOUS pasta!
I couldn't truly say I attended the Food Network & Cooking Channel New York City Wine & Food Festival without attending the Grand Tasting presented by ShopRite. Saturday afternoon we headed to Pier 94 to experience 130,000 square feet of foodie heaven! The signature event included
Sampling hundreds of top notch wines and spirits from Southern Glazer's Wine & Spirits portfolio
Tasting unlimited delicious dishes from the BEST restaurants in NYC and beyond
Live culinary demonstrations with over 20 culinary personalities and celebrity chefs
Meeting you favorite chefs and going home with signed copies of their cook books
Exciting interactive experiences with your favorite brands and foodie products
SWAG BAG!!!!
I had such a fun time and for those Chicagoan's reading this it was very similar to Chicago Gourmet's main event, except on a larger scale. So if you're ever in New York during this time it's a must checkout festival! I'm thinking I want to check out NYCWFF sister festival in Miami: The Food Network & Cooking Channel South Beach Wine & Food Festival. Anybody else headed there? Questions, comments??? Hit me up at tavij@chiataglance.com
For more information and to stay up to date on events for next year follow NYCWFF on social media. Instagram and Twitter: @nycwff  Facebook: www.facebook.com/NYCWFF

Copyright secured by Digiprove © 2018-2022