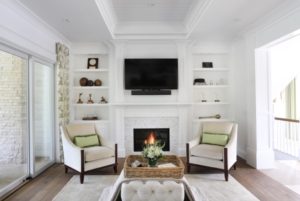 Your home is your sanctuary. The place you're allowed to fully express your personality within the interior walls. Whether you prefer hardwood flooring, plush carpeting, intricate beaded wallpaper, or decorative frilly pillows….it should all reflect YOU. Due to crazy schedules or just a lack of creativity we need someone to guide us in the right direction to fulfill our visionary home styling dreams. Our October Spotlight feature is shining the light on Lakesha Rose of L Rose Interior Design. Lakesha is a full-service interior designer focused on building and furnishing residences throughout the country. She's been in the interior design field for over 16 years and has done just under 700 interior selection units. She's been involved with about $150 million dollars worth of real estate.
Lakesha always had a passion for interior design and started her career off with humble beginnings. She was putting herself through school and went to the College of Dupage. Having just a love for the interior design field, but no real experience….the struggle was real. She sent out over 40 resumes and got two responses. One job would land her in Tinley Park and the other downtown Chicago. Lakesha knew downtown was where she wanted and needed to be. The position she accepted was with Harrison Partners and was more of a sales role where you have community, your developing, your building homes, and things of that nature. Harrison Partners was doing large buildings where they marketed, managed, sold, and also did the interior design selections. In order for Lakesha to move towards the interior piece she needed to get her real estate license. The company wouldn't let her do design selections without learning everything. In hindsight she's so glad she was required to learn the ins and outs of the business because it's helped her with her future entrepreneurial career.
In a large building the actual design process doesn't really start till about 2 years later because there's nothing to design until somethings in the ground. Lakesha loved all the experience and knowledge she was gaining. She stayed with the company for about four years and then branched out on her own in 2006. She started off with 3 large buildings. All was going well till the market crash in about 2007/2008. The market was horrible and trying to get into high end real estate at that time was difficult because no one was spending money. Lakesha than made the decision to break into another passion…television.
Lakesha is married to sports anchor Jim Rose from ABC 7 Chicago, but noted that the connection to him meant nothing in the industry and she had to put in the work. She broke into television by doing guest spots and from there was hired by a company in New York. She did segments and co-hosting on the local television shows. Lakesha entrepreneur spirit struck again and she decided to create her own media company called Rose Phillips Online. That's actually how I met Lakesha for the first time. I attended her launch party in 2016. Lakesha knew how important videos were becoming in the social media age. Her intention was to create various videos based on various businesses around town. The idea was fantastic, but with everything funding is needed and that project had to be put aside.
Lakesha then went onto the next project that got her back to her love of interior design. Lakesha and her husband Jim Rose have been together since 2006. They sold their house in Lincoln Park and decided to build a house in Michigan together. Jim's son lives a couple of hours away from Michigan, it's a 2 hour drive from Chicago, and they wanted more land that friends and family can visit. Lakesha said it was one of the best decisions of her life! They built the house from the ground up, hired an amazing architect, and of course the interior was designed by Lakesha. The whole project from start to finish lasted about 16 months. The build out was around eight months. They did so much organizing in the beginning that it was probably one of the most seamless builds Lakesha ever did. She had a dream team. Her architect has been in the industry for over 30 years and is nationally known. Lakesha didn't have any intentions of publicizing her dream home, but to build a place for family and retirement. Her architect on the other hand knew what a great project this was and asked Lakesha if he could feature their home in Great Lakes by Design Magazine.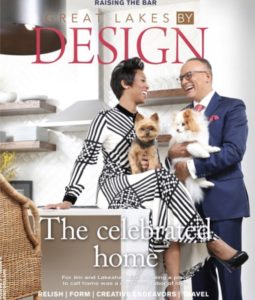 Lakesha knew with her architect's acclaimed background she would get maybe a page write up. She never knew that she would land the cover of the current issue out NOW! She found out the great news when she was on vacation and nearly fell off her chair. "With over 16 years in the industry you submit and you submit to magazines and the more you submit the more no's you seem to get" Laeksha said. She ended up landing the cover without even trying. Lakesha never knew her dream home would bring her back into the interior design industry. She has clients again and finds it's an honor and privilege to design homes. To her when someone hires her to design their home they're saying "I want you to create my personal space and make me feel good." We all can't afford an interior designer at the moment, but we can keep dreaming of our dream home. 🙂 I had a sit down interview with Lakesha where I grilled her on trends, style, and what details we should pay attention to. Check out our interview below.
Tavi J. sit down interview with Lakesha Rose of L Rose Interior Design
For someone to want you to design their home do they need to like your sense of style or do they just expect you to figure out what there's is?
It's honestly a little bit of both, because the initial attraction is they've seen what you've done and they like it. Something had to appeal to their senses about what you've created and then what you do is you sit down and speak to them about how they want to feel in their home. You take the senses of what they want to feel and gravitate to that and put it together. It's really a collaborative effort, but at the same time you're taking what's in your thought process because you're the expert. You're sort of spreading that out and creating that through your colors, textures, and design and whatever room your designing and creating to be a part of their home.
If you don't like the clients vision is it something you can still work with and give them what they want? Even if its not something you particularly like?
I have never found I didn't like something I've created. I think it's more of a how it's put together. So for example right now the trend is gray….if I see another gray anything it would be too soon. And what's happening is that's the new neutral and I think you're doing your client a disservice if you create an entire room that's gray. It's pretty now, it may be pretty a year from now, but in a few years their going to want something else. You have to create a room that for lack of a better word you hope they never call you again because they love it that much. That's what you want. So you have to create that with dimension and texture and not just a flat gray. You need timeless.
Is there anyone that calls you every few years because they like to keep switching it up?
I hope not because then they would have a bottomless bank account. They really would…anyone that's designing a room that often has truly a bottomless bank account because I like to design quality over quantity. I myself have a living room furniture set that I bought in 2006. It was customized for the room and it's been sent from house to house as we've bought and sold. It's still so beautiful. So I would recommend buy quality before quantity. That will always leave you happy.
So we talked a little bit about your career path to L Rose Interior Design. What's your favorite room to design or makeover within a home?
I would say the kitchen and the master bedroom. To me one of my most favorite times of the day is when my husband and I get home and were winding down for the evening and our two dogs are piled in the bed with us. We have to have a king size bed for this purpose and their sprawled out and for some reason they like to lay horizontal. We're in bed watching our show for the evening, but the ambience in the room is so calming and so beautiful, very romantic, and very clean lines. But yet its so comforting for us. We're always saying "I'm so happy to be home" because I created an atmosphere in the bedroom that lends itself to understated elegance because it's always beautiful.
The kitchen is also a favorite to decorate because I love to cook. One thing that's so fun in Michigan when we go there for a week or a weekend….is I plan out the details of what to bring based on what I'm making. I make beautiful meals using platters, and linen napkins, and wine glasses because it appeals to my senses. I go out in the garden and I cut flowers and put it in the bedrooms because our friends and family are coming over. What I love to do is make people feel good, so when they come into our house I always have flowers in the room.
What do you like to cook? What are your specialties?
It depends on what the mood is. So this weekend my sister and her husband are coming over. I like to try out new recipes. So we're having Chef Thomas Keller buttermilk fried chicken. What should you drink with fried chicken? Well Champagne of course! I'm also making a dessert from Barefoot Contessa.
What detail do people not think of that makes a huge difference when designing a room, but it's going to make a huge difference at the end?
Texture and detail. Detail…example…for pillows it's nice to pick the fabric and either add some fringing or embroidering to it. Those details really takes a room to a level that makes people internally emotional. I remember when I did the Lakeshore Creative Homes and I allowed people to walk through our house in Michigan. The biggest compliment  I got was " Your home is sophisticated, but yet it's approachable. It feels like I can sit down."
Are you involved with any organizations?
I'm part of the National Association of Home builders. That's probably an organization about 140,000 strong. We're going to the huge convention that's in Vegas every year. I hope to win for some of the projects that I've done.
Design Chicago is coming up at the Merchandise Mart. I know you're very familiar with the Merchandise Mart. What's your favorite stores in there to shop at?
I'm going to say Schumacher. Robert Allen, and my store that gets me all gooey inside is Samuel & Sons. I'm constantly looking for details. Romo showroom has some of the most funnest wall paper selections. If I work with a client that has a bottomless bank account I would say Holly Hunt all day!
I always like to end my interviews with….Why are you a Chicagoan We Should know?
I love this city contrary to what you see on the news. I love the energy, the vibrancy, the culture, and the diversity. At the same time no matter where you live you always want to leave the place better than how you found it. I hope that when I leave this planet that's what people say about me whether I be in Chicago or some other city. That's what I hope my legacy is.
Make sure to keep up with Lakesha on social media!
lroseinteriordesign.com
Instagram and Facebook: @lroseinteriordesign

Copyright secured by Digiprove © 2018