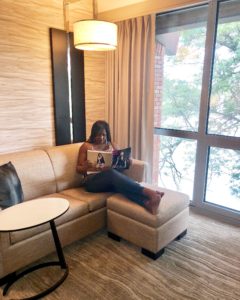 Fall is right around the corner…soooo it's time to start enjoying those last precious days of summer! I kicked off my summer farewell with an outdoor concert at Ravinia. This time I decided to do things a little bit different. For those of us coming from Chicago to get to Ravinia you're driving in city traffic, paying for an expensive uber/taxi/lyft, or rushing to make the train. I however, decided to bypass all those grueling options and make my trip to Ravinia short and sweet by doing a staycation at the Lincolnshire Marriott which is a mere 20 minutes (give or take) away.
I previously stayed at the Lincolnshire Marriott back in January (see here) and I couldn't wait to do it again! The resort underwent a $25 million dollar floor to ceiling renovation! There's two onsite restaurants, a full service Starbucks café, a luxury spa, an M Club lounge, award winning theater, fitness facility, indoor pool, event space, and golf course!
Most of my time though was spent in my room because I could not leave the bed! 🙂 LOL…their beds are definitely something to write home about! Seriously, the most comfortable beds I've ever slept in. The resort is 175 acres and has 390 newly-renovated guestrooms and a 5,000 square foot Lakeside pavilion for events and weddings. I finally dragged myself out of bed because we had dinner reservations at the onsite Threes Embers Restaurant!!
We had the pleasure of being hosted for the evening by Chef Yo Chang. Chef Chang dishes were absolutely amazing! I love they always switch the menu up, but the quality and mouth watering dishes remain constant.
Make sure to check out the Lincolnshire Marriott Resort for your next staycation. It's a fun escape from the city whether it's winter or summer!
10 Marriott Drive, Lincolnshire IL 60069

Copyright secured by Digiprove © 2018