13th Floor Chicago: 1940 George Street, Melrose Park, Illinois 60160
September 21, 22, 28-30;
October 4-7, 10-14, 16-21, and 23-31;
November 2 and 3.
House of Torment Chicago: 8240 North Austin Avenue, Morton Grove, Illinois 60053
September 28 and 29;
October 5-7, 10-14, 16-21, 23-31;
November 2 and 3.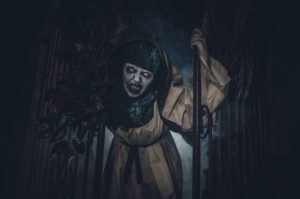 The world-famous haunted house brand, 13th Floor, and the nationally celebrated haunted house, House of Torment, will both return to the suburbs of Chicago this fall, with two new shows at each location. 13th Floor Chicago http://13thfloorchicago.com/, located at 1940 George Street in Melrose Park, Illinois, will return on September 21, 2018, with the new shows The Possession and Dead-End District: The Cell. House of Torment Chicago https://www.houseoftormentchicago.com/, located at 8240 North Austin Avenue in Morton Grove, Illinois, will come back on September 28, 2018, with Dead By Dawn and The Shadowrealm: Slenderman.
 In 13th Floor Chicago's new show The Possession, restless spirits lurk in the shadows threatening to possess their visitors. Crippling fear overcomes their unexpected victims as they come face-to-face with some of the most demented creatures known to man. However, none of these creatures are as terrifying as the unvirtuous nun, Mara. Once one encounters Mara, she will do everything in her power to keep them there – for eternity. Attempt to find a way out of the manor or face a tragic demise.
 In the second show at 13th Floor Chicago, Dead-End District: The Cell, the L.O.S.T. Facility has worked within the shadows, keeping the world safe from monsters, demons, and supernatural beings. The most terrifying and dangerous of these abominations are housed deep within Vault 13, a state-of-the-art, maximum-security containment facility. One may decide to brave a self-guided tour of the monstrous and macabre, but if a containment breach occurs, and the ghouls and demonic spirits will break free. Worst of all if the most dangerous vault, The Cell, gets compromised it will trap those within, and those who enter must find a way to escape.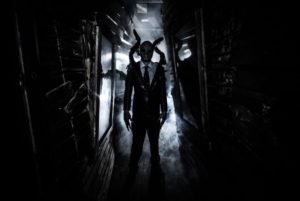 At Dead By Dawn in House of Torment Chicago, the PL4-GU3 Virus has found its way to the Town of Perdition. The few who have survived have barricaded themselves inside their stores, homes or anywhere with four walls to feel safe. But sometimes what lurks in the darkness is far worse than what walks in the streets. Remnants of a failed system forgot the people it incarcerated. Some have been locked up for years, and those in solitary confinement have not seen the light of day in who knows how long.
 In House of Torment Chicago's The Shadowrealm: Slenderman, from the Realm of Terror spawns something unnatural – that figure in the corner, that shadow in the room; the thing that's always slightly out of focus. Strange occurrences have been seen throughout the halls of Templeton High School. Is it the Slenderman? Has he come to Templeton? And if so, why? 
COST:           
Starting at $19.99 – tickets go on sale August 29, 2018
Free parking available at both locations
AGES:           
Both haunted houses recommended for ages 12 and up
CHARITABLE:       
Both haunted houses have partnered with Don't Be A Monster, a 501(c)(3) bringing anti-bullying programs to local schools. http://dontbeamonster.org
Don't Be a Monster video: https://www.youtube.com/watch?v=-mcMMIg8A9s

Copyright secured by Digiprove © 2018