Chi@Glance loves to feature people that are synonymous with Chicago. Although the person I interviewed is not a native Chicagoan he's keeping us up to date on Chicago news. I had a sit down interview with Reporter/Anchor at channel WCIU, Brandon Pope. Brandon's career path has him covering stories all over the country. He's covered Presidential elections, the Olympics, NFL, and NBA Playoffs. His current position on The Jam Television Show is to report the BIG story of the day.
Although I couldn't convince Brandon to say Chicago is his FAVORITE city….I did get him to admit we rank pretty high on his list of best places to live. His home town, Ohio, still holds a special place in his heart. Brandon moved around a lot as a kid and lived in Cincinnati, Cleveland. He went to high school in Richmond Indiana, but If you ask Brandon Cincinnati is home.
Enough about Ohio though! Check out my one on one interview where we discuss journalism in Chicago, what stories Brandon likes to cover…and what stories get him squirming. (Hahaha)
Tavi J. One on One Interview with Brandon Pope of Channel WCIU
Chicago is my hometown and I'm always curious for those not from Chicago what their first experience with the city was like. What was your first experience with Chicago?
My first experience with Chicago was probably when I was in college. I came here for a Midwest Media summit for young black journalists. I met one of my best friends here that was from Chicago on this trip and we've been best friends ever since. That was like eight or nine years ago. I thought Chicago was a cool city, but I didn't necessarily see myself working here.
Say what?!? So it wasn't love at first sight with Chicago?
It wasn't a major thing in my head at the time to go to Chicago. Part of the reason was my goals were different at the time. My goal was sports reporting. ESPN, national broadcaster, play by play……so I didn't see an avenue in Chicago yet. I was a freshmen in college though, so I was still young. Over the years though I came back to Chicago a few times to visit the NBC studio and I also met with Chicago Tribune people. I started to really feel the city and get more into it.
So Chicago wasn't your first option, but what was your first job out of college?
I worked as a reporter in South Bend Indiana, which is not too far away from Chicago, and my friend who I met in Chicago ended up working there as well. We were always kicking it and driving to Chicago on the weekends and having day trips. I would anchor the morning news, drive to Chicago, turn up, turn up some more, and then head back to South Bend. I was covering the Cubs and the White Sox.  I also attended Chance the Rapper coloring book day festival. All these cool experiences got me loving the city! I knew then I wanted to live in Chicago, but I didn't know it was going to be my next job right out of South Bend. That's when I started working for WCIU The Jam.
Your job on The Jam seems super fun, but I know you put in tons of work to get there. Can you give us a little background of your schooling and what journalism School Covers?
I went to Ball State University in Muncie Indiana. It's a great school and it's also where David Letterman went. Our not so great alumni right now is the guy from Papa John's Pizza and Jason Whitlock. (LOL) I knew immediately I wanted to go to Ball State. They have great resources like a partnership with ESPN, Fox Sports, and lots of state-of- the-art equipment. It was the opportunities I had at Ball State that made the academic experience for me. I remember learning ethics, how to write a lead story, and several basics you need to know, but you put into practice on the job.
Do you think it's a must to go to journalism school in order to be a good journalist? Asking for a friend. 🙂
No. I'm not going to discount the classes all together because they did prepare me. You have to practice hands on journalism to be really good at it. You really don't know what you're doing until you actually do it. Ball State University let me do that. I was focused on doing sports, but I realized news has a lot of power. I can tell different stories that allow me to be versatile.
I know you got to cover the Olympics in London, The NBA play offs, Indy 500, NFL Games, etc. Those types of events the producer is telling you to go cover them. For the stories you do yourself on WCIU how do you come up with the idea?
A lot of stories I do is based on who I know. I'm big on relationships and community. So I try to tell the stories of the people.
Do you have  free will to tell the stories of the people?
Where I'm at now yes…even in my old job as well. I use my relationships and building sources is vital in this career. You need to be cordial to people and willing to listen to them. I get story ideas looking at Twitter, Facebook, scanning social media, and by networking.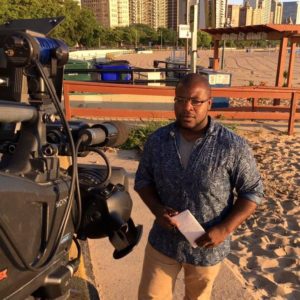 What is your thought process when putting a story together?
My role on the Jam is to cover the big story of the day. I think about what is the best way I can present this information. You have to not be bias, be fair, and be authentic. I think the term bias is interesting. Journalists can get themselves in trouble thinking too much about both sides. I think that's why we're in the situation we're in with the President. People are too focused on "Oh I got to cover both sides and act like both are equal." It kind of all depends on who you work for too. I know I stay fair. No one can accuse me of having an agenda because I'm friends with Republicans and Democrats. I'm friends with people pro police and anti police. A major component is how you say things. I can quote people and I can say things like "this is what the community is saying" I'm not saying it….It's what the community is saying.
In some stories do they want you to show more of your personality and give your opinion?
Definitely, and a great example is Sports. You can always give your opinion on sports for the most part. On the Colin Kaepernick stuff maybe not as much, but you can definitely say "Oh I love this quarterback" and no one's going to say anything.
As long as you stick to the facts you're good. One day I was talking about police superintendent Eddie Johnson. Eddie Johnson defended his officer that shot a black kid. I remember saying "There's a lot of irony here…black officer leads the police department in defending a man that shot and killed a black teen. It's going to be interesting to some folks." That's all I said….it's facts. I also make sure I don't sound like a robot. I love the twitter account "Tiredtvterms." Like….how cliché it is to say…"The suspect fled on foot."
What made you get into journalism?
Growing up I wanted to be an artist or a rapper. But, didn't we all. I was big into art drawing and sketching. I still do it every once in a while. I used to draw comic books and stuff. I like poetry. I knew though these fields are hard to get into and didn't make much money if you weren't the best.
I had this high school TV class and I was kind of liking it. Through that I started learning I could do play by play with sports. I found my nitch, I won some awards, and I figured hey this is good… I can do this. It's the only thing I can actually do that's a skill. (LOL)  I played football, but I never actually wanted to be an athlete.  I just wanted to report on sports and be part of the action.
What are your favorite news topics to cover?
College Football. I used to cover college football and travel the country. That was amazing! I also enjoy community stories. Impactful…stuff in the streets…inspiring stories.
Can you tell us one story you covered at WCIU where you're like…. that was AWESOME?
This is a hard question….ummmm….recently I covered Ujima Medics. They are individuals that go around communities to teach how to treat gun shot and knife wounds. The people training are nurses that said they need to do this because the people on the South Side of Chicago don't have a trauma center and people were dying because they couldn't get to the hospital in time. It's one of those things where it's sad they have to do that, but it's cool people coming together to help each other.
Fun stories I got to cover was Wakandacon. Oh and also Sister Jean. I love people stories…I love writing. Writing for tv is fun! When I get to sit down and write a story I just geek out about that stuff. I'm trying to do some 60 minute type stuff…paint a scene…paint a picture. The best TV stories are well written…it's all about the writing. I can show you some great stories that were made amazing because of the writing. You want to write to bring out emotion. I try to make people cry…
Are there any stories you had to cover that make you feel uncomfortable?
There's been stories I've covered where I didn't feel comfortable. A good example would be stuff dealing with mom things. Back in South Bend I had to do a story once about breast feeding. It was so awkward and uncomfortable. I told my assistance producer at the time…this is going to be one of the worst breastfeeding stories ever. I'm going to keep it very basic. It's good to be able to step out of your comfort zone though!
Also the tragic stories are always tough. In a city like Chicago you might know the person that got shot. Sadly I've covered a lot of sad things in South Bend…I covered stabbings, shootings, homicide…I've seen things nobody should have to see.
Is it hard to take off your Journalism hat?
Some people are journalists 24/7….I'm not. I follow the news throughout the day because I can't help but to. I actually enjoy it though. I'm a news junkie. I love political news,  sports news, and I'm always on twitter. @BpopeTV
Last, but not least….we want to know the Brandon Pope outside of work. What do you like to do when you're not working?
I love to work out, video games, and catching up on Netflix shows. I recently got someone's HBO password and a good show to watch is Sharp Objects and I like Insecure. I also like to read…I'm sort of Nerdy. Good Sunday to me is grab a good book, get a coffee, chill by the lakefront, and read. I can sometimes get crazy on the weekends. The  Hennessey comes out when I'm watching football.
Such a fun time getting to know Brandon and learning more about his job at The Jam TV Show on WCIU.
You can follow Brandon on Twitter and Instagram @BpopeTV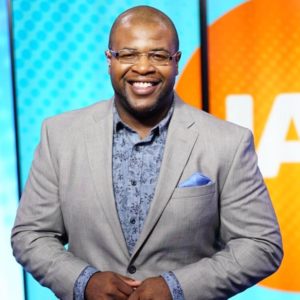 Copyright secured by Digiprove © 2018