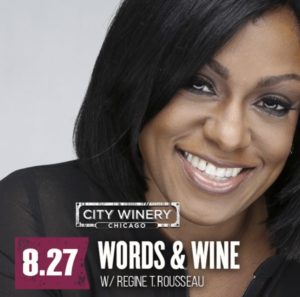 Event: Words & Wine with Regine T. Rousseau
Where: City Winery
Address: 1200 W Randolph Street, Chicago
Date: Monday, August 27th
Time: 6:30pm – 8:30pm
Tickets: https://citywinery.com/chicago/checkout/cart/
Ready for a relaxing and mind renewing Monday night? Join Sommelier Regine T. Rousseau for a sensory journey through her words, wine, and rhythm. Regine and attendees will enjoy a wine tasting at City Winery to celebrate her second book installation of poetry, Searching for Cloves and Lilies: The Wine Edition. Check out the details below!
"On the scale of authorial loveliness, she set the bar high." – The New Yorker
Audience members will be part of a rare wine pairing opportunity with the author. Inspired by the rhythmic nuances of music and the structural complexities of wine, Regine uses her artistry with words to anchor the raw emotions depicted in Searching for Cloves and Lilies. A specially curated experience both unique and immersive, her poems act as a canvas for the paired wine and song selections which mimic the soulful complexity of the poetry itself. Each pairing collectively captures the variety of feelings amid all the triumphs, confessional vulnerabilities and hope channelled through her poetic subjects.
Rousseau's work mixes short, sharp portraits of her friends and family with musings about her own experiences with love and loss. Providing an intimate glimpse into her life, Rousseau examines failed relationships and wonders at bad luck with romance. She writes odes to the men who abandoned her and those who stayed. She tells of deep loss and trauma but also the beauties of family, friendship and faith.
While the poems in this collection are striking on their own, The Wine Edition pairs each poem with a suggested wine to heighten your reading. Rousseau uses her experience as a sommelier to create experiences that flood the senses with a combination of words that are truly unforgettable.
This unique collection lays out which wine to pair with heartache and which best represents the state of modern relationships.
**Wine pairings are included in ticket. Food will be available for purchase a la carte.

Copyright secured by Digiprove © 2018