Event: Taste of the Nation
When: Wednesday, August 29th
Where: Revel Fulton Market
Time: 6pm to 9pm
Tickets: Click HERE
No child should go hungry in America, but 1 in 6 kids will face hunger this year. Using proven, practical solutions, No Kid Hungry is ending childhood hunger today by ensuring that kids start the day with a nutritious breakfast, eat healthy summer meals, and families learn the skills they need to shop and cook on a budget. When we all work together, we can make sure kids get the healthy food they need. No Kid Hungry is a campaign of the national anti-hunger organization Share Our Strength. Join us at NoKidHungry.org.
Every year, the country's best chefs, sommeliers and mixologists join together with one goal in mind: end childhood hunger in America by supporting Taste of the Nation® for No Kid Hungry presented by Citi and Sysco®. In 20 cities across the nation, guests of Taste of the Nation can sip and sample gourmet creations from each city's premier culinary talent and participate in unique food, travel and lifestyle auctions – all while raising funds for No Kid Hungry, Share Our Strength's campaign to end childhood hunger in America. Since 1988, Taste of the Nation has raised more than $98 million.
Chicago's Taste of the Nation for No Kid Hungry is supported by national co-presenting sponsors Citi and Sysco®, national media sponsor Food Network, national sponsor OpenTable and local sponsors Breakthru Beverage, The Chrysler Pacifica, Impossible Foods, Goose Island, Galdones Photography, Glenfiddich, Klein & Partners, Fortune Fish Company and Topo Chico.
Fly-In Guest Chefs, Pop-up Speakeasy and
Impossible Foods Join Chicago's Taste of the Nation Line-Up
New Features Announced for Annual Walkaround Tasting to Raise Funds
for the No Kid Hungry Campaign to End Childhood Hunger, August 29th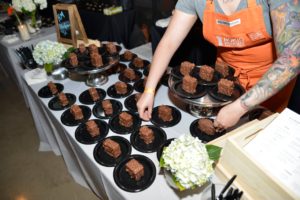 Chicago's annual Taste of the Nation for No Kid Hungry is back and better than ever thanks to brand-new additions to the event's programming:
Joining more than 20 of Chicago's finest, guest chefs from around the country are bringing their culinary talents to Chicago for one night only:
Upon arrival, guests may enjoy a taste of Impossible Foods' plant-based flagship product, The Impossible™ Burger, as the "First Bite" crafted by popular bbq restaurant Bub City.
A new "Speakeasy" experience presented by Breakthru Beverage, will feature more than a dozen of Chicago's hottest bars and mixologists shaking it up all night, including:
"The Giving Tree" – an interactive raffle experience – will keep giving, thanks to Chrysler Pacifica. Participants will be able to enter a unique gift giveaway highlighting the city's top chefs.
Chicago's Taste of the Nation will also feature unlimited dishes and drinks by 40 of Chicago's top restaurants and bars, along with a special two-set acoustic performance by The Shadowboxers, presented by Citi.
View the full list of programming here.

Copyright secured by Digiprove © 2018