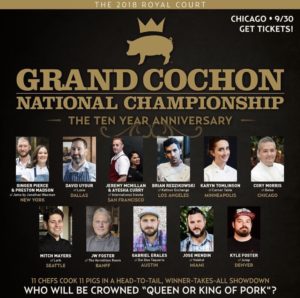 Event: Grand Cochon National Championship
When: Sunday, September 30th
Where: City Winery, 1200 Randolph Street
Time: 5pm VIP, General Admission 6pm
Ticket Price: $150 – $225
Tickets: http://cochon555.com/us-tour/2018-grand-cochon/
I had the pleasure of attending the Chicago Cochon555 tour back in April. The winner of the Chicago competition was Cory Morris from the restaurant Boleo. Cory will be competing against 10 other Chef's to be crowned the Queen or King of Pork. Check out my experience at the Chicago tour HERE and keep reading below what to expect during the National Championship. Good luck Cory!!! 🙂
Grand Cochon— Ten Year Anniversary
More than Another Chef Competition
This September 30th in Chicago, eleven winning chefs from cities across the U.S. and Canada will compete for the ultimate prize of the "King or Queen of Pork". That date will also mark the 10th anniversary of Cochon555's first chef competition in Atlanta. It started with a simple idea: let's start a conversation about how our food is raised and connect stakeholders in the industry more directly. This food festival included heritage breed pig farmers, chefs, and wine makers. Five of each were brought together to put on an event that invited consumers into the conversation and demonstrated what our food could be.
Over the past 10 years, Founder, Brady Lowe, has had a lot to say, and provided a platform for others to join the discussion. "When we started, ideas like nose-to-tail cooking, and eliminating food waste were in their infancy (or were yet to come). It was important to create an environment that brought farmers, chefs and consumers together in an inviting and fun place where they could hear, see, and learn about the importance of these food systems."
Grand Cochon is the tour's annual finale. Chefs who make it to Chicago have already won their city's competition beating four other chefs. City Winery will host the event for the first time and tickets are now available on Cochon555.com. Chicago's own Cory Morris, chef at Boleo at the Kimpton Gray Hotel will compete against 10 other chefs coming to town for this epic whole hog showdown. Chefs in other cities include Ginger Pierce and Preston Madson (Jams by Jonathan Waxman, NYC), David Uygur (Lucia, DAL), Ayesha Curry and Jeremy McMillan (International Smoke, SFO), Brian Redzikowski (Kettner Exchange, LAX), Karyn Thomlinson (Corner Table, MSP), Mitch Mayers (Sawyer, SEA), Jw Foster (The Vermillion Room at The Fairmont Banff Springs), Gabriel Erales (Dai Due Taqueria, ATX), Jose Mendin (Habitat, MIA), and Kyle Foster (Julep, DEN).
In addition to serving up some of the best pork bites on the planet, the drinks will be flowing as the event will also hold the finale of Punch Kings. Eleven top barkeeps will come with a bottle, a bowl, and a dream. Judging will take place at the event, and attendees will have the chance to taste finalists' entries along with a host of other pop-ups and unique experiences delivered by the event's host of supporters.
"It's always an honor to see all the incredible talent and good food movement support in one place," says Brady Lowe, Founder of Cochon555. "We're putting the spotlight on heritage species, responsible agriculture, and amazing chefs and producers. As one of this country's premiere dining cities, we're proud to have Chicago as the centerpiece of Grand Cochon. Guests can expect an epic culinary experience that's not just about quality, but wines, spirits, cheeses, pork dishes and much more, all created with purpose and passion. This is eating and drinking for a cause."
In 2015, Piggy Bank was established. It is a "Noah's Ark" of heritage breed pigs promoting open access agriculture providing access to genetics, business plans and knowledge for small and family farms. What's next for Cochon? How about seeding the next generation of passionate farmers? With the average age of a U.S. farmer approaching 60, Brady Lowe is launching the "Grow a Farmer" initiative that will help young aspiring agrarians to find apprenticeships and opportunities to learn the craft.
You can support all of these initiatives and people by attending Grand Cochon. As always, a pop up butcher will do a live demo followed by an auction of cuts that will raise money for Piggy Bank. More information will be announced as the date draws near.
About the Cochon555 US Tour
The Cochon555 US Tour executes a yearly host of authentic, hyper-local food events focused on raising awareness for heritage breed pigs through an innovative nose-to-tail pig cooking competition. This epic pork feast visits 20 major cities in North America annually and stages over 60 events. The tour is comprised of an array of live expressions including Heritage Fire (live-fire); Heritage BBQ (global grilling cultures); and Grand Cochon (national whole-hog championship). Cochon555 cultivates a long-term impact for heritage species, raised by family farms in top culinary markets in North America. Both educational and inspirational messages are circulated among 16,000 guests; 2,200+ chefs; 150+ family farms; and 16 culinary schools. Since 2009, 50,000+ consumers have experienced heritage pork for the first time, more than $500,000 has been donated to charities, and over $750,000 has been paid directly to our farmers. For more details and videos of events, visit www.cochon555.com or follow @cochon555 on Twitter and Instagram.
About Piggy Bank
Launched in 2015, Piggy Bank is creating a farming sanctuary for heritage breed pigs, many of which are endangered.  Piggy Bank will provide genetics and access to shared business plans for raising heritage pigs to emerging family farms. Piggy Bank aims to change the future of food by creating a community in which small farmers can learn about safer, more responsible practices and share genetics, livestock, and the very information needed to thrive as small businesses. Piggy Bank is building a model of socially responsible agricultural transparency. Piggy Bank proudly operates as a project of the Trust for Conservation Innovation, a 501(c)3 tax-exempt nonprofit organization which accelerates impact for initiatives focused on protecting and fostering a healthy, sustainable, resilient, and equitable world. For more information or to donate, visit www.piggy-bank.org or follow @PiggyBankOrg on Twitter. Watch the video http://j.mp/PIGGY_BANK.

Copyright secured by Digiprove © 2018